USD

EUR

GBP

BRL

ZAR

TRY

SGD

PHP

NOK

JPY

ILS

HUF

DKK

CNY

CAD

AUD

MXN

TWD

THB

SEK

PLN

NZD

INR

HKD

CZK

CHF

ARS

RUB
|
US English

Portuguese

Spanish

French

German
|
Rome Masters Packages
May 12 – May 18, 2014 | Rome, Italy
Forfaits complets comprennent:
Five Star Rome Accommodations

•

Daily Breakfast

•

Official Rome Masters tickets

•

Professionally Guided Tour of Rome
CTT Welcome Gifts

•

Et Plus. . .
Code du Tour
Dates de Package
Nuits
Hôtel
Tours
Billets Inclus
Niveaux de places
Coût par personne
Nombre de personnes
Total
05/11/2014-05/15/2014
4
Opening Rounds
Mon-Tue-Wed
Add Tour Options below or Checkout Now
05/15/2014-05/19/2014
4
Final Rounds
Fri-Sa-Su
Add Tour Options below or Checkout Now
No information here yet.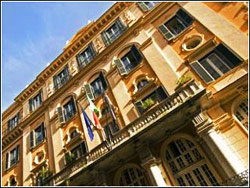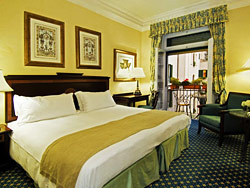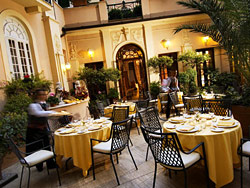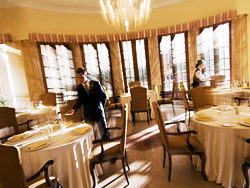 Hotel Inter-Continental De La Ville
Championship Tennis Tours guests staying at the Hotel Inter-Continental De La Ville Roma are in for a treat.
Overview:
The hotel itself is a 17th-century landmark. There's better place to begin your Eternal City experience than InterContinental De La Ville Roma. The location at the top of the Spanish Steps is the ideal base for shopping, sightseeing and attending the Rome Masters tournament. Within a short radius are Trevi Fountain, the Colosseum, Via Condotti, Piazza di Spagna and the Borghese Gallery and Museum.
Services and Amenities:
Health & Fitness Center (On Site)
Beauty Salon
Florist
Gift Shop
High Speed Internet Access (Initial Fee: €12.00 (EUR)
Wireless Data Connection (Initial Fee: €12.00 (EUR)
Service Provider: Quadriga
Travel Services
Airline Desk(s): Available at the Concierge
Rental Car Desk(s): Available at the Concierge
Tour Desk(s): Available at the Concierge
Travel Agent Desk(s): Available at the Concierge
Foreign Currency Exchange
Location:
Distance to Crandon Park Tennis Center: 5 minutes by car.

Tickets for the Rome Masters tournament are generally located between the service lines.

You can attend matches on all the side courts.


Is this a combined, Men's and Women's event?
Yes, the Tournament is a combined event, with men and women playing over nine days. On the very same day therefore, as regularly happens in the four Grand Slam tournaments, fans will be able to see Nadal, Federer and Djokovic in action alongside the best that the women's circuit has to offer as well as the Italian heroines Francesca Schiavone, Flavia Pennetta and Roberta Vinci.
When was the new Center Court opened?
The new Centre Court was opened during the 2010 tournament and unanimously considered amongst players and tennis experts as the tennis stadium with the best visibility in the world in every seating area. 2012 will also the inauguration of the new SuperTennis Arena – last year called Court 10. It will be a second ticketed show court with far more comfort and facilities than last year's Court 10. The Nicola Pietrangeli Stadium meanwhile will be open to all grounds pass holders, with the result that the Foro Italico will now have 11 courts in total: three for the practice sessions and eight for singles and doubles action.
The Foro Italico combined event will run from Saturday 12 - Sunday 20 May, meaning that it should be played in favourable weather conditions, making each day's tennis even more of an event. The tournament has gone from strength to strength in recent years to become one of the most prestigious and well-loved events on the calendar – a veritable "fifth Grand Slam", in fact.
Are there night matches?
The Centre Court will host a very attractive night session, while the SuperTennis Arena will have a long-session programme featuring top-class matches.
Daily Breakfast Guided Professional City Tour of Rome's Historic Sites
CTT Tour Gifts
Your Rome Masters Package contents are delivered to you by FedEx a few weeks before the start of the tournament.

Engagement au Service
Unlike most online ticket brokers, we actually own our own inventory for each of the major tennis events around the world. We have relationships with ticket holders and promoters at various events that have been built up over 25 years. We handle only tennis and have deep experience and understanding of the tournaments we service. We sell officially issued Individual Tickets, Complete Tour Packages, and Customized Tour Packages. You can trust us to take care of all the details!
Mike Bernstein
Owner, Championship Tennis Tours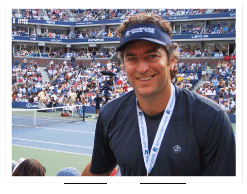 © 2000 - 2013 Championship Tennis Tours. All rights reserved.
Use of this website signifies your agreement to the TennisTours.com Privacy Policy.