USD

EUR

GBP

BRL

ZAR

TRY

SGD

PHP

NOK

JPY

ILS

HUF

DKK

CNY

CAD

AUD

MXN

TWD

THB

SEK

PLN

NZD

INR

HKD

CZK

CHF

ARS

RUB
|
US English

Portuguese

Spanish

French

German
|
Rome Masters Tennis Schedule
May 13 – May 19, 2013
Note: Schedule is subject to change.
Day
Date
Rounds
Sat
7-May 2012
Time TBD: Men's Singles & Doubles Draw.
Time TBD: Women's Singles & Doubles Draw.
Sat
14-May 2012
Noon: First Women's Semifinal.
Not Before 2pm: First Men's Semifinal.
Not Before 4pm: Second Women's Semifinal. 8:00pm: Second Men's Semifinal.
Sunday
15-May 2012
Not before 2:15pm: Women's Final.
Not before 4:00pm: Men's Final.
The Finals will be played on the best of three.
Compromisso de Serviço
Unlike most online ticket brokers, we actually own our own inventory for each of the major tennis events around the world. We have relationships with ticket holders and promoters at various events that have been built up over 25 years. We handle only tennis and have deep experience and understanding of the tournaments we service. We sell officially issued Individual Tickets, Complete Tour Packages, and Customized Tour Packages. You can trust us to take care of all the details!
Mike Bernstein
Owner, Championship Tennis Tours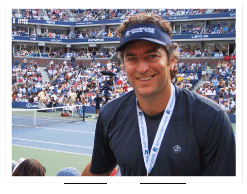 © 2000 - 2013 Championship Tennis Tours. All rights reserved.
Use of this website signifies your agreement to the TennisTours.com Privacy Policy.