Rome Masters
12 Mai

–

19 Mai, 2019

|

Rome, Italy
Fotos anzeigen
Rome Masters Pakete
Die italienische Open bietet die besten Spieler im Foro Italico in Rom. Das Turnier ist einer der drei ATP World Tour Masters 1000 Events, die auf Lehm bestritten werden, aber die Veranstaltung ist mehr als nur Tennis; Es ist ein totales Unterhaltungserlebnis. Championship Tennis Tours bringt seit über 30 Jahren Kunden zu diesem großartigen Event. High Fashion, feines Essen, fabelhafte Shopping und Promi-musikalische Darbietungen haben das Turnier zu einem der glamourössten Stationen auf der ATP World Tour gemacht.


GesamtReise inkludiert
3, 4, or 5 star Rome accommodations

•

i
Official Italian Open tickets in Category 1 or 2
Professionally Guided Tour of Rome
CTT Welcome Gifts

•

Mehr Details und FAQs. . .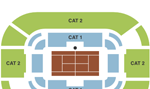 Foro Italico
Stadionführer
| Reise Code i | # An Personen | Reise Termine | Nächte | Hotel | Runde | Tickets inklusive | Sitzebene i | Preis pro Person i | Zwischensumme |
| --- | --- | --- | --- | --- | --- | --- | --- | --- | --- |
Albergo del Senato

Overlooking the Pantheon

Welcome to the Albergo del Senato Rome, a luxury 3 star hotel located in the heart of the ancient city of Rome. Our charming hotel in Rome center is situated in Piazza della Rotonda, an excellent location directly in front of the Pantheon, Rome's most renowned ancient temple, originally built in dedication to the Roman Gods in 27 BC and later rebuilt during the reign of the famous Emperor Hadrian. LOCATED OVERLOOKING THE PANTHEON... The picture-perfect Albergo del Senato Rome is an ideal hotel for those guests who are interested in exploring the magical city of Rome while enjoying the rooms and services of a top quality Rome hotel. The unique location of Albergo del Senato Rome puts it within a short distance from all of Rome's most popular sites and monuments. Guests of the Rome Albergo del Senato can also indulge themselves at the nearby Campo dei Fiori, where by morning they can purchase fresh produce, fish and flowers and by night relax at one of the many outdoor cafes and admire the many street performers.

Ausführliche Beschreibung und weitere Fotos

Hotel Nerva

Boutique

The hotel is located in a quiet and characteristic neighborhood in the historic centre between the Colosseum and Piazza Venezia, and right in front of the Imperial Forums. Guests can easily walk to the Trevi Fountain, Pantheon, Piazza Navona and Spanish Steps as Hotel Nerva is an ideal base for visiting all of central Rome. The hotel is also perfectly located for discovering traditional Italian restaurants, coffee shops, and bars, as well as attractive boutiques which line the neighborhood lanes around the hotel. Hotel Nerva is conveniently connected to all areas of the city and the city airports, thanks to its proximity to the subway stations of "Colosseo" and "Cavour" (300m) and to Termini Station (1200m).

Ausführliche Beschreibung und weitere Fotos

Princeps Hotel

Heart of Rome

The Princeps Rome Monti is an elegant boutique hotel with 20 rooms, occupying the fourth floor of one of the oldest and most impressive palaces of the Monti district, the first district in the heart of historic Rome. The building, whose foundations were included in the large park of the Domus Aurea of Nero, belonged to the noble Italian family of Aragona from the end of 1800. In 2014, to coincide with the two thousandth anniversary of the death of the Roman emperor, Octavian Augustus, the building was completely renovated, giving new light to the Esquilino Square, in the center of which is an obelisk erected with the same name. The monolith - a Roman copy of an Egyptian obelisk, made at the time of Domitian – was found at the beginning of the sixteenth century, at the entrance of the Mausoleum of Augustus and was put in place in 1587 by Pope Sixtus V, right in front of the apse of Santa Maria Maggiore. The Princeps hotel, therefore, attributes its name to Augustus, the Roman Princeps par excellence; "mayor" of Rome and leader who made long-lasting peace reign in the history of the Roman Empire. Inside, the blend of minimalist design and furnishings and classical tradition, provides a harmonious balance between old and new: a unique, timeless space in a 3 star hotel in Rome.

Ausführliche Beschreibung und weitere Fotos

Hotel Santa Maria

Traditional Elegance

WELCOME TO THE HOTEL SANTA MARIA, ROME Awarded the Certificate of Excellence and ranked in the top 10 hotels in Rome by TripAdvisor, the Hotel Santa Maria Rome is a superior 3 star hotel situated in the charming district of Trastevere. Consistently rated by guests as a fantastic hotel which offers excellent value for money, the Hotel Santa Maria is situated in a completely renovated 16th Century cloister offering 19 comfortable rooms and positioned within walking distance of the major archaeological & tourist sites of Rome.

Ausführliche Beschreibung und weitere Fotos

Hotel Villa Glori

Close to Event

A WARM AND FAMILY ATMOSPHERE The hotel Villa Glori is a four stars completely renovated in a "Old English" style to maintain the local atmosphere. Its strong attribute is being a warm and cozy place with a family atmosphere. It's within walking distance to the recently built "Musical bridge" which connects the sport complex of soccer stadium and tennis championship courts to the Maxxi Museum of Modern Art, the Auditorium and the theatre "Olimpico". This has provided our hotel with numerous guests involved in music, sports and theatre.

Ausführliche Beschreibung und weitere Fotos

Argentina Residenza

Cozy

Argentina Residenza in the very heart of the city. Argentina Residenza, facing the archaeological area from which it takes its name, assures a luxurious stay in the vibrant heart of Rome. Situated only minutes away from Piazza Navona and Piazza Venezia, giving its guests the opportunity to discover all the main tourist attractions and monuments of Rome, strolling along its picturesque streets. This small guest house boasts a delightfully intimate and welcoming atmosphere reminiscent of that of a refined private home, whilst at the same time providing all the comforts of a fine luxury hotel, featuring designer furnishings in minimal-chic style. Argentina Residenza is located in the limited traffic zone (ZTL). Residenza Argentina is situated on the third floor of a stately building and also has a bar for its guests, serving the best Italian wines, beers, liqueurs and spirits, ideal for an aperitif after a hard day sightseeing or just for a little relaxation. Every morning guests can enjoy an Italian-style awakening with a plentiful buffet style continental breakfast with quality products, as well as gluten-free options and options for those on specific diets. There is a choice of different room types Standard, Superior, Family Rooms and Junior suites which all feature individual air-conditioning, Wi-fi connection and flat screen TV with free SKY package included. The spacious Junior Suite also boasts a Jacuzzi for a romantic week-end break in Rome. The young and dynamic staff is at hand to satisfy all your requests, and to advise you on those not-to-be-missed places and some of the secrets of the city, not to mention the best cultural-artistic itineraries and the best restaurants in which to sample some typical Italian and Roman culinary delights. Let them guide you in choosing the "in" places to go for an aperitif or dinner with a scenic view.

Ausführliche Beschreibung und weitere Fotos

Tribune Hotel

Contemporary

In the heart of the historical centre of Rome, The Tribune Hotel welcomes its guest in a prime location and just steps away from Villa Borghese gardens, Via Veneto, and the main attractions of the Eternal City. The Tribune Hotel looks forward to welcoming its guests to the modern design furnishings, offering welcoming cosy and bright ambiance with a wide range of high quality services. The rooms and suites are equipped with large comfortable king-size beds, en suite bathroom with shower or bathtub, satellite TV, complimentary mini bar upon arrival, Nespresso coffee machine, complimentary Wi-Fi Internet connection and a kettle with a selection of teas and coffee. At the exclusive Lounge Bar you can enjoy a moment of total relaxation while treating yourself to your favourite drink or a cocktail mixed with the skill of our expert barmen. To relieve tension after a long day or to keep you fit, the fitness room of The Tribune Hotel is provided with abdominal training equipment, tapis roulant and Technogym® equipment. The fitness room is located at 7 floor and it is at guests' disposal every day from 6 am to midnight. All this and much more, to ensure our visitors a unique and unforgettable experience in the heart of Rome, full of comfort and well-being.

Ausführliche Beschreibung und weitere Fotos

Rome Style Hotel

Traditional Elegance

ROME STYLE HOTEL Are you looking for one of the best trendy hotels in Rome, in a historical building in the heart of the city? Style Rome Hotel welcomes you to its hotel and wishes you a good stay in Rome. Just a few minutes from Piazza di Spagna, via Condotti, Piazza Navona, the Fountain of Trevi and all the main points of interests of the city, Style Rome Hotel is the ideal venue where to pass a luxury sojourn, immersed in all the comforts and the elegance of a building dated 1900. The Style Rome Hotel preserves the atmosphere and the details from the past, while it surrounds itself in contemporary design. In our 33 suites, each with a singular character, you will surely find the best shelter of luxury in the eternal city and you will give yourself unforgettable moments, from a privileged position. Every single moment lived at Style Rome Hotel will be an intense moment, made of recalls and experiences to be lived again. Have a look at one of the best modern hotels in Rome and immerse yourself in the luxury and elegance of the Style Rome Hotel!

Ausführliche Beschreibung und weitere Fotos

Hotel Fifteen Keys

Boutique

Whether you're seeking an urban adventure or a peaceful retreat, our hotel will make you feel homey. The Fifteen Keys Hotel has 15 individually designed bedrooms and it is situated in a secluded street, in the heart of the lively and cosmopolitan Monti neighbourhood, in central Rome. The building, originally a five-story townhouse, was converted at the beginning of 2015 into this charming 4-star hotel with a contemporary and unique style.

Ausführliche Beschreibung und weitere Fotos

Hotel Barocco Rome

Contemporary

The entrance, in via della Purificazione leads to the hotel's elegantly modest hall. A delicate fragrance greets our guests − an expression of the hotel's philosophy of hospitality. The atmosphere of this exclusive hotel of one of elegance, discretion and comfort. These qualities are much appreciated by our guests, among whom businesspeople, professionals, personages from the world of culture, and guests arriving from all parts of the globe to admire Rome and its attractions. The hotel's location is, in itself, an invitation to explore Rome's city centre on foot and admire such sights as the Trevi fountain, the Piazza di Spagna square, the Quirinale area, and the Roman Fora.

Ausführliche Beschreibung und weitere Fotos

First luxury Art Hotel

Art House Opulence

The First Luxury Art Hotel Roma is a place where luxury and feeling at home interweave to create a new hospitality concept. Just a short walk from the Piazza del Popolo, Via del Corso, and The Spanish Steps, in the very heart of the city, this 5 star luxury boutique hotel is the ideal base to explore the beautiful capital while enjoying top-notch contemporary accommodations. 200 years of history. A thoughtful restoration has turned this 19th century nobleman's palace into an elegant and refined hotel; the noble lines, that look of an aristocratic home, all this have been preserved creating a welcoming and comfortable atmosphere. This is the central feature of this art hotel: being aesthetically luxurious while giving you the delightful sensation of feeling completely at home. Bedding down in an art gallery. Impressive pieces of contemporary artwork made by some of the most important artists of the Italian scene and designer furnishings are throughout the common areas and suites. With its permanent and temporary exhibits, each room becomes a small private gallery, "yours" for a few days. Immerse yourself in the elegant and relaxing atmosphere offered by The First Luxury Art Hotel Roma. Be carried away by the beauty of the works on exhibit and the enchanting views of the city of Rome.

Ausführliche Beschreibung und weitere Fotos

Hotel Baglioni Regina

Heart of Rome

The Baglioni Hotel Regina is situated on the strategic, central Via Veneto, a stone's throw from the Villa Borghese, Piazza di Spagna and Via Condotti, the famous fashion street. A meeting place beloved of the international jet-set, this hotel in Rome has a magnificent selection of rooms in original Art Deco style.

Ausführliche Beschreibung und weitere Fotos

Hotel d'Inghilterra

Traditional Elegance

Just a stone's throw from the legendary Spanish Steps and the ever-vibrant thoroughfares of Via Condotti, Via Borgogna and Via Frattina, you will find our luxury boutique hotel Hotel d'Inghilterra, gracefully situated in the heart of the historical centre of Rome. The magic of traditional Italian hospitality is here combined with the elegance of modern detailing, giving rise to the particular identity of our hotel, which is renowned for having been a favoured haunt of glamorous members of the international aristocracy and the jet-set.

Ausführliche Beschreibung und weitere Fotos

Hotel Lord Byron

CTT First Choice

The property is located in one of the most chic residential neighborhoods in Rome, Parioli, and is just a few moments walk from the splendid Villa Borghese gardens and 15 minutes walk from Piazza del Popolo. Once inside the Art-Deco villa, one feels as if they are guests in a smart art collector's home, with a vast collection of both paintings and sculptures. Hotel Lord Byron offers outstanding service, an incomparable fine dining experience, and a feeling of warmth and intimacy that can only be found inside a private home. The hotel evokes a glamorous era in the eternal city while all the while providing modern conveniences and comforts, offering our guests an unforgettable experience.

Ausführliche Beschreibung und weitere Fotos

Hotel Splendid Royal

Traditional Elegance

The Hotel Splendide Royal in Rome is a luxury five star hotel, designed to be royal and luxurious.The Hotel is located in the noble centre of Rome, a city which historically was and is once again an intersection of cultures and communication. After more than one year of re-structuring, this 19th century palace once headquarters of the Roman Maronite community - only a stroll away from Via Veneto – today it is a luxury hotel and, in its own way, a symbol of the changes taking place within the Capital City's fine tradition of hospitality. The hotel is "toutcourt", full of that warmth and familiarity found usually only among friends. Guests appreciate the richness in style and the wide spaces – in distinct contrast with the typical present-day minimalism governing most new hotels' interior decor and design.

Ausführliche Beschreibung und weitere Fotos

Sofitel Villa Borghese

French Elegance

Each Sofitel is a unique mix of French art de vivre and local charm. Exuding French elegance and casual chic style, the Sofitel Rome Villa Borghese is a 5-star paradise steeped in history, just a stone's throw from the majestic Villa Borghese park. Discover the most romantic corners of Rome from this oasis in the heart of the city. Start with a stroll toward Villa Medici along some of the most elegant streets of the Eternal City. Or perhaps admire the charm of the nearby Spanish Steps. Just like the nearby Villa Medici, home to the French Academy in Rome, the Hotel Villa Borghese is itself a real museum. The elegant lobby and the Littérature room boast a curated collection of artwork on display for your enjoyment. Each elegant room features chic décor and premium Hermès toiletries, as well as other little luxuries. Relax in your retreat as you look out over the Villa Borghese park and the enchanting streets of Rome.

Ausführliche Beschreibung und weitere Fotos
[+] Fügen Sie eine Option zu Ihrem Paket
No information here yet.
Rome Hotels
Wir haben die Ewige Stadt besiegt, um die schönsten Objekte in den attraktivsten Gegenden der Stadt zu finden - alle unsere Hotels sind für Platz, Charakter und Komfort ausgelegt und bieten einen einfachen Zugang zum Foro Italico.

Tickets for the Rome Masters tournament are generally located between the service lines.

You can attend matches on all the side courts.


Is this a combined, Men's and Women's event?
Yes, the Tournament is a combined event, with men and women playing over nine days. On the very same day therefore, as regularly happens in the four Grand Slam tournaments, fans will be able to see Nadal, Federer and Djokovic in action alongside the best that the women's circuit has to offer as well as the Italian heroines Francesca Schiavone, Flavia Pennetta and Roberta Vinci.
When was the new Center Court opened?
The new Centre Court was opened during the 2010 tournament and unanimously considered amongst players and tennis experts as the tennis stadium with the best visibility in the world in every seating area. 2012 will also the inauguration of the new SuperTennis Arena – last year called Court 10. It will be a second ticketed show court with far more comfort and facilities than last year's Court 10. The Nicola Pietrangeli Stadium meanwhile will be open to all grounds pass holders, with the result that the Foro Italico will now have 11 courts in total: three for the practice sessions and eight for singles and doubles action.
The Foro Italico combined event will run from Saturday 12 - Sunday 20 May, meaning that it should be played in favourable weather conditions, making each day's tennis even more of an event. The tournament has gone from strength to strength in recent years to become one of the most prestigious and well-loved events on the calendar – a veritable "fifth Grand Slam", in fact.
Are there night matches?
The Centre Court will host a very attractive night session, while the SuperTennis Arena will have a long-session programme featuring top-class matches.
Professional City Tour of Rome's Historic Sites
CTT Tour Gift
Official Rome Masters Tickets
Your Rome Masters Package contents are delivered to you by FedEx a few weeks before the start of the tournament.

Haben Sie Fragen?
Senden Sie eine E-Mail
. Oder rufen. Arizona Office
local and international call
+1 (480) 429-7700
Seit 1987 haben wir die Mission, Fans aus allert Welt die Teilnahme am begerhrtesten Tennisturnier der Welt so einfach wie möglich zu machen. Wir beschäftigen uns ausschließlich mit Tennis und haben weitreichende Erfahrung und Einblick die Turniere betreffend, die wire anbieten. Sie können voll auf das Niveau unseres Kundendienstes vertrauen, der sich um all Details kümmert, damit Sie in Zukunft en teuer Kunde von uns werden.
Mike Bernstein
Championship Tennis Tours