Rome Masters
12 May

–

19 May, 2019

|

Rome, Italy
Nota: Seguro y confiable desde 1987.
Los precios pueden ser menos o más caros que el valor nominal.
Todas los boletos son garantizados 100% auténticos.
Ver Fotos
El ATP Masters Series de Roma celebrada en el Foro Itálico es considerado como uno de los eventos más esperados en el calendario de tenis. Se juega en la arcilla roja del Foro Itálico, situado en las afueras de Roma, el Masters de Roma ofrece un ambiente festivo a diferencia de cualquier otro lugar. Reserve sus entradas para este gran final del evento de primavera.
Mas detalles y preguntas frecuentes. . .
Foro Italico - Center Court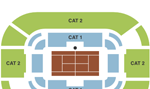 Guía estadio
Programa Provisional
Elija su entrada i
Precio
Qty
Stadium View (Approximate View)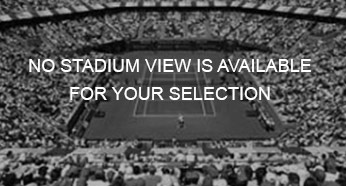 Stadium View (Approximate View)
Description
We don't have any additional information for this tournament at this time. Please check back later for updates. If you have questions about any of our ticket or package offerings, feel free to
give us a call
or
send an email
(
click here
for contact information).
Is this a combined, Men's and Women's event?
Yes, the Tournament is a combined event, with men and women playing over nine days. On the very same day therefore, as regularly happens in the four Grand Slam tournaments, fans will be able to see Nadal, Federer and Djokovic in action alongside the best that the women's circuit has to offer as well as the Italian heroines Francesca Schiavone, Flavia Pennetta and Roberta Vinci.
When was the new Center Court opened?
The new Centre Court was opened during the 2010 tournament and unanimously considered amongst players and tennis experts as the tennis stadium with the best visibility in the world in every seating area. 2012 will also the inauguration of the new SuperTennis Arena – last year called Court 10. It will be a second ticketed show court with far more comfort and facilities than last year's Court 10. The Nicola Pietrangeli Stadium meanwhile will be open to all grounds pass holders, with the result that the Foro Italico will now have 11 courts in total: three for the practice sessions and eight for singles and doubles action.
The Foro Italico combined event will run from Saturday 12 - Sunday 20 May, meaning that it should be played in favourable weather conditions, making each day's tennis even more of an event. The tournament has gone from strength to strength in recent years to become one of the most prestigious and well-loved events on the calendar – a veritable "fifth Grand Slam", in fact.
Are there night matches?
The Centre Court will host a very attractive night session, while the SuperTennis Arena will have a long-session programme featuring top-class matches.
When can I expect to receive my Rome Masters tickets?
Tickets are scheduled to begin being distributed from our office in Scottsdale around the end of April with tickets for the first week of the tournament being sent out first followed by second week orders. If you still haven't received your tickets within one week of your first day of attendance at the tournament, feel free to contact us. Otherwise, please rest assured that your ticket order is being processed normally. If this doesn't work with your travel plans, we can arrange to have your tickets shipped directly to your hotel in the Rome area.

Desde 1987, hemos tenido una sola misión, para que sea lo más fácil posible para los aficionados de todo mundo a asistir a los torneos de tenis más buscados. Manejamos solamente el tenis y tiene una amplia experiencia y conocimiento de los torneos que de servicio. Usted puede confiar en nosotros para cuidar de todos los detalles, con un nivel de servicio al cliente que le hará un cliente leal en los próximos años.
Mike Bernstein
Championship Tennis Tours