Rome Masters
May 12

–

May 19, 2019

|

Rome, Italy
Note: Secure and trusted since 1987.
Prices may be above or below face value.
All tickets are 100% guaranteed authentic.
View Photos
The Rome Masters held at the Foro Italico is regarded as one of the most anticipated events on the tennis calendar. Played on the red clay of the Foro Italico situated on the outskirts of Rome, the Rome Masters offers a festive atmosphere unlike anywhere else. Book your tickets now for this great end of spring event.
More Details and FAQ's. . .
Foro Italico - Center Court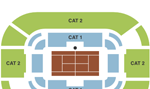 Seating Information
Provisional Schedule
Do you have any questions?
Send an email
. Or call. Arizona Office
local and international call
+1 (480) 429-7700
Choose Your Ticket i
Price
Qty
Stadium View (Approximate View)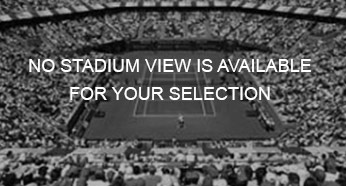 Stadium View (Approximate View)
Description
We don't have any additional information for this tournament at this time. Please check back later for updates. If you have questions about any of our ticket or package offerings, feel free to
give us a call
or
send an email
(
click here
for contact information).
Is this a combined, Men's and Women's event?
Yes, the Tournament is a combined event, with men and women playing over nine days. On the very same day therefore, as regularly happens in the four Grand Slam tournaments, fans will be able to see Nadal, Federer and Djokovic in action alongside the best that the women's circuit has to offer as well as the Italian heroines Francesca Schiavone, Flavia Pennetta and Roberta Vinci.
When was the new Center Court opened?
The new Centre Court was opened during the 2010 tournament and unanimously considered amongst players and tennis experts as the tennis stadium with the best visibility in the world in every seating area. 2012 will also the inauguration of the new SuperTennis Arena – last year called Court 10. It will be a second ticketed show court with far more comfort and facilities than last year's Court 10. The Nicola Pietrangeli Stadium meanwhile will be open to all grounds pass holders, with the result that the Foro Italico will now have 11 courts in total: three for the practice sessions and eight for singles and doubles action.
The Foro Italico combined event will run from Saturday 12 - Sunday 20 May, meaning that it should be played in favourable weather conditions, making each day's tennis even more of an event. The tournament has gone from strength to strength in recent years to become one of the most prestigious and well-loved events on the calendar – a veritable "fifth Grand Slam", in fact.
Are there night matches?
The Centre Court will host a very attractive night session, while the SuperTennis Arena will have a long-session programme featuring top-class matches.
When can I expect to receive my Rome Masters tickets?
Tickets are scheduled to begin being distributed from our office in Scottsdale around the end of April with tickets for the first week of the tournament being sent out first followed by second week orders. If you still haven't received your tickets within one week of your first day of attendance at the tournament, feel free to contact us. Otherwise, please rest assured that your ticket order is being processed normally. If this doesn't work with your travel plans, we can arrange to have your tickets shipped directly to your hotel in the Rome area.

Do you have any questions?
Send an email
. Or call. Arizona Office
local and international call
+1 (480) 429-7700
Since 1987, we have had just one mission, and that's to make it as easy as possible for thousands of fans each year to attend the most sought after tennis tournaments in the world. We handle only tennis and have deep experience and understanding of the tournaments we service. You can trust us to take care of all the details, with a level of customer service that will make you a loyal client for years to come.
Mike Bernstein
Championship Tennis Tours