Shanghai Rolex Masters
Oct 8

–

Oct 14, 2018

|

Shanghai, China
View Photos
Shanghai Rolex Masters Packages
The Shanghai Rolex Masters features the world's best in a 56-player draw for singles, and is the finale to a new three-week Asian swing of the ATP World Tour. The tennis facility, which is Asia's biggest, has been built on 80 acres in the Minghang district, 27kilometers southwest of the city. The Tennis Center includes a dual-purpose indoor-outdoor 15,000-seat center court and 40 indoor and outdoor courts.
Complete Packages Include
5 nights of accommodations at the Shanghai Ritz Carlton Portman in a Deluxe Room
Daily buffet breakfast and free wifi
Official Shanghai Rolex Mastersl tickets Thu-Sun (Quarters - Finals)
Guided half day city tour of Shanghai
On-Site CTT Representatives
CTT Tour Gifts
Tournament shuttle or VIP Parking Passes
More Details and FAQ's. . .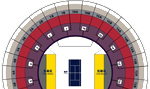 Shanghai Rolex Masters
Seating Information
Choose your Shanghai Rolex Masters tickets in the exclusive Lower Level
Cat 2 level tickets are located in the B level on the stadium map. Cat 1level tickets are located in the A level on the stadium map.
Free Shuttle Service from the Ritz-Carlton Portman to Qi Zhong Tennis Center
On-Site Hosts
CTT Tour Gifts
Guided Shanghai City Tour
Your Shanghai Rolex Masters Package contents including your tennis tickets are delivered to you by FedEx a few weeks before your package begins.

Do you have any questions?
Send an email
. Or call. Arizona Office
local and international call
+1 (480) 429-7700
Since 1987, we have had just one mission, and that's to make it as easy as possible for thousands of fans each year to attend the most sought after tennis tournaments in the world. We handle only tennis and have deep experience and understanding of the tournaments we service. You can trust us to take care of all the details, with a level of customer service that will make you a loyal client for years to come.
Mike Bernstein
Championship Tennis Tours