USD

EUR

GBP

BRL

ZAR

TRY

SGD

PHP

NOK

JPY

ILS

HUF

DKK

CNY

CAD

AUD

MXN

TWD

THB

SEK

PLN

NZD

INR

HKD

CZK

CHF

ARS

RUB
|
US English

Portuguese

Spanish

French

German
|
2014
Australian Open
Jan 13 – Jan 26, 2014 | Melbourne
G'day Mate! Championship Tennis Tours makes attending the first Grand Slam of the season a breeze with our array of services including our popular all-inclusive 9 night
"Champion Tour"
package from just $7,495 pp. We also offer a number of
Melbourne Only Packages
that can be tailored to your needs or you can simply
Customize a Package.
If it's just the
Individual Tickets
you need, we've got you covered too. We look forward to serving you for the 2014 Australian Open!
Individuelle Tickets
Purchase multiple sessions
Choose seats in the Upper or Lower
Levels of Rod Laver Arena
Detailed Seating Charts
150% CTT Secure Guarantee
Komplette Pakete
Deluxe Melbourne Accommodations
Daily Buffet Breakfast
Guaranteed Australian Open tickets
Choice of Seating Levels
Tons of Tour Options
On-Site hosts, CTT Gifts, and More
Welcome Dinner with Finals Tour
Anpassen eines Pakets
Choose your desired package dates
Select or indicate your preferred hotel
Attend as many sessions as you'd like
Choose your preferred seating levels
Add the tour options you'd like
Make any special requests
Quick tour quote in less than 24 hrs.
Get a custom
package quote

Australian Open

has a

5

out of

5

rating, based on

1

User Reviews
Kangaroos, Koalas, and Killer seats!
Tonya Gersh from Whitefish, USA said:
The Australian Open is one big party and the the tip of the iceberg of the experience when you take in a stay in Sydney as well. I've been to all four grand slams, and this one was by far the most laid back. Everybody was so friendly and welcoming. Be prepared for the weather. When we got there our first day in Melbourne was 92, then next few days we were wearing jackets....All in all, it was a great event and I'll be back
Bottom line: Tonya Gersh would recommend this event to their best friends
---
Engagiert für Service
Unlike most online ticket brokers, we actually own our own inventory for each of the major tennis events around the world. We have relationships with ticket holders and promoters at various events that have been built up over 25 years. We handle only tennis and have deep experience and understanding of the tournaments we service. We sell officially issued Individual Tickets, Complete Tour Packages, and Customized Tour Packages. You can trust us to take care of all the details!
Mike Bernstein
Owner, Championship Tennis Tours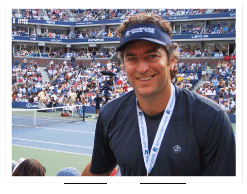 © 2000 - 2013 Championship Tennis Tours. All rights reserved.
Use of this website signifies your agreement to the TennisTours.com Privacy Policy.