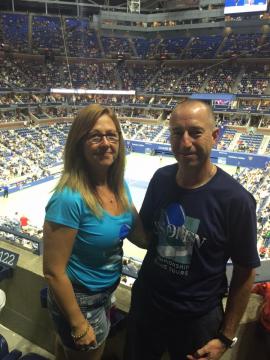 "What a Great Way to Buy Tennis Tickets!"
I am from Australia, I booked my tickets to the US Open this year through Championship Tennis Tours. Wow what a great way to buy tennis tickets. Easy to use booking site, tennis tickets are easy to get and you can see your view on selected seats. Booking tickets for the Australian Open I have been to the last 10 years and French Open I attend in 2013, was never this good. Thanks Championship Tennis Tours, for making the US Open a great tennis experience. PS Thanks for the free T-shirt Cap, visor and lanyards. Great extra touch :)
- Anne Meney from Perth, Australia
US Open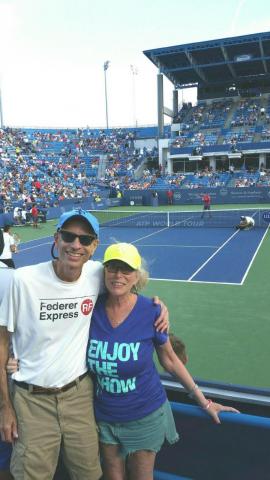 "These Seats Are Amazing!"
THANK YOU so much. Gil & I truly appreciate this peRFect gift. You've spoiled me for life!
- Nancy Berman from Boulder Colorado
Western / Southern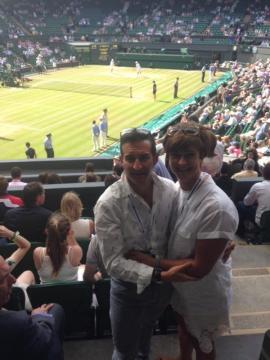 "Thank you for the Wimbledon Experience!"
Dear Mike and Chris, Lisa and I thoroughly enjoyed our time in London. Two epic finals, great hospitality, and SUPER seats - especially for the Men's final! Many thanks for your coordination and organisational efforts. We have now been to all of the Slams...that we wish to visit. Australian Open is of no interest to us. Do you have any proposals for us in 2016?
- Issy Zimmerman from Cape Town, South Africa
Wimbledon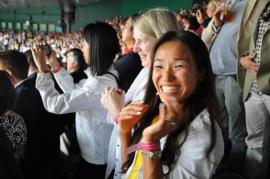 "Wimbledon, a dream come true!"
Dear CTT, Thank you for making this Wimbledon experience happen for my husband and I. It was a dream come true for me. After being stationed in Qatar and Dubai the past 3 years, we've talked about doing this trip. Every aspect of the service was first class all the way. From the hotel accommodations at the Savory to the hospitality in the Gatsby Club, it was just fantastic. The tickets on Center Court were just behind the Royal Box each day. What more can I say, we'll be back!
- Mari Suzuki from Tokyo, Japan
Wimbledon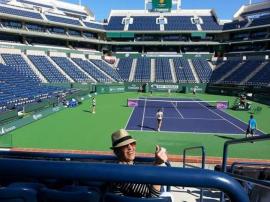 "OMG, we were thrilled!"
This message for Chris! This past March when traveling from New Orleans to Palm Springs to visit with my son and his family, I was Suprised and Thrilled to learn that my son had purchased tickets in Stadium One for he and I to make the Friday 2nd. Round Matches, not realizing what Amazing Seats he had purchased! We arrived there very early to check out our seats, and OMG, were we thrilled!!! We will be making Inidian Wells again this year, and will be in touch with you to purchase our tickets once again. Your friendly and so accommodating service was so appreciated, and we look forward to 2016!!! Thank you again!!!
- Johnnie Flynn from Batton Rouge, USE
BNP Paribas Open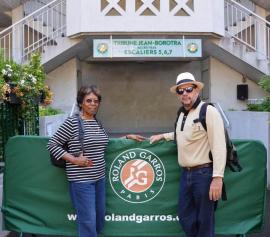 "You could not have been more helpful!"
I just wanted to write and thank you very much indeed for tproviding my wife Jane (aka Pamela on her passport! ) and myselfwith such excellent tickets for the quarter finals at Roland Garros. We had two marvelous days of tennis. The quality of play was outstanding, even if the winners were not always those we wished for! Bit I don't blame CTT for the results! My health stood up very well and, subject to further clear scan, I very much want to come over for a few days later this year for the New York Open. It will probably have to in the first of the 2 week tournament, because of later UK commitments, which means regrettably I won't be able to meet up with you. Can I also ask you, please, to thank both Mandi and Jesse who could not have been more helpful in the fun-up to the roland Garros tournament? I really appreciate, Chris, all the help I have had from you and your colleagues in ensuring that the first holiday I have been able to have with my wife since 2008 was so successful and enjoyable. With all best wishes, Reg.
- Reg Bolton from London, England
French Open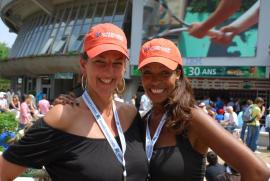 "Wonderful Trip to the French Open"
Mike and Chris, You guys have been amazing to work with. Thank you for the great seats. We even got lucky with the weather!
- Ingrid Von Basten from Amsterdam, Holland
French Open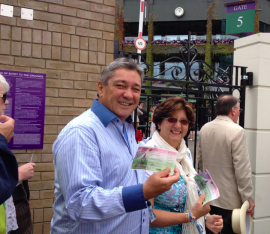 "Gracias Para Todo!"
Hola Mike, Wanted to send a sincere thanks for all your help during our trip to Wimbledon. My wife and I enjoyed taking the tube out to Wimbledon from the Savoy, it was very easy with no changes to make. The center court and court 1 tickets were perfect, just off the baseline for all three days. Thanks again for all your help.
- Senor Angel Martinez from Mexico City, Mexico
Wimbledon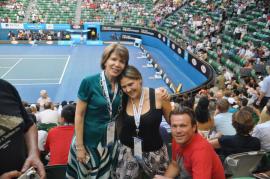 "Great personal service."
Hi Chris, Many thanks for all the arrangements in Melbourne and Sydney. The seats on Rod Laver Arena were insane and we really loved the Langham. The walk over to Melbourne Park was actually beautiful each morning through the park and the guys rowing on the river. Next year we hope to do Indian Wells. See you soon and thanks!
- Miguel Gutierrez from Monterey, Mexico
Australian Open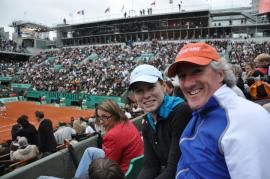 "Fantastic Trip Once Again!"
Dear CTT, Cheri and I wanted to award your company a five star rating for your performance during our first week at the French Open. It was all first class, the hotel, the on site hosts, the reception, bus tour, Seine cruise, Les Grandes Marches, and our seats at Roland Garros.
- Tom Stevenson from New York City, USA
French Open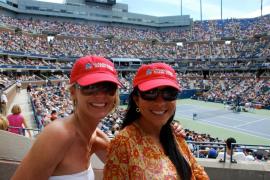 "Great Girls Trip"
Hey Laurie, Wanted to thank you for getting us the upgrade at the W Hotel and for all the help with our tickets. The loge seats worked out perfectly. CTT was great to work with.
- Justine and Holly from San Francisco, USA
US Open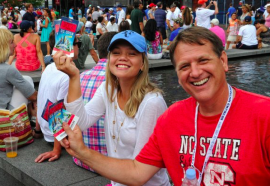 "The atmosphere was electric!"
Dear Chris, We got everything and had an amazing time. Thank you so much! We are keeping your info for my wife's next great adventure request. What a tennis fan she is....she was crushed to hear Federer (sp?) did not make it all the way. Thank you very much for making sure all the plans happened as we hoped.
- Dr. Tom Weissen from Whittier, USA
US Open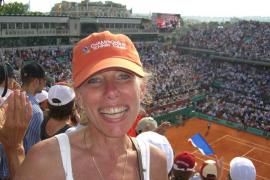 "We're already planning for next year!"
Dear Laurie, We just wanted to say a great big Thank YOU to you and the whole team at CTT! Our trip to Roland Garros was magnificent and truly memorable. In fact, we enjoyed it so much that we are already planning to go again next year!!! Thanks again and kindest regards.
- Linda Watkins from Fayetteville, USA
French Open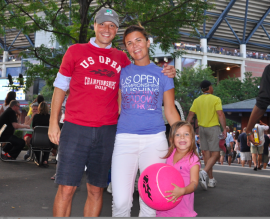 "Grazie Mille!"
Ciao Mike, Thank you thank you. The US Open was fantastic and we loved being at home all week at the W Hotel. Ci vediamo presto!
- Paolo Antonnelli from Torino Italy
US Open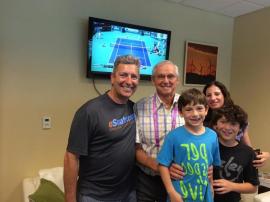 "Great Day at the Matches"
Hi Mandi, The BNP Paribas Open is the third tournament we've attended with Championship Tennis and it won't be the last. Our tickets on Friday in section 149 were amazing, right on the baseline. Sunday was a hot, so it was a relief to have our seats (as you suggested) in the shade. The day in the luxury suite on the Saturday session was great and the kids loved meeting Roy Emmerson. How amazing!
- Debbie Gersh from Dayton, USA
BNP Paribas Open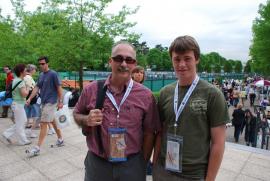 "The tickets were beyond awesome!"
Laurie, I wanted to pass along that we had a wonderful time at the French Open and appreciate the services that Championship Tennis Tours provided in securing our tickets for the event. The ground passes on Friday worked out extremely well for our family - especially our young children. They gave us the necessary flexibility that we needed to keep them occupied and interested. The tickets to the stadium on May 29th that my wife and I enjoyed were beyond awesome. Thanks again. We hope that we'll use your services in the future.
- Brian and Mary Robbins from Hartford, USA
French Open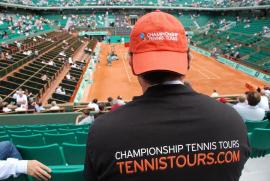 "Let's do it again!"
Dear Chris and Colleagues, It may seem crazy to be speaking of the Roland Garros with Wimbledon going on, but i just wanted to thank you for all our arrangements in Paris. The tickets were amazing (right behind the servers) and everything went as smoothly as you said it would. Here's a pic of me from my seats. Put me down for the US Open.
- Max Difilippo from Edmonton, Canada
French Open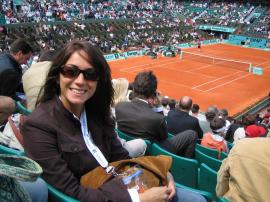 "Perfect Day in Paris!"
What could be better. Great seats at the French Open and steak frites. Thanks guys.
- Gabriella Ramirez from Miami, USA
French Open