USD

EUR

GBP

BRL

ZAR

TRY

SGD

PHP

NOK

JPY

ILS

HUF

DKK

CNY

CAD

AUD

MXN

TWD

THB

SEK

PLN

NZD

INR

HKD

CZK

CHF

ARS

RUB
|
US English

Portuguese

Spanish

French

German
|
Australian Open Tickets
Jan 13 – Jan 26, 2014 | Melbourne
Book your tickets now for the first Grand Slam of the season at the 2014 Australian Open. Championship Tennis Tours offers you the finest tickets for every session in either the upper (shaded) or lower level sections of the very intimate Rod Laver Arena. Join us in Melbourne for all the action.
More Details and FAQ's...
Rod Laver Arena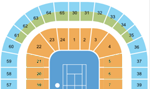 Seating Information
USD

EUR

GBP

BRL

ZAR

TRY

SGD

PHP

NOK

JPY

ILS

HUF

DKK

CNY

CAD

AUD

MXN

TWD

THB

SEK

PLN

NZD

INR

HKD

CZK

CHF

ARS

RUB
Upper Level
Generally located within the first 10 rows of the Upper Level Shaded Sections of Rod Laver Arena, these tickets offer great views of Center Court. Along with your reserved Center Court seat, you will have access to all the outside courts on a first come, first serve basis (you will not have access to the Hinsense Arena).

Lower Level
These Courtside Tickets will put you approximately 5-15 rows off the court and are typically situated within the shaded sections of Rod Laver Arena.


What does a Rod Laver Arena ticket give you access to?

If you have purchased a ticket to Rod Laver Arena you will have access to a reserved seat within Rod Laver Arena and access to all outside courts including Margaret Court Arena (subject to availability). You cannot access Hisense Arena with a Rod Laver Arena ticket.

I selected shaded seats but they are actually in the sun until mid-afternoon?

Shaded areas are subject to weather conditions on the day. Areas that are designated to be in the shade are an indication only and cannot be guaranteed to be in the shade on the day.

Where is the umpire's chair located?

The umpire's chair is located on the western side of the court.

How many sessions are there?

There are 25 sessions scheduled to be held at Rod Laver Arena. These sessions are detailed below:

11 day sessions from 16–26 January

11 night sessions from 16–26 January

Three Twilight sessions on 27, 28 and 29 January

There are 10 sessions scheduled to be held in Hisense Arena for the Australian Open in 2012.

These sessions are detailed below:

Eight Day sessions from 16–23 January

Two Night sessions from 20–21 January

In addition, there are other matches played every day of the tournament at Margaret Court Arena, Show Courts 2 and 3 and the outdoor courts.

How many matches are played in Rod Laver Arena and Hisense Arena?

The schedule for each day is posted on the Australian Open website when it is released the night before each day. Traditionally, during the day Session there are three matches played in Rod Laver Arena and four matches played on Hisense Arena. During the evening there are typically two matches played in Rod Laver Arena. This is subject to both weather and schedule changes. Ultimately, the number of matches is determined by the tournament referee and is subject to change at any time.

I want to see Roger Federer (or any other player), when is he playing?

The Australian Open is an elimination tennis tournament. For this reason, the draw for each day will not be announced until the night before each match. It is not possible to purchase tickets in advance for a specific player. Tickets are sold on a session-by-session basis.

What is the minimum age for a child to require a ticket?

Children two years and under are admitted free to Australian Open but must be nursed in seated areas. Please see Tennis Australia's child and concession policy for additional information.
When can I expect to receive my Australian Open tickets?

Tickets are scheduled to begin being distributed from our office in Scottsdale around January 1st. If you still haven't received your tickets within one week of your first day of attendance at the tournament, feel free to contact us. Otherwise, please rest assured that your ticket order is being processed normally. If this doesn't work with your travel plans, we will have representatives on site that can deliver tickets safely and securely to your Melbourne Hotel.
Commitment to Service
Unlike most online ticket brokers, we actually own our own inventory for each of the major tennis events around the world. We have relationships with ticket holders and promoters at various events that have been built up over 25 years. We handle only tennis and have deep experience and understanding of the tournaments we service. We sell officially issued Individual Tickets, Complete Tour Packages, and Customized Tour Packages. You can trust us to take care of all the details!
Mike Bernstein
Owner, Championship Tennis Tours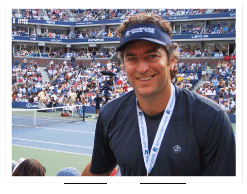 © 2000 - 2013 Championship Tennis Tours. All rights reserved.
Use of this website signifies your agreement to the TennisTours.com Privacy Policy.