USD

EUR

GBP

BRL

ZAR

TRY

SGD

PHP

NOK

JPY

ILS

HUF

DKK

CNY

CAD

AUD

MXN

TWD

THB

SEK

PLN

NZD

INR

HKD

CZK

CHF

ARS

RUB
|
US English

Portuguese

Spanish

French

German
|
May 26 – Jun 9, 2013 | Paris, France
CTT brings 25 years of experience and savoir faire having served thousands of clients worldwide to Roland Garros or The French Open as it's also known. Choose one of our great
complete packages
, create your own
customized package
, or purchase just the
individual tickets
for as many days as you'd like in the Upper or Lower level throughout the tournament. CTT is your ticket to the 2013 French Open Championships!
Entradas Individuales
Purchase multiple sessions
Choose seating in the Upper or
Lower Levels
Grounds Passes Available
Center Court and Suzanne Lenglen Available
Detailed Seating Charts
150% CTT Secure Guarantee
Tickets Transferred Into Your Name
Paquetes Completos
Deluxe Paris Accommodations
Guaranteed French Open Tickets
Choice of Seating Levels
Convenient Tournament Transfers
Tickets Transferred Into Your Name
City Tour, Seine River Cruise, Museum
and Metro Passes
On-Site Hosts, CTT Gifts, and More
Personalizar un Paquete
Choose your desired package dates
Select or indicate your preferred hotel
Attend as many sessions as you'd like
Choose your preferred seating levels
Add the tour options you'd like
Make any special requests
Quick tour quote in less than 24 hrs.
Get a custom
package quote

French Open

has a

4.8

out of

5

rating, based on

4

User Reviews
The Best Live Sporting Experience
Ben Bryson from United States said:
The French Open is one of those events you have to see live to appreciate what it means to these champions who conquer the red clay of Roland Garros and why so many have failed to hold up the coupe de mousquetaire. An amazing tournament.
Bottom line: Ben Bryson would recommend this event to their best friends
---
A Day to Remember
Tom Tanzer from Canada said:
I've been watching the French Open since I was a kid and always wondered what it would be like to actually attend. All I can say is it's far better than I had imagined. The tournament is very well organized. The only complaints I would mention are the prices they charge for food/water, and the lines were even worse. So if you do go, bring your own food. There are lots of little stores near the Porte d'Auteuil metro.
Bottom line: Tom Tanzer would recommend this event to their best friends
---
We'll always have Paris!
Eric Rinestone from Tucson, USA said:
I've taken my family with Championship Tennis Tours now twice to the French Open. It's simply an amazing trip when you couple this great event with a city like Paris. There's so much to see and do. We went the year Guga won his first title and then again when Roger finally took home the title a few years back. We're hoping to making it back again this year, and will certainly use Championship Tennis Tours for their incredible tickets.
Bottom line: Eric Rinestone would recommend this event to their best friends
---
Love the Red Clay
Ashley Keyes from New York, USA said:
We've been to many tournaments but you won't find better quality rallies than on the red clay of Roland Garros. Would be good if there was a roof as we had to deal with some rain delays, but overall the experience phenomenal. We're planning our next trip hopefully for this year.
Bottom line: Ashley Keyes would recommend this event to their best friends
---
Compromiso de Servicio
Unlike most online ticket brokers, we actually own our own inventory for each of the major tennis events around the world. We have relationships with ticket holders and promoters at various events that have been built up over 25 years. We handle only tennis and have deep experience and understanding of the tournaments we service. We sell officially issued Individual Tickets, Complete Tour Packages, and Customized Tour Packages. You can trust us to take care of all the details!
Mike Bernstein
Owner, Championship Tennis Tours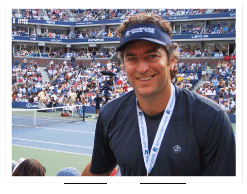 © 2000 - 2013 Championship Tennis Tours. All rights reserved.
Use of this website signifies your agreement to the TennisTours.com Privacy Policy.