USD

EUR

GBP

BRL

ZAR

TRY

SGD

PHP

NOK

JPY

ILS

HUF

DKK

CNY

CAD

AUD

MXN

TWD

THB

SEK

PLN

NZD

INR

HKD

CZK

CHF

ARS

RUB
|
US English

Portuguese

Spanish

French

German
|
Monte Carlo Masters Tickets
Apr 14 – Apr 20, 2014 | Monte Carlo
Championship Tennis Tours offers great tickets for this Spring time clay court classic situated at the Monte Carlo Masters Country Club on the beautiful French Riviera. Book your tennis tickets now to see all the action at the 2014 Masters Series Monte Carlo Masters in what many consider the most picturesque tournament setting in the world.
More Details and FAQ's . . .
Monte Carlo Masters
Country Club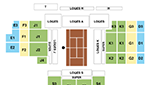 Seating Information
USD

EUR

GBP

BRL

ZAR

TRY

SGD

PHP

NOK

JPY

ILS

HUF

DKK

CNY

CAD

AUD

MXN

TWD

THB

SEK

PLN

NZD

INR

HKD

CZK

CHF

ARS

RUB
An interactive map will go here.
We don't have any additional information for this tournament at this time. Please check back later for updates. If you have questions about any of our ticket or package offerings, feel free to
give us a call
or
send an email
(
click here
for contact information).
What is an e-ticket?
The e-ticket (electronic ticket) is a new means of buying your seats for the Monte-Carlo Rolex Masters. The e-ticket can be printed on any printer, and enables you to access the tournament. They may be printed in either colour or black and white, on an A4 sheet of paper (one side only). Legibility of the information contained on the e-ticket is essential for electronic access control to the stadium. The e-ticket will simplify your order and enable you to receive your ticket(s) immediately. Any attempt at fraud will be detected at the electronic control the day of the event.
When can I expect to receive my Monte Carlo Masters tickets?
Tickets are scheduled to begin being distributed from our office in Scottsdale around the end of March with tickets for the first week of the tournament being sent out first followed by second week orders. If you still haven't received your tickets within one week of your first day of attendance at the tournament, feel free to contact us. Otherwise, please rest assured that your ticket order is being processed normally. If this doesn't work with your travel plans, we can arrange to have your tickets shipped directly to your hotel in the Monte Carlo Masters area.

© 2000 - 2013 Championship Tennis Tours. All rights reserved.
Use of this website signifies your agreement to the TennisTours.com Privacy Policy.