USD

EUR

GBP

BRL

ZAR

TRY

SGD

PHP

NOK

JPY

ILS

HUF

DKK

CNY

CAD

AUD

MXN

TWD

THB

SEK

PLN

NZD

INR

HKD

CZK

CHF

ARS

RUB
|
US English

Portuguese

Spanish

French

German
|
2013
US Open
Aug 26 – Sep 9, 2013 | Flushing Meadows, NY
In 2012, Andy Murray beat Novak Djokovic in an epic five set match to take his first Grand Slam Title. On the Ladies side, the action was just as intense as Serena Williams defeated the number one seed Victoria Azarenka to take the title in a thrilling three set match.. Championship Tennis Tours offers you a choice of
Individual Tickets
,
Complete Packages,
or you can
Customize a Package
. Since 1987, we've made experiencing the US Open simply a breeze for fans worldwide. We hope you'll join us in 2013.
Ingressos Individuais
Purchase multiple sessions
All Levels: Prom, Loge, Courtside
Select your view from Side, Corner,
or Behind the Server
Live Inventory Options
Interactive Map Ticketing
Grounds Passes Available
Detailed Seating Charts
150% CTT Secure Guarantee
Pacotes Completos
Deluxe hotel accommodations
Guaranteed US Open Tickets
Choice of seating levels
Scheduled tournament transfers
Broadway, Mets, or Yankees Tickets
Cocktail Party at the W Hotel
On Site Hosts, CTT Gifts, and More
Personalizar um Pacote
Choose your desired package dates
Select or indicate your preferred hotel
Attend as many sessions as you'd like
Choose your preferred seating levels
Add the tour options you'd like
Make any special requests
Quick tour quote in less than 24 hrs.
Get a custom
package quote

US Open

has a

4.9

out of

5

rating, based on

11

User Reviews
Big Time Fun
David Guglielmo from Pomona Beach USA said:
What can you say, this is more than just a day at a tennis event, it's the biggest tennis tournament in the world. The stadium makes you feel like you're back in days of the Roman coliseum watching the gladiators go at it.
Bottom line: David Guglielmo would recommend this event to their best friends
---
Great Trip despite the rain
Sandy from Mesa, USA said:
Due to the inclement weather, the session I was attending was rescheduled to the next day which coincide with a Mets doubleheader. CTT worked out getting me another pair of tickets. Parking was a nightmare however, it took me over an hour to find a space and I only made it to the match because a cop let people park on the shoulders of an overfill lot. Women's play was excellent, rallies are much longer and US Open crowd was gracious and spirited. The action was amazing...can't wait till next year.
Bottom line: Sandy would recommend this event to their best friends
---
Great Experience
Vlad Rakevic from Sofia, Bulgaria said:
The Men's semi-Finals wasn't organised well as we paid for two matches but could watch only one match They moved the other match to Luis Armstrong stadium. They should have planned it better so that people got their money's money and enjoyed both the matches. They should have moved the match back to Arthur Ashe or should have postponed the entire game for the next day, then people would have got to see both matches fully. Despite all this, it was amazing to get to see Federer play in person.
Bottom line: Vlad Rakevic would recommend this event to their best friends
---
Absolutely Amazing
Henry James Palmer from Seattle, USA said:
Spending a day at the US Open is a must for all tennis fans...bring some $$$ for food-but even with crazy prices-you feel it's day worthy of the investment......
Bottom line: Henry James Palmer would recommend this event to their best friends
---
Incredible Seats
Paul Saphier from New York, USA said:
Championship Tennis Tours let me purchase tickets that I would otherwise not have access to. I will definitely be using CTT in the future and I would recommend to friends/family!
Bottom line: Paul Saphier would recommend this event to their best friends
---
Show more Reviews
Compromisso de Serviço
Unlike most online ticket brokers, we actually own our own inventory for each of the major tennis events around the world. We have relationships with ticket holders and promoters at various events that have been built up over 25 years. We handle only tennis and have deep experience and understanding of the tournaments we service. We sell officially issued Individual Tickets, Complete Tour Packages, and Customized Tour Packages. You can trust us to take care of all the details!
Mike Bernstein
Owner, Championship Tennis Tours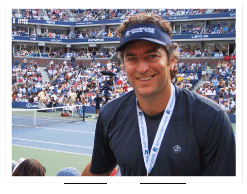 © 2000 - 2013 Championship Tennis Tours. All rights reserved.
Use of this website signifies your agreement to the TennisTours.com Privacy Policy.