USD

EUR

GBP

BRL

ZAR

TRY

SGD

PHP

NOK

JPY

ILS

HUF

DKK

CNY

CAD

AUD

MXN

TWD

THB

SEK

PLN

NZD

INR

HKD

CZK

CHF

ARS

RUB
|
US English

Portuguese

Spanish

French

German
|
Monte Carlo Masters Packages
Apr 14 – Apr 20, 2014 | Monte Carlo
Forfaits complets comprennent:
Five Star Accommodations

•

Guaranteed Lower Level tickets

•

Round Trip Helicopter Transfer

•

CTT Welcome Gifts

•

Et Plus. . .
Code du Tour
Dates de Package
Nuits
Hôtel
Tours
Billets Inclus
Niveaux de places
Coût par personne
Nombre de personnes
Total
04/13/2014-04/18/2014
5
Opening Rounds
Mon, Tue, Wed
Add Tour Options below or Checkout Now
04/16/2014-04/21/2014
5
Final Rounds
F-Sa-Su
Add Tour Options below or Checkout Now
No information here yet.
Excellent Center Court Tickets for the Monte Carlo Masters.

Your tickets on Center Court give you access to all the side courts as well.


What is an e-ticket?
The e-ticket (electronic ticket) is a new means of buying your seats for the Monte-Carlo Rolex Masters. The e-ticket can be printed on any printer, and enables you to access the tournament. They may be printed in either colour or black and white, on an A4 sheet of paper (one side only). Legibility of the information contained on the e-ticket is essential for electronic access control to the stadium. The e-ticket will simplify your order and enable you to receive your ticket(s) immediately. Any attempt at fraud will be detected at the electronic control the day of the event.
Daily Buffet Breakfast
Round Trip Helicopter Transfer from Nice to Monaco
CTT Tour Gifts
Your Monte Carlo Masters Package contents including your tennis tickets are delivered to you by FedEx a few weeks before your package begins.

Do you have any questions?
or call (800) 468-3664
local and international call
+1 (480) 429-7700
Engagement au Service
Unlike most online ticket brokers, we actually own our own inventory for each of the major tennis events around the world. We have relationships with ticket holders and promoters at various events that have been built up over 25 years. We handle only tennis and have deep experience and understanding of the tournaments we service. We sell officially issued Individual Tickets, Complete Tour Packages, and Customized Tour Packages. You can trust us to take care of all the details!
Mike Bernstein
Owner, Championship Tennis Tours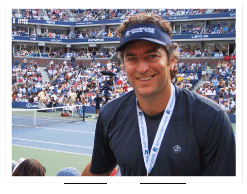 © 2000 - 2013 Championship Tennis Tours. All rights reserved.
Use of this website signifies your agreement to the TennisTours.com Privacy Policy.