USD

EUR

GBP

BRL

ZAR

TRY

SGD

PHP

NOK

JPY

ILS

HUF

DKK

CNY

CAD

AUD

MXN

TWD

THB

SEK

PLN

NZD

INR

HKD

CZK

CHF

ARS

RUB
|
US English

Portuguese

Spanish

French

German
|
Rogers Cup Packages
Aug 5 – Aug 11, 2013 | Montreal, Canada
Complete Packages Include:
Three or five star Montreal Accommodations

•

Guaranteed Rogers Cup Upper or Lower Level tickets

•

CTT "Golden Goods™" Welcome Tour Gifts

•

More Details and FAQ's. . .
Tour
Code
Package Dates
Nights
Hotel
Rounds
Tickets Included
Seating Level
Cost Per
Person
# of
People
Subtotal
8/04/2013-8/07/2013
3
Opening Rounds
Mon and Tue (Day/Eve)
Add Tour Options below or Checkout Now
8/06/2013-8/09/2013
3
Middle Rounds
Wed and Thu (Day/Eve)
Add Tour Options below or Checkout Now
8/09/2013-8/12/2013
3
Final Rounds
F-Sa-Su
Add Tour Options below or Checkout Now
No information here yet.

Official Rogers Cup Courtside Tickets.

Your tickets allow you to attend matches on all the side courts.


What is the Rogers Cup presented by National Bank?
Since 1881, the best men's tennis players in the world have showcased their skills on Canadian courts. Only Wimbledon and the U.S. Open have longer histories than the major Canadian stop, which is acknowledged by the tennis world to be one of the best-run tournaments on the Tour. Classified as a Masters 1000 event on the ATP World Tour tournament calendar, Rogers Cup presented by National Bank offers more than $3 million in prize money and attracts the biggest stars of men's tennis year after year.
Last year in Montreal, Novak Djokovic continued his incredible season by capturing his second Rogers Cup title in his first tournament since winning his maiden Wimbledon crown and ascending to the world No. 1 ranking. It was the Serbian's ninth title of 2011, who previously won the Canadian crown in 2007. The last time the men were in Toronto, Great Britain's Andy Murray lifted his second consecutive Rogers Cup trophy, defeating both Rafael Nadal and Roger Federer along the way for an impressive display of tennis. Nadal, Federer, Andy Roddick, Andre Agassi, John McEnroe, Ivan Lendl, Boris Becker and Bjorn Borg are among the other stars with their names etched on the champions list of the tournament, which alternates annually between Toronto and Montreal. Faye Urban Mlacak is the last Canadian to have won the singles title on home soil. She captured both the singles and doubles (with Vicki Berner) championships in 1969.
How many seats are in the Rexall Centre in Toronto?
Centre court can hold up to 10,300 spectators.
What are some of the �tennis etiquette' rules that fans must abide by while watching matches at the Rogers Cup presented by National Bank?
Please remain in your seat until the end of play and only leave your seat during a player changeover.
Please refrain from making noise during play.
Smoking is not permitted in the Stadium Court.
Turn cell phones to vibrate/silent mode.
Do not use flash photography from the stands.
What session or day is the best to attend?
Every fan finds a different day or session to his or her liking. There are more matches earlier in the week and during matinee sessions. As the week progresses, the excitement builds as the field narrows and the remaining players fight to become the next Rogers Cup presented by National Bank Champion.
Can I buy a ticket to watch a particular player?
The Rogers Cup presented by National Bank is an elimination tennis tournament, and as such the schedule of play is determined each evening for the following day. Therefore, it is not possible to purchase tickets in advance and guarantee a specific player will play in that session.
How are the draw and schedule made?
The official draw is created the weekend prior to the start of the main draw. The players' names are randomly selected and placed on the official drawboard, with the top 16 seeds already placed on the board after receiving a bye in the first round. Once the draw is determined, the schedule of play is made daily by the tournament director, tournament referee and ATP World Tour Director. Please check rogerscup.com nightly throughout the tournament for the next day's schedule of play.
If I don't want to be looking into the sun, or would like to sit in the shade, where would be the best place to sit?
During the matinee session the sun is almost directly overhead and there is no shade. During the evening session while the sun is setting the preference is to sit on the west side facing east. The Rexall Centre is an outdoor stadium so remember to bring your sunscreen and a hat as temperatures can get very hot.
What does my ticket entitle me to?
Your ticket also allows access to matches on other courts including the Grandstand during the session your ticket is valid for, however this seating is unreserved.
How many matches will I see with my ticket?
From Monday through Friday, there will be a minimum of three matches scheduled on Centre Court in the matinee session and a minimum of two matches scheduled in the evening session. Inclement weather and other factors beyond our control may alter this schedule. Both singles and doubles matches are included in most sessions.
What time can I come to watch my session of tennis?
You may enter the site for your session according to the gate time printed on your ticket. Typically, the gates open one to two hours prior to the start of the first match. For example, the Thursday Matinee session gates open at 10:00 a.m. and the matches start at 11:00 a.m. while Thursday Evening session gates open at 5:30 p.m. and the matches start at 7:00 p.m.
Can I bring a camera?
Cameras are allowed to be brought on site, no flash photography is allowed while play is in session. Tripods, monopods, camcorders, laptops and ipads are not allowed. If found at the gate, you will be asked to return these items to your vehicle before entry is permitted. We ask that photographs at Centre Court only be taken from your seat or behind the railing, and that it not interfere with any other guest's enjoyment of the match.
Daily Buffet Breakfast
CTT Tour Gifts
Your Rogers Cup package contents are delivered by FedEx a few weeks before your first day of attendance at the tournament.

Do you have any questions?
or call (800) 468-3664
local and international call
+1 (480) 429-7700
Commitment to Service
Unlike most online ticket brokers, we actually own our own inventory for each of the major tennis events around the world. We have relationships with ticket holders and promoters at various events that have been built up over 25 years. We handle only tennis and have deep experience and understanding of the tournaments we service. We sell officially issued Individual Tickets, Complete Tour Packages, and Customized Tour Packages. You can trust us to take care of all the details!
Mike Bernstein
Owner, Championship Tennis Tours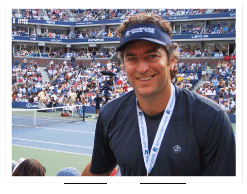 © 2000 - 2013 Championship Tennis Tours. All rights reserved.
Use of this website signifies your agreement to the TennisTours.com Privacy Policy.