USD

EUR

GBP

BRL

ZAR

TRY

SGD

PHP

NOK

JPY

ILS

HUF

DKK

CNY

CAD

AUD

MXN

TWD

THB

SEK

PLN

NZD

INR

HKD

CZK

CHF

ARS

RUB
|
US English

Portuguese

Spanish

French

German
|
W&S Open Tickets
Aug 15

–

Aug 23, 2015

|

Cincinnati, OH
The W&S Open in Cincinnati features the top Men's and Women's players in the world. Center Court at the Linder Family Tennis Center holds 10,500. CTT features the best seats in both the exclusive Courtside Box "100 level" and the Terrace "200 level". Nadal and Azarenka will surely be back to defend their coveted titles captured in 2013.
More Details and FAQ's . . .
W&S Open Center Court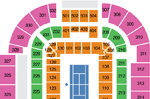 Seating Information
USD

EUR

GBP

BRL

ZAR

TRY

SGD

PHP

NOK

JPY

ILS

HUF

DKK

CNY

CAD

AUD

MXN

TWD

THB

SEK

PLN

NZD

INR

HKD

CZK

CHF

ARS

RUB
W&S Open Center Court
Choose Your Ticket
Price
Quantity
Stadium View (Approximate View)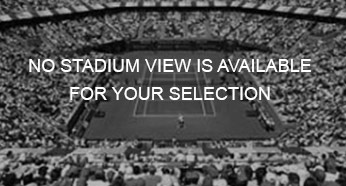 Upper Level
Upper level seats at the W&S Open Center Court offer an affordable option to the higher priced Lower Level tickets. The views are still decent, but if you can, spoil yourself with some lower level tickets.
Lower Level
The Lower Level at the O2 Arena offer the best views of the action.

Where is the W&S Open Center Court located?

It can be seen from Interstate 71, directly across from Paramount's Kings Island, about 30 minutes northeast of downtown Cincinnati. It's about one hour from Columbus, Ohio, and about 30 minutes from Dayton, Ohio. Click here for detailed directions, or try www.mapquest.com.

W&S Open Center Court

5460 Courseview Drive

Mason, OH 45040

When do the sessions begin and end?

On the tickets page, under single session tickets for men and single session tickets for women, you'll find the start times of each session. There are no definite session-ending times, as all sessions last until the matches for that session are completed or the session is determined to be completed (due to rain or other circumstance). In general, the sessions which start at 11 a.m. usually last until about 5 p.m., and the sessions which start at 3 p.m. or 7 p.m. usually last until approximately 11 p.m. Again, ending times are dependant on the length of the matches scheduled for that session. (Gates open two hours before each sessions starts).

Will one ticket allow me to watch both the afternoon and evening sessions?

No. You will need a ticket to attend each session. Please be prepared to present your ticket to the usher for entry to Center Court.

Can you tell me now when a particular player will play?

No. In a single elimination tournament, only one player advances and since no one knows who will win or lose, no one knows who will play when.

When is the first round played? When's the second round played?

Barring unforeseen circumstances, the first and second rounds will be played Monday, Tuesday and Wednesday. The round of 16 is completed on Thursday, the quarterfinals are played on Friday, the semifinals are played on Saturday and the finals are played on Sunday.

On how many courts are matches played?

Depending on the day, matches may be played on up to seven or eight courts.

Can I watch players practice? How do I know who's practicing when and where?

Some courts at the W&S Open Center Court were built specifically as practice courts. Watching practice has become a real fan favorite because fans can get so close to the stars and see them in a relaxed environment. An electronic board near the player entrance (on the west side of the W&S Open Center Court) updates fans on who is practicing on which courts. In addition, fans will have the option to view the player practice schedule during the event by opening

www.cincytennis.com

on their mobile devices.

How does the W&S Open Center Court compare to other tennis facilities?

The W&S Open Center Court and the venues for the four Grand Slams are the only venues in tennis with more than two permanent stadiums. Cincinnati has four permanent stadiums: Center Court (capacity: 11,435), Grandstand Court (capacity: 5,000), Court #3 (capacity: 4,000) and Court #9 (capacity: 2,000). All four have lights to allow for night play. The site has a total of 16 courts and matches may be played on up to eight of those courts (depending on the day and the tightness of the schedule).

I'm buying single session tickets. Where will I sit? Can I sit down next to the court?

Center Court at the W&S Open Center Court is divided into three levels: The box level, the loge level, and the terrace level. The box level, the loge level and the first five rows of the terrace level are for fans who are buying tickets for the entire tournament, not just one or a few sessions. Also, there are waiting lists for the box and loge levels. However, please keep in mind that the Center Court stadium was specifically built for tennis and seats only 11,435 -- so even the last row provides a great view of the action. Also keep in mind that the earlier you order tickets, the lower your seats will be in the terrace level.

Has the tournament always been called the Western & Southern (W&S) Open?

No. The Cincinnati tournament has had many different names since its beginning on September 18, 1899, including the Cincinnati Open, the Tri-State Tennis Championship, the Western Tennis Championship, the ATP Championship and Tennis Masters Series Cincinnati.



When can I expect to receive my W&S Open tickets?
Tickets are scheduled to begin being distributed from our office in Scottsdale around the end of March with tickets for the first week of the tournament being sent out first followed by second week orders. If you still haven't received your tickets within one week of your first day of attendance at the tournament, feel free to contact us. Otherwise, please rest assured that your ticket order is being processed normally. If this doesn't work with your travel plans, we can arrange to have your tickets shipped directly to your hotel in the W&S Open area.

Do you have any questions?
Send an email
. Or call. (800) 468-3664
local and international call
+1 (480) 429-7700
Since 1987, we have had just one mission, and that's to make it as easy as possible for thousands of fans each year to attend the most sought after tennis tournaments in the world. We handle only tennis and have deep experience and understanding of the tournaments we service. You can trust us to take care of all the details, with a level of customer service that will make you a loyal client for years to come.
Mike Bernstein
Championship Tennis Tours
© 2000 - 2015 Championship Tennis Tours. All rights reserved.
Use of this website signifies your agreement to the TennisTours.com Privacy Policy.