BNP Paribas Open (March)
9 Mär – 20 Mär, 2022 | Indian Wells, CA
Fotos anzeigen
Die BNP Paribas ist die 5. größte Tennisturnier in Bezug auf die Teilnahme nur nach den vier Grand-Slam-Turniere. Sie Einzeltickets inklusive Luxus-Suite während des gesamten Turniers wählen können.
Erwerben mehrere Sitzungen
Wählen Oberösterreich, Box und Luxury Suite Ebene Sitze
Detaillierte Seating Charts
150% CTT Sichere Garantie
Individuelle Tickets
Deluxe Unterkünfte
Karten BNP Paribas Open Garantierte
Platzwahl Levels
Turnier Transfers
On-Site-Hosts, CTT Geschenke und mehr
Pauschalreise
Wählen Sie die gewünschten Termine fürIhr Reise
Wählen Sie oder geben Sie Ihre bevorzugten Hotels
Nehmen Sie so viele Sitzungen, wie Sie möchten
Wählen Sie Ihre bevorzugte Sitzebenen
Fügen Sie die Tour Optionen hinzu, die Sie möchten
Wahlen Sie besondere Wünsche
Kurze Tour Angebot in weniger als 24 Stunden.
Individualisieren eine Paket
BNP Paribas Open (March) has a 5 out of 5 rating, based on 6 User Reviews
Fantastic Experience
Chloe V. from New York, NY said:
I went on this tour with my family and had a fantastic experience. The event is set in the beautiful backdrop of Palm Springs. We could see the mountains behind the stadium while the players were on the court. My kids loved this venue and we will book again with Championship Tennis Tours as they found us great seats on short notice and offered extra customer servicing - information about special events for our kids.
Bottom line: Chloe V. would recommend this event to their best friends
---
Great Venue
Tonya Beasely from Boston, USA said:
This tournament offers an incredible way to the top players in the world in a breathtaking setting.
Bottom line: Tonya Beasely would recommend this event to their best friends
---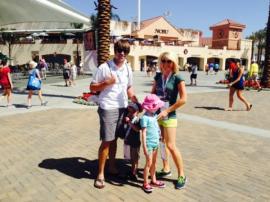 Better than the Grand Slams!
Pat Breault from Hilo, Hawaii said:
We attended our 1st BNP Paribas Open this year and it will not be our last. The tickets were just as you said, in the shade right off the baseline. We've been to the Australian Open and have attended the US and French Opens. This tournament is, as far as for a great family experience, was by far the best. The Grand Slams care more about breaking attendance records than providing a spectator friendly environment. This tournament had it all, the top players, good food, entertainment, shopping, etc. We will certainly look to attend this tournament with you again before going to another Grand Slam.
Bottom line: Pat Breault would recommend this event to their best friends
---
loved it, the suite was wonderful
Pollie (Paula) Hanson said:
I raved about it when I got home. First time I've been to a tennis tournament and want to go again, except for 1 week as I cannot afford the full 2 weeks again.
Bottom line: Pollie (Paula) Hanson would recommend this event to their best friends
---
Haben Sie Fragen?
Senden Sie eine E-Mail
. Oder rufen. (800) 468-3664
local and international call
+1 (480) 429-7700

Seit 1987 haben wir die Mission, Fans aus allert Welt die Teilnahme am begerhrtesten Tennisturnier der Welt so einfach wie möglich zu machen. Wir beschäftigen uns ausschließlich mit Tennis und haben weitreichende Erfahrung und Einblick die Turniere betreffend, die wire anbieten. Sie können voll auf das Niveau unseres Kundendienstes vertrauen, der sich um all Details kümmert, damit Sie in Zukunft en teuer Kunde von uns werden.

Mike Bernstein
Championship Tennis Tours