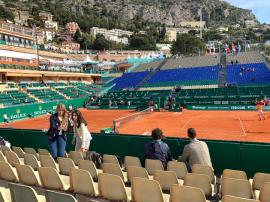 "Best seats in the house!"
View from our seats. Doesn't get any better. Monte Carlo done right. We're grateful!....Thanks...Susan
- Susan Weinstein from Israel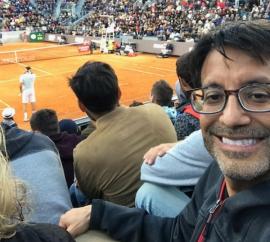 "Incredible time in Rome!"
Chris, We had a great time at the tournament yesterday. We saw Fed, Nadal, and Djokovic play in one day! The hotel is really nice and close to everything! That was my third CTT trip and we've really enjoyed all of them. The Segway tour of Rome was one of my favorite memories from our trip. We also saw the Nadal-Tsitsipas match and it was also great! Our next trip will likely be to the French Open. Thanks again! John Malanga
- John from Texas, USA
Italian Open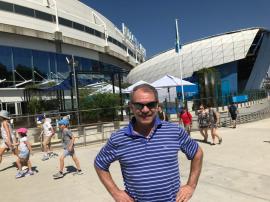 "Wonderful Experience Down Under!"
Hi Chris, I wanted to thank you for the excellent service and delivering the quality seats you promised for the Australian Open. The seats were in the shade and excellent for viewing the matches. I plan to use your services for future ticket needs and refer you to friends looking for a quality ticket service. Thanks again, Bob
- Bob Davey from New York
Australian Open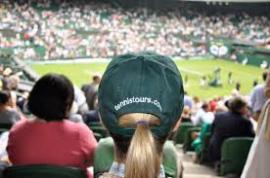 "Once in a lifetime experience!"
Hi. We're back from Wimbledon (certainly a magical place) and just want to thank you for your help getting there. It was a once in a lifetime experience -- great seats, great weather, and all the arrangements worked well. No drama in the tennis when we were at Center Court but we got to see Roger, Rafa and Serena all in one day -- couldn't ask for more. And although I would have liked to have seen the Federer/Anderson match, I probably would have been bummed to see Roger lose. (Mike: are you at the matches this week?) Am watching the Anderson/Isner match now (a nail-biter) and it's such fun to see the grounds and recognize them. Thanks again for your help. Gerry
- Gerry Min from New York City, USA
Wimbledon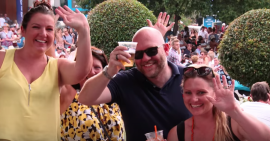 "A thank you from New Zealand "
Hi I just wanted to email to say what fabulous service we have had from you guys throughout our involvement for tickets to the Australian Open. We have just returned and had the most amazing time. Your people were so easy to deal with, with our barrage of questions given our nervousness of booking with a US company from NZ. Even when we called they were so accommodating, polite and knowledgable and every different rep went out of their way to help. Thank you Tennis Tours - we will definitely use you again!
- Anthea Brittliff from Wellington, NZ
Australian Open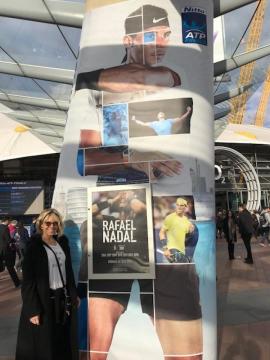 " Federer at the World Tour Finals!"
Chris, Just wanted to send you a quick note while we are in London to thank CTT for setting up our trip. Today we saw Federer vs. Cilic. The seats, which were in the SECOND ROW, were simply amazing! The hotel you booked is located a few tube stops away from the O2 arena. The hotel has a very modern appeal, and it's in a cool area on London. Last night we went to a musical and we go back to the finals on Saturday. Once again, thank you!
- John Malanga from Texas
Nitto ATP Finals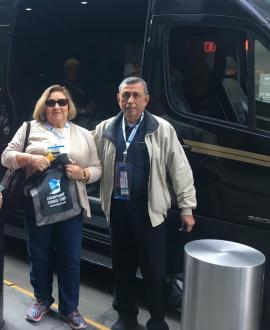 "Well done! Thank you for taking care of my parents!"
Chris, Thank you and your team for making my parents weekend in NYC special. They were very positive with you all and had a great time at the hotel/location (me a wife really like it too), Wiked, and at the Open. Thank you for all the special request I had throughout the last few weeks to make this be special. My mom now wants to go Wimbledon, so you may here from me again! Best, Roberto
- Robert Ruiz from Mexico City, Mexico
US Open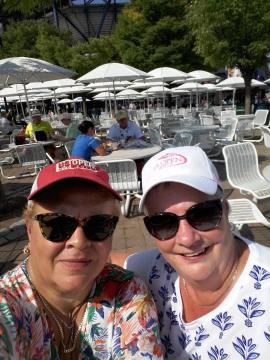 "Unforgettable US Open Experience!"
Hi Chris Just returned from new york having had three fantastic days at the us open tennis I would just like to thank you for giving us excellent tickets and the way they were delivered to our hotel was very professional we were over the moon.We will definitely be using championship tennis tours again. Thanks again Chris and Jessie from Ms. S. Morris
- S. Morris from Maesteg, UK
US Open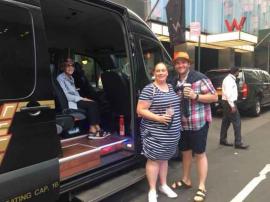 "THIS WAS SO EASY! HONESTLY!"
Coming from England, we saw there were a ton of companies offering tickets to the US Open, but you guys couldn't have made it any easier. When we saw that you had been in business for 30 years, we knew this was the company to go with, and we're so glad we did. Thank you!
- Neil Fuller from Hempsted, England
US Open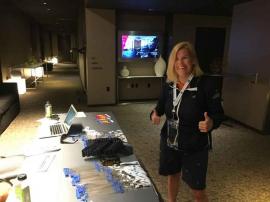 "CHECK THE US OPEN OFF THE LIST!"
I've been to all the majors, thanks Championship Tennis Tours!
- Paige Marshall from Virginia, USA
US Open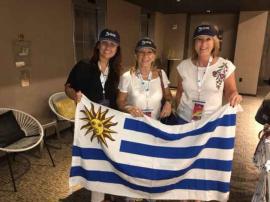 "Vamos Championship Tennis Tours!"
Thank you for all your help...we had 4 tickets for 6 sessions and you delivered everything, perfectly! Gracias
- Marina Rodino from Uruguay
US Open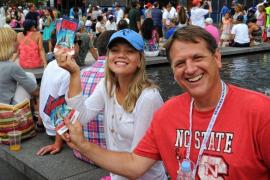 "Promises made, promises kept!"
We received all tickets and documents via FedEx as you promised. You folks do a GREAT job!!! CTT is everything it promises. We're thrilled to be going to the US Open and a Broadway show. Thanks to you! Thank you so much. Best wishes, Mike and Marion Rayeur
- MIke and Marion Rayeur from Nashville, USA
US Open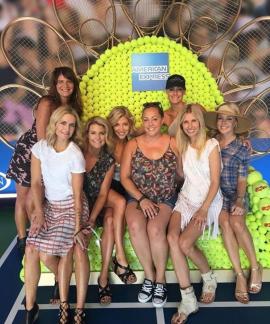 "8 High Maintenance Girls Trip... Well Done!"
Hi Chris, Wanted to thank you for making our trip to the US Open amazing. All your recommendations were spot on, and your Golden Touch shuttle services worked out perfectly.
- Bethanie Fenton from San Francisco, USA
US Open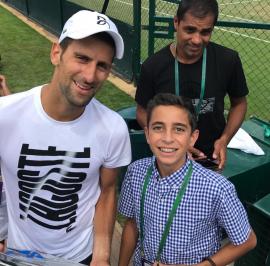 "Wonderful time!"
Mike I wanted to thank you for the set up of tickets for wimbeldon. We enjoyed the training area where we met Federer, Agassi, and Djokovic. I'm sending you a picture with my son and Djokovic. We had a wonderful time and appreciate the excellent seats on Center Court. Thanks again.
- Dr. Baravarian from Los Angeles, USA
Wimbledon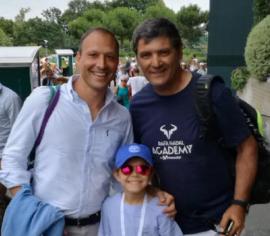 "Dreams Come True. "
Watching my wife and daughter enjoy center court seats at Wimbledon (while they ate strawberries and cream) was as amazing for me as seeing Federer play. We even got to meet Uncle Toni and get an autograph. Your suggestion to go for tickets on Manic Monday was a good one. What a line up we had. We will see you for next year's Roland Garros for sure.
- Paolo from Biella, Italy
Wimbledon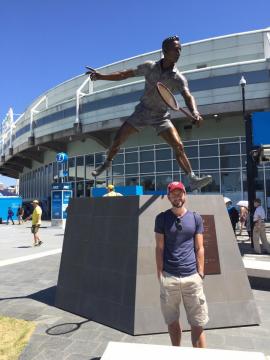 "Completed Grand Slam!"
I want to say thank you to Chris and the team at Championship Tennis Tours for continued outstanding service and for making recommendations for great seats at the Australian Open. I had an awesome view of the #1 men and women players, getting to see Andy Murray and Angelique Kerber in Laver Arena, along with all-time greats like Federer and Venus Williams. I have now achieved a tennis fan's grand slam, having attended all four majors (Australian, French Open, Wimbledon and the US Open), all with tickets from CTT. Service has always been personalized, prompt and attentive, so I will continue using CTT for all of my tournament visits. I would recommend CTT to anyone looking for a great tennis fan experience.
- Burns McKinney from Dallas
Australian Open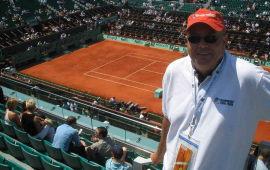 "The best experience ever!"
You guys did an amazing job. Would love to go back to the French Open again very soon. The next one on the list though is Wimbledon and we'll be in contact. Regards, Terry
- Terry Clayton from Canada
French Open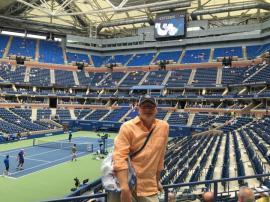 "Wonderful US Open Experience!"
Thanks for helping to organise a great experience getting tickets for Mens Semi-final day. The Courtside corner seats were the best. And provided a fantastic day for my wife and I. In all my contact with Championship Tennis Tours, communication and organisation could not be faulted. From day one they gave me high confidence that things would be well arranged. If I plan to visit any future tennis events I will not hesitate to use Championship Tennis Tours again.
- Jim from Ardrossan, Scotland
US Open