BNP Paribas Open
Mar 8 – Mar 19, 2023 | Indian Wells, CA
View Photos
The BNP Paribas Open is the largest professional two-week combined ATP and WTA Tour tennis tournament in the world with 96 players in the singles and 32 teams in the double draws. We hope you'll join us in where in addition to our great tour packages you can choose Individual tickets in Stadium 1 in all levels available throughout the tournament.
Purchase multiple sessions
Choose Upper, Box, and Luxury Suite level seats
Interactive Map Ticketing
100% CTT Secure Guarantee
Individual Tickets
3, 4 and 5 star accommodations
Guaranteed official BNP Paribas Open Tickets
Choice of Seating Levels
On-Site Hosts, Private car transfers to and from your hotel and the tennis, CTT Gifts, and More
Complete Packages
Choose your desired package dates
Select or indicate your preferred hotel
Attend as many sessions as you'd like
Choose your preferred seating levels
Add the tour options you'd like
Make any special requests
Quick tour quote in less than 24 hrs.
Customize a Package
BNP Paribas Open has a 5 out of 5 rating, based on 6 User Reviews
Fantastic Experience
Chloe V. from New York, NY said:
I went on this tour with my family and had a fantastic experience. The event is set in the beautiful backdrop of Palm Springs. We could see the mountains behind the stadium while the players were on the court. My kids loved this venue and we will book again with Championship Tennis Tours as they found us great seats on short notice and offered extra customer servicing - information about special events for our kids.
Bottom line: Chloe V. would recommend this event to their best friends
---
Great Venue
Tonya Beasely from Boston, USA said:
This tournament offers an incredible way to the top players in the world in a breathtaking setting.
Bottom line: Tonya Beasely would recommend this event to their best friends
---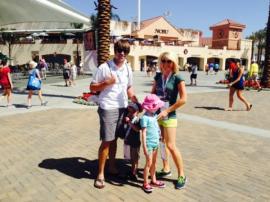 Better than the Grand Slams!
Pat Breault from Hilo, Hawaii said:
We attended our 1st BNP Paribas Open this year and it will not be our last. The tickets were just as you said, in the shade right off the baseline. We've been to the Australian Open and have attended the US and French Opens. This tournament is, as far as for a great family experience, was by far the best. The Grand Slams care more about breaking attendance records than providing a spectator friendly environment. This tournament had it all, the top players, good food, entertainment, shopping, etc. We will certainly look to attend this tournament with you again before going to another Grand Slam.
Bottom line: Pat Breault would recommend this event to their best friends
---
loved it, the suite was wonderful
Pollie (Paula) Hanson said:
I raved about it when I got home. First time I've been to a tennis tournament and want to go again, except for 1 week as I cannot afford the full 2 weeks again.
Bottom line: Pollie (Paula) Hanson would recommend this event to their best friends
---
Do you have any questions?
Send an email
. Or call. (800) 468-3664
local and international call
+1 (480) 429-7700

Since 1987, we have had just one mission, and that's to make it as easy as possible for thousands of fans each year to attend the most sought after tennis tournaments in the world. We handle only tennis and have deep experience and understanding of the tournaments we service. You can trust us to take care of all the details, with a level of customer service that will make you a loyal client for years to come.

Mike Bernstein
Championship Tennis Tours