Wimbledon
2 Jul

–

15 Jul, 2018

|

London, England
Hinweis: Sicher, vertrauenswürdig und
garantiert seit 1987. Die Preise können Wert.
Sitze zusammen sind, wenn nicht anders vermerkt.
Fotos anzeigen
Gehe die Warteschlangen mit Championship Tennis Tours und verwöhnen Sie sich königlich beim prestigeträchtigsten Event auf der Tour. Mit Ihrer Tickets Center Court oder Court 1 genießen Sie Zugang zu den Schuldbrief Sitz Holders Lounge oder VIP-Hospitality. Auf dem Center Court, werden unsere Tickets überall in der 200-Ebene und der ersten zehn Zeilen der 300-Ebene gelegen, bietet unvergleichliche Ausblicke auf die Aktion.
Mehr Details und FAQs. . .

Wimbledon Center Court
Stadionführer

Wimbledon Court 1
Stadionführer
Haben Sie Fragen?
Senden Sie eine E-Mail
. Oder rufen. Arizona Office
local and international call
+1 (480) 429-7700
Wählen Sie Ihre Ticket i
Preis
Qty
Stadium View (Approximate View)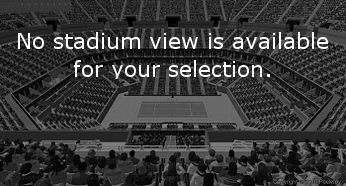 Stadium View (Approximate View)
Description
Centre Court
Undoubtedly the jewel in Wimbledon's Crown — a stunning 15,000 seat area complete with retractable roof to ensure no adverse weather interrupts play. Hosting a range of superb lounges are bars offering stunning views over Wimbledon Village.

Court No. 1
Quickly becoming the savvy buyer's choice for the best Championships viewing. In 2012, No.1 Court played host to top matches with Murray, Nadal, Federer, and Djokovic having played matches on Cour 1 during the course of The Championships.


With your tickets you'll enjoy access to the Debenture Seat Holders Lounge or VIP hospitality. On Center Court, our tickets are generally located in the first ten rows of the Debenture 300 seat level, offering unparalleled views of the action.

What matches will be played on No. 1 Court on the second Friday, Saturday and Sunday of The Championships?

The order of play for these days will be determined the night before by the Order of Play Committee. These are likely to include the latter stages of the Gentlemen's, Ladies' and Mixed Doubles, and/or matches from the latter stages of the Invitational Doubles events.

Do I have to pay to watch the large screen TV in Aorangi Park?

The large television screen is viewable from the Aorangi Terrace showing current matches, scores and general information. There is no additional charge for ticket holders to watch the large screen. However, visitors must purchase a ticket in order to gain entry to the grounds to watch the large screen TV.

Can I bring my child to Wimbledon?

A ticket is not required for babes in arms and children under 5 years. We recommend that babes in arms and pushchairs are not brought to The Championships as the grounds are large and crowded. Babes in arms and children under five are NOT allowed in the Show Courts (Centre Court, No.1 Court, and Courts 2, 3, 12 & 18). A limited number of baby changing facilities are available but there are no facilities for mothers to 'express' milk.

Can I bring my camera to Wimbledon?

Cameras are permitted inside the grounds but photographs (still or motion) taken may only be used for private, not commercial, purposes. There is no flash photography while play is in progress; cameras with automatic flashes should not be used unless the flash can be switched off. Video recording is permitted so long as it does not interfere with competitors or anyone else. It may only be used for private, not commercial, purposes.

Is there a dress code?

There is no dress code as such for visitors except for the following areas:

Members' Enclosure

— Jacket and tie are appropriate for members and their guests. Ladies - smart trouser suits are acceptable. No jeans or shorts are acceptable.

Debenture Lounges

— The dress code for bookable restaurants in the debenture areas specifically prohibits sports or cargo shorts, running vests, baseball caps, ripped jeans and dirty training shoes.

Can I visit the Museum during The Championships?

During The Championships the Museum is open only to ticket holders. Please note that admission to the Museum is additional to the price of entry to the grounds. The Museum is closed on 'Middle Sunday' and on the day after the end of The Championships.

What is Hawk-Eye?

Hawk-Eye is a multi-camera system which electronically tracks the flight of a moving ball and has become part of the umpiring process on Centre Court and No.1 Court at Wimbledon. The 2007 tournament was the first time this technology was used at Wimbledon by players to challenge an umpire's decision.

When will the Schedule of Play be published?

The Schedule of Play will be published on the Wimbledon website the day before play is due to take place. A partial Schedule of Play (for the Show Courts) is usually released around 7pm–8pm, with the full Order of Play released after all matches on all courts have been completed (usually between 9:30pm–10:30pm).

How can I get a player's autograph?

An autograph booth for player interview and signing sessions during the first week of The Championships will be located at the front of the Aorangi Pavilion.

How can I send fan mail/flowers to players?

Fan mail should be marked for the attention of the player and addressed to: AELTC, Church Road, Wimbledon, London SW19 5AE.


Unless otherwise noted, all Wimbledon tickets will be delivered via secure courier to your London Area Hotel. Upon confirmation of your order, you will be contacted by our office to collect your hotel details.
Haben Sie Fragen?
Senden Sie eine E-Mail
. Oder rufen. Arizona Office
local and international call
+1 (480) 429-7700
Seit 1987 haben wir die Mission, Fans aus allert Welt die Teilnahme am begerhrtesten Tennisturnier der Welt so einfach wie möglich zu machen. Wir beschäftigen uns ausschließlich mit Tennis und haben weitreichende Erfahrung und Einblick die Turniere betreffend, die wire anbieten. Sie können voll auf das Niveau unseres Kundendienstes vertrauen, der sich um all Details kümmert, damit Sie in Zukunft en teuer Kunde von uns werden.
Mike Bernstein
Championship Tennis Tours