CTT's Service — Your Way, Always!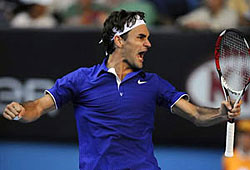 CTT Tour Designed Packages:
What do the
Australian Open
,
French Open
,
Wimbledon
,
US Open
,
BNP Paribas Open
, and the
Miami Open
have in common? Year after year, these events attract the largest crowds and the best world-class players from both the men's and women's circuits. CTT's Packages to these events offer an ideal mix of top flight tennis and local activities that will give you an authentic experience of each unique location. You'll have time to explore the city's sites and museums, take in a theater performance or enjoy an afternoon at the spa.
Our friendly and knowledgeable on-site tour representatives will be there to ensure your experience is both fun and hassle-free. Other than the Australian Open, all CTT packages do not include airfare. You're free to use your personal travel agent or cash in those frequent flier miles. All set packages can be customized to fit your needs.
Individual Tournament Tickets: (The essential ingredient)
While we take pride in our tours and we understand that there are times when all you need is the individual tickets to the tournament . Championship Tennis Tours provides guaranteed seating for all the top events:
US Open,
French Open
,
Wimbledon
,
Australian Open
,
TMS Rome
, and more.
Customized Packages (Create your ideal package):
When you make travel arrangements with CTT, your wish is our command.
We'll be happy to work with your hotel of choice, lengthen or shorten your stay, upgrade your seating, arrange additional tennis tickets, add sightseeing jaunts, even schedule special events just for you and your party. Flexibility and customization are our specialties – that's a big reason why so many people love traveling with CTT again and again.
Other Tennis MASTER-SERIES Packages (no CTT host):
Enjoy the most prestigious ATP events in intimate settings that few will ever experience. These packages include your hotel arrangements, daily breakfast, tickets to the final three days of the tournament, and CTT Tour gifts. These packages offer a memorable tennis experience and a cultural adventure. Just book your air transportation and grab your camera!
Book it all online
Right here on our secure website, you can feel free to use all major credit cards to book any of our services.