BNP Paribas Open
8 mar – 19 mar, 2023 | Indian Wells, CA
Ver Fotos
O BNP Paribas é 5 em termos de atendimento logo após os quatro torneios do Grand Slam e Miami Open. Além de nossos pacotes turísticos grandes que você pode escolher ingressos individuais, incluindo Box e Luxury Suite em todo o torneio.
Comprar várias sessões
Escolha superior, caixa, Luxo e Suíte assentos nível
Assentamento das cartas detalhadas
150% seguro Garantia CTT
Ingressos Individuais
Acomodações Indian Wells 3 e 4 estrelas
BNP Paribas Open Ingressos Oficiais
Vários níveis de Ingressos
Hosts no local, presentes CTT, e Mais
Pacotes Completos
Escolha as datas pacote desejado
Selecione ou indicar o seu hotel preferido
Participar de tantas sessões como você gostaria
Escolha os seus níveis de ingressos preferenciais
Adicione as opções de passeios que você gostaria
Fazer quaisquer pedidos especiais
Citação rápida em menos de 24 horas.
Personalizar um Pacote
BNP Paribas Open has a 5 out of 5 rating, based on 6 User Reviews
Fantastic Experience
Chloe V. from New York, NY said:
I went on this tour with my family and had a fantastic experience. The event is set in the beautiful backdrop of Palm Springs. We could see the mountains behind the stadium while the players were on the court. My kids loved this venue and we will book again with Championship Tennis Tours as they found us great seats on short notice and offered extra customer servicing - information about special events for our kids.
Bottom line: Chloe V. would recommend this event to their best friends
---
Great Venue
Tonya Beasely from Boston, USA said:
This tournament offers an incredible way to the top players in the world in a breathtaking setting.
Bottom line: Tonya Beasely would recommend this event to their best friends
---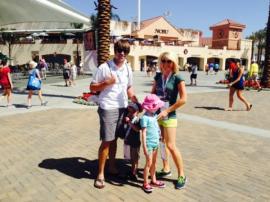 Better than the Grand Slams!
Pat Breault from Hilo, Hawaii said:
We attended our 1st BNP Paribas Open this year and it will not be our last. The tickets were just as you said, in the shade right off the baseline. We've been to the Australian Open and have attended the US and French Opens. This tournament is, as far as for a great family experience, was by far the best. The Grand Slams care more about breaking attendance records than providing a spectator friendly environment. This tournament had it all, the top players, good food, entertainment, shopping, etc. We will certainly look to attend this tournament with you again before going to another Grand Slam.
Bottom line: Pat Breault would recommend this event to their best friends
---
loved it, the suite was wonderful
Pollie (Paula) Hanson said:
I raved about it when I got home. First time I've been to a tennis tournament and want to go again, except for 1 week as I cannot afford the full 2 weeks again.
Bottom line: Pollie (Paula) Hanson would recommend this event to their best friends
---
Você tem alguma dúvida?
Enviar um e-mail
. Ou ligue. (800) 468-3664
local and international call
+1 (480) 429-7700

Desde 1987, tivemos apenas uma missão, e isso é para torná-lo tão fácil quanto possível para os fãs de todo o mundo para participar da mais procurados torneios de tênis do mundo. Nós tratamos apenas de tênis e tem profunda experiência e compreensão dos nossos torneios de serviço. Pode confiar em nós para cuidar de todos os detalhes, com um nível de serviço ao cliente que vai fazer você um cliente leal para os próximos anos.

Mike Bernstein
Championship Tennis Tours