BNP Paribas Open
7 mar

–

18 mar, 2018

|

Indian Wells, CA
Nota: Seguro e confiável desde 1987.
Os preços podem ser acima ou abaixo do valor nominal.
Melhor experiência garantida.
Ver Fotos
Le BNP Paribas Open é 6 em torneio de tênis de termos de atendimento logo após os quatro torneios do Grand Slam e Open Sony em Miami. Escolha bilhetes individuais em todo o BNP Paribas Open in a Loge, Caixa Courtside, e os níveis de suíte de luxo.
Mais detalhes e perguntas frequentes. . .
Stadium 1 Map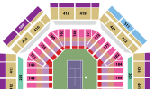 Guia do estádio
Você tem alguma dúvida?
Enviar um e-mail
. Ou ligue. Arizona Office
local and international call
+1 (480) 429-7700
Escolha o seu bilhete i
Preço
Qty
Stadium View (Approximate View)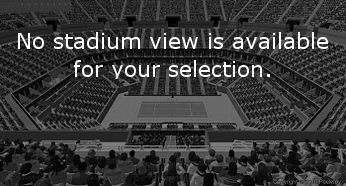 Stadium View (Approximate View)
Description
General tickets can be anywhere within the Promenade Level on Center Court. This ticket also gives you access to all the outside courts, and the Louis Armstrong and Grandstand show courts.
Sections:
Box assento Nível
O assento Nível Box do Indian Wells Tennis Garden oferecer-lhe a oportunidade de obter, tanto para baixo quanto possível na quadra central. Você pode ver os jogadores suar e ouvi-los grunhir! A cadeira de árbitro está localizado no lado leste do estádio, que pode representar um pouco de um obstáculo para aqueles com assentos no lado leste, para não mencionar o sol que está brilhando em seu rosto para a segunda metade da sessão dia.

Nivel Suite de Luxo
Situa-se acima do nível de Courtside, o nível suíte de luxo é ideal para quem procura um ambiente de visualização de alto nível, privado. Luxury Suites oferece uma suíte com ar condicionado, casa de banho privativa, e são servidos com comida e bebida. Típicas Luxury Suites acomodar 16-20 pessoas.

Nivel Superior
Os assentos de nível superior consitute as seções da bacia superior 400 e 500. Estes lugares estão situados acima dos níveis Suíte Box e Luxury. Os assentos no nível superior oferecem uma ótima maneira para tomar toda a ação, se você está procurando uma alternativa de baixo custo para os níveis de caixa e Suite. Os assentos no lado oeste das arquibancadas são geralmente em maior demanda como eles oferecem alguma sombra durante as partidas do dia.


How many seats are in the main stadium?

There are 16,100 seats in the main stadium. The upper bowl section is located above the stadium suites and consists of two seating sections, the loge and the grandstand seats. The grandstand seats have a seat-back but no arm rests. The lower bowl is located below the stadium suites and includes all box seat sections.

What does my ticket entitle me to?

Tickets purchased for the main stadium are valid on a general admission (first come, first serve) basis only on ALL outside courts. Box Seat and Club tickets have a small reserved general admission area located in the first four rows on the east side of stadium 2 & 3. Tickets purchased for stadium 2 & 3 are not valid for the main stadium.

What time is the evening session ticket permitted through the gates?

Evening session tickets are permitted through the gates at 4:30 p.m. Evening session tickets are valid on a general admission (first come, first serve) basis on ALL outside courts. Admission to the main stadium will be allowed at the announced evening session match time. Main stadium admission may be delayed if the day session runs late.

Does my child need a ticket?

Children under the age of 3 are not required to have a ticket, provided they sit on your lap and do not inconvenience the other tennis fans. If they require a seat, a ticket will have to be purchased.

Are there shaded seats?

All courts are outside and open air. The courts are situated on a north/south plan so pending the time of day there may be shaded seats located on the west, northwest and southwest sides of the courts. All seats in the main stadium court are reserved. Most seats on the outside courts are available on a general admission basis.

How many seats are in Stadium Two and Three?

Stadium Two has 6,000 seats and Stadium Three has 2,700 seats. There are a limited number of reserved seats on the west side of both of these courts and are available for purchase. All other seats are available on a general admission basis - first come, first serve. Once a person leaves, the seat becomes available to the next person waiting in line.

What time do the gates open for day session matches?

Gates open one hour before the matches start each day.

What time does the day or evening session start?

Matches generally start at 11:00 a.m. for main draw play day sessions and 7:00 p.m. for the evening session. Times are subject to change. For current times please check

www.bnpparibasopen.com

May I bring a back pack?

All soft-sided containers and bags 16 inches by 16 inches by 8 inches are permitted. Bags and containers are subject to inspection by gate security prior to entering the tournament site. Hard-sided coolers and bags are not allowed. Back packs that exceed the approved size or hard sided containers must either be returned to their owner's vehicle/transportation or discarded. The Indian Wells Tennis Garden will not provide a storage area for these items. Guests arriving by public transportation must take particular caution not to bring any prohibited items as no exceptions will be made.

What is your camera policy?

Camcorders and cameras are prohibited for any purpose other than the recording of footage or photographs for personal and private domestic use only. They are permitted as long as there is no flash photography and the equipment is not a hindrance to surrounding spectators. Film may not be reproduced. Such footage or photographs cannot be exploited or displayed in any manner or in any medium whatsoever without the express written consent of the ATP World Tour or WTA.

How is the draw made?

First the 32 seeded players (the 32 highest-ranked players per the WTA or ATP World Tour ranking system) are placed on the draw (No. 1 on the first line, No. 2 on the last line and then the others in alternating order on pre-determined lines). Once the seeds are in place, the other players are drawn at random and placed on the empty lines starting at the top of the page and going down the draw until it is filled.

How is the schedule determined?

The schedule is made each day late afternoon or early evening. Representatives including the tournament referee, Tour supervisors from the ATP and WTA, broadcasters and the tournament director determine the schedule.

How do I get information about the match schedule?

During the tournament the following day's schedule is determined each evening and is usually available no later than 7 p.m. depending on how long the day session matches run. It will be posted at

www.bnpparibasopen.com.

Can you tell me when a particular player will play?

No, the draw for the WTA main draw players will be made on Monday, March 5, 2013 and for the ATP World Tour main draw players on Tuesday, March 6, 2013. The match schedule for each day of play will reflect which players will be playing as well as when they will be playing. The match schedule is posted on the official tournament website after approximately 7pm the prior evening.

Can I watch players practice?

You may watch the players in action on the practice courts 9-24 which are located on the south side of the stadium. A schedule of practice times is displayed on information towers adjacent to the practice courts.



When can I expect to receive my BNP Paribas Open tickets?
Tickets are scheduled to begin being distributed from our office in Scottsdale around the end of February with tickets for the first week of the tournament being sent out first followed by second week orders. If you still haven't received your tickets within one week of your first day of attendance at the tournament, feel free to contact us. Otherwise, please rest assured that your ticket order is being processed normally. If this doesn't work with your travel plans, we can arrange to have your tickets shipped directly to your hotel in the Indian Wells area.
Você tem alguma dúvida?
Enviar um e-mail
. Ou ligue. Arizona Office
local and international call
+1 (480) 429-7700
Desde 1987, tivemos apenas uma missão, e isso é para torná-lo tão fácil quanto possível para os fãs de todo o mundo para participar da mais procurados torneios de tênis do mundo. Nós tratamos apenas de tênis e tem profunda experiência e compreensão dos nossos torneios de serviço. Pode confiar em nós para cuidar de todos os detalhes, com um nível de serviço ao cliente que vai fazer você um cliente leal para os próximos anos.
Mike Bernstein
Championship Tennis Tours