Barcelona Open
23 abr

–

29 abr, 2018

|

Barcelona, Spain
Nota: Seguro e confiável desde 1987.
Os preços podem ser acima ou abaixo do valor nominal.
Melhor experiência garantida.
Ver Fotos
The Barcelona Open Banc Sabadell is staged at the Real Club de Tenis Barcelona-the oldest tennis club in Spain. It is an ATP World Tour 500 clay-court tournament and one of the most important events in the Barcelona social calendar. Championship Tennis Tours offers excellent Upper and Lower level tickets in the intimate Center Court stadium that holds just 7800 people. Book your tickets now!
More Details and FAQ's . . .
Real Club Center Court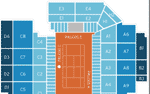 Guia do estádio
Programa Provisório
Você tem alguma dúvida?
Enviar um e-mail
. Ou ligue. Arizona Office
local and international call
+1 (480) 429-7700
We don't have any additional information for this tournament at this time. Please check back later for updates. If you have questions about any of our ticket or package offerings, feel free to
give us a call
or
send an email
(
click here
for contact information).
FAQ – Ticketing
When do the doors open at the Tournament?
The tournament facilities open one hour before the start of the first match, usually around 10am.
When are the matches scheduled?
Match times will be assigned by the ATP Supervisors. During the first rounds, Monday to Wednesday, matches usually start at 11am. On Thursday and Friday we expect starting about 12am. Finally, on Saturday semi-finals and Sunday finals we expect starting not before 1pm. All this schedule can be modified by weather conditions and/or Tournament needings. For exact information, please check out the schedule at the end of the previous competition day, at our website and APP.
When does the singles final start?
The singles final schedule is at 4:00pm. The doubles final is usually held before the singles final on the Center Court, probably at 1:00pm. Once again, please check out the schedule at the end of the previous competition day. 
How many matches can I watch with my Ticket?
With a daily ticket you can watch every match at the Tournament on the day indicated on your ticket. However, you have only a reserved seat on the Center Court.
Do kids access the tournament facilities for free?
Regardless of age, nobody is allowed to access the Center Court without a valid ticket or event pass. However, kids under five who are accompanied by an adult are allowed to enter the tournament facilities, including Courts 1, 2 and 3, for free. 
Which is the sunny side of the Center Court and on which side is the chair umpire located?
The sunny side is on stands A and B while the chair umpire is located on the side of stands C and D. 
When can I expect to receive my Barcelona Open tickets?
Tickets are scheduled to begin being distributed from our office in Scottsdale around the end of March with tickets for the first week of the tournament being sent out first followed by second week orders. If you still haven't received your tickets within one week of your first day of attendance at the tournament, feel free to contact us. Otherwise, please rest assured that your ticket order is being processed normally. If this doesn't work with your travel plans, we can arrange to have your tickets shipped directly to your hotel in the Barcelona area.

Você tem alguma dúvida?
Enviar um e-mail
. Ou ligue. Arizona Office
local and international call
+1 (480) 429-7700
Desde 1987, tivemos apenas uma missão, e isso é para torná-lo tão fácil quanto possível para os fãs de todo o mundo para participar da mais procurados torneios de tênis do mundo. Nós tratamos apenas de tênis e tem profunda experiência e compreensão dos nossos torneios de serviço. Pode confiar em nós para cuidar de todos os detalhes, com um nível de serviço ao cliente que vai fazer você um cliente leal para os próximos anos.
Mike Bernstein
Championship Tennis Tours