BNP Paribas Open
6 mar

–

17 mar, 2019

|

Indian Wells, CA
Voir des photos
Le BNP Paribas Open, qui a lieu à Indian Wells, est le plus grand tournoi professionnel de deux semaines combiné ATP et WTA Tour au monde avec 96 joueurs en simple et 32 ​​équipes de double. Nous espérons que vous vous joindrez à nous, car, en plus de nos forfaits touristiques, vous pouvez choisir des billets individuels sur le court 1 ou sur le court 2 pour tous les niveaux et durant tout le tournoi.
Achetez plusieurs sessions
Choisissez Loge, Prime Loge, Box, et Luxury Suite
Plan du stade
100% sécurisée garantie CTT
Billets Individuels
Deluxe 3 et 4 lieux de villégiature étoiles
Places de BNP Paribas Open garantis
Choix des niveaux de sièges
Hôtes sur place, cadeaux de CTT, et plus
Forfaits Complets
Choisissez vos dates de forfait souhaités
Sélectionnez ou indiquez votre hôtel préféré
Assister à autant de sessions que vous souhaitez
Choisissez votre niveau de places de choix
Ajoutez les options de visite que vous souhaitez
Faire des demandes spéciales
Devis rapide en moins de 24 heures.
Forfaits Personnalisés
BNP Paribas Open

has a

5

out of

5

rating, based on

6

User Reviews
Fantastic Experience
Chloe V. from New York, NY said:
I went on this tour with my family and had a fantastic experience. The event is set in the beautiful backdrop of Palm Springs. We could see the mountains behind the stadium while the players were on the court. My kids loved this venue and we will book again with Championship Tennis Tours as they found us great seats on short notice and offered extra customer servicing - information about special events for our kids.
Bottom line: Chloe V. would recommend this event to their best friends
---
Great Venue
Tonya Beasely from Boston, USA said:
This tournament offers an incredible way to the top players in the world in a breathtaking setting.
Bottom line: Tonya Beasely would recommend this event to their best friends
---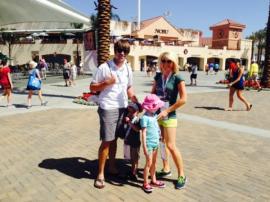 Better than the Grand Slams!
Pat Breault from Hilo, Hawaii said:
We attended our 1st BNP Paribas Open this year and it will not be our last. The tickets were just as you said, in the shade right off the baseline. We've been to the Australian Open and have attended the US and French Opens. This tournament is, as far as for a great family experience, was by far the best. The Grand Slams care more about breaking attendance records than providing a spectator friendly environment. This tournament had it all, the top players, good food, entertainment, shopping, etc. We will certainly look to attend this tournament with you again before going to another Grand Slam.
Bottom line: Pat Breault would recommend this event to their best friends
---
loved it, the suite was wonderful
Pollie (Paula) Hanson from said:
I raved about it when I got home. First time I've been to a tennis tournament and want to go again, except for 1 week as I cannot afford the full 2 weeks again.
Bottom line: Pollie (Paula) Hanson would recommend this event to their best friends
---
Une question ? Contactez-nous par mail.
Envoyer un e-mail
. Ou appeler. Arizona Office
local and international call
+1 (480) 429-7700
Depuis 1987, nous sommes là pour aider des milliers de fans chaque année à assister aux tournois de tennis les plus recherchés du monde. Notre spécialisation dans le tennis nous a permis d'aquérir une grande expérience et une parfaite connaissance des tournois que nous proposons. Vous pouvez nous faire confiance : nous prenons en charge tous les détails, avec une telle qualité de service que vous ne pourrez plus vous passer de nous!
Mike Bernstein
Championship Tennis Tours