Madrid Open
6 mai

–

12 mai, 2019

|

Madrid, Spain
Voir des photos
Madrid Open Forfaits
Le Mutua Madrid Open est un tournoi du serie ATP World Masters 1000 assiste par des stars comme Cristiano Ronaldo souvent dans les coulisses. Lorsque vous ne etes pas de en train de regarder les stars du monde de tennis à la Caja Magica, l'esprit de Madrid est animé et enivrant, prêt à être expérimenté et apprécié. Offrez-vous les excellents restaurants et parcs dans cette ville effervescente qui fera baisser votre cœur à un rythme passionné.


Les forfaits inclus:
Deluxe 3, 4 or 5 star Madrid accommodations

•

i
Official Mutua Madrid Open tickets in CAT 1 or CAT 2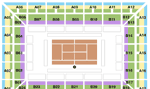 Caja Magica
Guide du stade
| Code de Forfait i | Nombre de personnes | Dates du Forfait | Nuits | Hôtel | Tours | Billets Inclus | Niveaux de places i | Prix par personne i | Total |
| --- | --- | --- | --- | --- | --- | --- | --- | --- | --- |
Hotel Atotcha

This hotel is set in the heart of Madrid, just 650 feet from Puerta de Atocha Station. It offers a fitness room with free mineral water. Free WiFi is available in all areas. Each stylish room at AC Hotel Atocha is decorated with modern furnishings. They feature air conditioning, a minibar and a safe. The hotel has an elegant bar and the AC Lounge, serving creative versions of traditional dishes. Room service is available from the 24-hour reception. The AC Hotel Atocha is a 5-minute walk from The Reina Sofia and Botanical Gardens. It is also just 10 minutes' walk from the Prado Museum.

Description complète et plus de photos

Hotel Carlton Madrid

The Hotel Carlton Madrid is located in the heart of Madrid, near the Retiro Park, the Botanic Gardens, and the Atocha train and metro station. It is also just a stone's throw away from the most popular shops and business areas in the city. This 122-bedroom urban hotel features a Wi-Fi Internet connection throughout all communal areas and a bar where you will find a tempting menu of salads and sandwiches throughout the day. It is minutes away from the Prado, Reina Sofia, and Thyssen-Bornemisza art galleries as well as the Casa Encendida and Caixa Forum cultural centres, ensuring that our guests are within arm's reach of some of the most famous art galleries in Spain. The AC Hotel Carlton Madrid is perfectly located to allow easy access to the historical city centre, Plaza Mayor, Puerta del Sol, and other essential Madrid landmarks.

Description complète et plus de photos

Catalonia Las Cortes

The Catalonia Las Cortes Hotel is a 4-star hotel close to Santa Ana square in Madrid. It is a complete refurbished accommodation with the unique charm of a XVIIIth century palace located at the heart of the neighbouring of Letters and equipped with complete services: restaurant, free wifi, snacks corner, meeting rooms for events and pets admission on request. The Catalonia Las Cortes Hotel is an ideal hotel for trips and stays in the historic centre of Madrid.

Description complète et plus de photos

The Wellington Madrid

The Hotel Wellington greets you with unparalleled luxury and a prime location in Madrid, Spain's famed Salamanca neighborhood - just moments from Retiro Park, as well as superb shopping and fascinating attractions. The rooms and suites of Hotel Wellington in Madrid boast sophisticated design and a wide range of wonderful amenities – from complimentary Wi-Fi Access to deluxe marble bathrooms. Additional perks throughout the hotel include our state-of-the-art Le Max Wellness Club Wellington & SPA by Clarins, as well as our sparkling seasonal outdoor pool and terrace. Be sure to sample the award-winning flavors in our on-site restaurants during your stay. Enjoy a taste of Japan here in Madrid at the Michelin star-rated Kabuki Wellington , or dine on innovative Basque cuisine at Goizeko Wellington . And of course, no visit to the Hotel Wellington Madrid is complete without spending some time in our rooftop urban garden – the largest of its kind in the world. Allow us to give you a tour of the garden, and soak in simply breathtaking views of Madrid. Luxury and style await you here at the Hotel Wellington. We look forward to your visit.

Description complète et plus de photos

Hotel Hospes Puerta de Alcala

Located in a royal house from the 19th Century in the heart of the capital, this 5 Star Boutique Hotel, Hospes Puerta de Alcalá, can be found at Alcalá Gate and in front of the inspiring Retiro Park. It is a beautiful building projected by the architect José María de Aguilar in 1883 and today has a warm combination of elegance, architecture, gastronomy and a revitalizing pureness together with a comfortable access to the intense economic, cultural and artistic activity of the capital. Its looked after decoration combines warm colours, noble wood in dark colours, and white marbles, filling the surroundings with light and tranquility. To meet and taste the flavours of the earth, Hospes Puerta de Alcalá, as a boutique hotel, offers different areas, all of them with its own personality and style, ideal settings to discover flavors and sensations in an avant-garde building.

Description complète et plus de photos

Barcelo Torre de Madrid Hotel

A landmark in the Spanish capital, Barceló Torre de Madrid Hotel fuses the old with the new through a complete redesign by designer Jaime Hayon. Built in 1957, the Barceló Torre de Madrid Hotel is an architectural highlight of Spain's bustling capital. For the redesign of this iconic building, Spanish designer Jaime Hayon set out to take visitors on a journey through the country's long and fascinating history. Roman, Arabic, Moorish and Spanish elements come together under one roof to reflect the cultural melting pot that is Spain. Hayon also commissioned art from multimedia artists Nienke Klunder and Wiglius de Bie of KlunderBie for the project. The result is a fresh and dynamic hotel in the heart of Madrid.

Description complète et plus de photos

Madrid Westin Palace

Known for its hospitality since 1912, the iconic "Palace" hotel is conveniently located in the center of Madrid, in the "Triangle of Art", within walking distance of the city's most prestigious museums: Prado, Thyssen and Reina Sofia Museums, among others. Because of its location in Las Letras neighbourhood, it is also the place to enjoy gastronomy, leisure and shopping in Madrid.

Description complète et plus de photos

Hotel AC Palacio del Retiro

Traditional Elegance

Get the celebrity treatment with world-class service at Hotel Palacio del Retiro, Autograph Collection Hotel Palacio del Retiro, Autograph Collection is located opposite Madrid's famous Retiro Park and 1,800 feet from the Prado Museum. Set in a listed building, this stylish hotel offers modern rooms with a flat-screen TV and free WiFi throughout the property. The air-conditioned rooms at hotel feature parquet floors and smart décor. Each one has a pillow menu and pure cotton sheets, as well as a bathroom with a hairdryer. The TV comes with over 20 channels. The hotel has an on-site gym and sauna, and a massage service is available for an extra cost. Staff at the 24-hour reception can provide information about what to see and do in Madrid. You can enjoy a drink or evening meal in the hotel's stylish Suite Bar. The Thyssen-Bornemisza Museum is just 1,950 feet from the Hotel Palacio del Retiro, Autograph Collection and you can walk to the Reina Sofía in 15 minutes. Located 1,150 feet away, Retiro Metro Station connects you with the rest of the city with ease.

Description complète et plus de photos

Hotel Ritz Madrid

Traditional Elegance

The traditional 5-star Hotel Ritz Madrid was opened in 1910. The hotel is ideally located in the heart of Retiro. Hotel Ritz Madrid lies within a 10-minute walk from the center of Madrid. Hotel Ritz Madrid is set close to galleries, the opera and art galleries as well as Paseo del Prado, Golden Triangle of Art and Puerta de Alcalá. All non-smoking guest rooms including Deluxe Two-Bedroom Junior Suite, One-Bedroom Triple Room and Elegant One-Bedroom Suite come with modern facilities. Most of the rooms overlook Retiro Park enticing guests to enjoy a beautiful view. Guests can make use of separate bathrooms with terry bathrobes, a bathtub and a bidet. Every morning a continental breakfast is served from 07:30 till 11:00. A fine selection of Spanish dishes is served at the garden restaurant. Guests are invited to the Lobby bar to unwind with a drink. The hotel lies 15 km away from Barajas airport. The hotel offers a beauty shop, free parking and currency exchange along with a fax machine, a video projector and a business center to respond to the needs of all guests. On-site facilities for children include video games, babysitting and a kids' club. There are fitness center and a gym provided at Hotel Ritz Madrid.

Description complète et plus de photos

The Principal Madrid

Luxurious Modern Boutique

The Principal Madrid Hotel is much more than a luxurious modern boutique hotel. Its prime location in the heart of Madrid, its exclusive entrance, its 76 elegantly appointed rooms, the stunning Terraza (rooftop terrace,7th floor) with what may be the best views in Madrid, and its Ático (penthouse, 6th floor) where avant-garde haute cuisine meets classic cocktails in a space with the best music are reasons enough not to miss the opportunity of discovering this renovated building, now one of the capital's must-see sights. The hotel's impressive Ático and Terraza boast the best panoramic views of downtown Madrid. In both, amid large, lush garden areas, you can sip a cocktail or order from the menu concocted by Ramón Freixa (2 Michelin stars), soak up some sun in the Solarium or enjoy the sound of the overflow pool and the best ambient music or our outdoor showers in summer… and always with the finest service to ensure that your every wish is granted. The hotel also has a Wellness Suite (complete with a sauna which can be booked for private sessions) that offers couple or individual treatment sessions. Experience the pleasure of wellbeing with a session in our private massage room. If you feel like going for a run, ask the hotel for a map of suggested routes through the nearby El Retiro Park. A personal trainer is also available on request. In addition, The Principal Madrid Hotel boasts a gym, parking, and special rooms (some with a separate entrance at Gran Vía 2) for meetings, social events or private dinners.

Description complète et plus de photos
[+] Option supplémentaires
No information here yet.
Madrid Hotels
Madrid connaît une période de créativité étonnante, qui se traduit par une ville qui se sent plus distinctive et authentique que beaucoup d'autres capitaux modernes. Il a tous les avantages d'une ville cosmopolite majeure avec une grande diversité de nourriture, de vie nocturne, d'art et de culture, tout en étant situé dans un endroit central facilement accessible à pied. Plus important encore, c'est une diversité de personnes. À Madrid, vous rencontrerez des personnes de toutes les régions d'Espagne et du reste du monde. Nous avons sélectionné les meilleurs hôtels par leur niveau de confort et proximité au stade "Caja Magica".

Excellent Center Court Tickets for the Madrid Open.

Your tickets on Center Court give you access to all the side courts as well.


Mutua Madrid Open FAQ's

Q. What is the Madrid Masters Open?

The Madrid Open is a joint men's and women's professional tournament, held in Madrid in early May. The clay court event is classified as an ATP World Tour Masters 1000 series events, and a Premier Mandatory event on the WTA Tour. In the past it has also been known as the Madrid Masters. The tournament is played on a red clay surface

Q. What types of tickets are available?

1. Center Court, Manolo Santana Stadium: (This is the only type of ticket we sell at Championship Tennis Tours)
With a ticket on "Pista Central" (Manolo Santana stadium), you access Center Court and all the other side courts. You can also access Stadium 2 (Arantx Sanchez Vicario stadium) except on Tuesday, Wednesday and Thursday, it will not be possible to enter Stadium 2 with your center court ticket as there will be a separate ticket required to enter Stadium 2.
2. Stadium 2, stadium Arantxa Sánchez-Vicario:
This stadium is accessed with the entrance of Pista Central and Entrance Paseo, every day except Tuesday 8, Wednesday 9 and Thursday 10. These three days a specific ticket for Stage 2 is sold and the capacity is numbered. The rest of the days, the capacity in this stadium will be unnumbered.
3. Grounds Pass:
A Paseo entrance allows access to Stadium 2 and other tracks (does not give access to Central Court). Except Tuesday 8, Wednesday 9 and Thursday 10, in which this entry only allows access to Stadium 3 and outdoor courts.

Q. What is the Caja Magica?

The Caja Mágica houses three tennis clay courts with retractable roofs. The main court, called Manolo Santana, can host 12.500 viewers. Courts 2 -Arantxa Sánchez Vicario stadium- and 3 are equipped with 3.500 and 2.500 seats respectively. The Caja Mágica has been presented as the most modern tennis facility in the world. The enclosure hosts annually the Mutua Madrid Open since 2009. Made completely from iron, wood and glass, it was designed by French architect Dominique Perrault. The name Caja Mágica (Magic box) is due to the resemblance of the sports centers with actual boxes, which are dynamic and ever changing.
Q. When will my tickets be delivered?
Tickets are generally delivered one week before your first day of attendance. Actual delivery times vary from event to event depending on many factors including when tickets are physically allocated by the tournament.
Q. What if my tickets are lost or stolen?
When you receive your tickets, keep them in a safe place. Unfortunately, tickets cannot be replaced if they are lost, stolen, or damaged. Please note that direct sunlight or heat can damage some tickets. 
Q. Will the tickets I order be together?
Yes. All ticket order of two tickets will be together. For orders of 3 or more tickets we do our best to get all the tickets together, but it's not guaranteed. We will make sure to have at least all the tickets as pairs.
Q. When tickets are listed as a "General" ticket for a particular level, what does that mean?
When a ticket is listed as a "General" ticket, such as "CAT 1 - General" this simply means that your tickets are guaranteed to be located in a section within the CAT 1. Even though it's listed as "General", all tickets are reserved. You will only know the actual seats (section, row, and seat number) once the tickets are delivered.

Q. Which area of the center court main stadium receives the most shade?

During the day sessions, the seats on the west side and the north end have more shadow time than the other sectors.

Q. Is it possible to buy a ticket to see a specific player such as Nadal, Federer, etc.?

The Mutua Madrid Open is a tournament of eliminatory rounds, so the order of play for a certain day can only be announced the night prior to it. Therefore, it is not possible to buy a ticket to attend a particular player's game in advance.

Q. What time do the day and evening matches start?

Fans can access the Caja Magica site at the beginning of the session for which they have a ticket. Check the schedule before going.
DAY session (1st session): Time to be confirmed, although it will not start before 10:00 am. After that time you can access the site.
NIGHT session (2nd session): Schedule to be confirmed, although it will not start before 6:30 p.m. After that time you can access the site.

Q. Is it possible to just buy tickets to see the Men or Women play?

The Mutua Madrid Open is a combined tournament of WTA (Women's Tennis Association) and ATP (Association of Tennis Professionals). Both male and female matches will be played simultaneously, making it impossible to choose between one and the other when buying the ticket.

Q. Which side of the stadium are the umpire and players seated?

They are seated on the west side of the court.

Q. What is the Address of the Caja Magica venue in Madrid?

Cmo. de Perales, 23,
28041 Madrid

Q. What public transportation is available to get there?
Public transportation:
Línea 180 / Pl de Legazpi – Caja Mágica
Plaza de Legazpi (Pº del Molino) y Caja Mágica.
Frecuencia: Entre 10 y 20 minutos.
Línea 23
Plaza Mayor
Línea 78
Glorieta de Embajadores – Barrio de san Fermín
Línea T32
Plaza de Legazpi-Mercamadrid
Línea 123
Plaza de Legazpi-Villaverde Bajo
Línea 3
San Fermín – Orcasur
Q. What time do the gates open?

The gates open an hour before the first match is scheduled to start.

Q. Do children need a ticket?

Children 3 and under don't need a ticket.
Accommodation in a 3, 4, or 5 star Hotel in Madrid
Official tournament tickets to the Mutua Madrid Open
Tournament transfers
Madrid half-day city tour
Wireless Internet access at hotel
Professional On site tour representative
Your Madrid Open Package contents including your tennis tickets are delivered to you by FedEx a few weeks before your package begins.

Une question ? Contactez-nous par mail.
Envoyer un e-mail
. Ou appeler. Arizona Office
local and international call
+1 (480) 429-7700
Depuis 1987, nous sommes là pour aider des milliers de fans chaque année à assister aux tournois de tennis les plus recherchés du monde. Notre spécialisation dans le tennis nous a permis d'aquérir une grande expérience et une parfaite connaissance des tournois que nous proposons. Vous pouvez nous faire confiance : nous prenons en charge tous les détails, avec une telle qualité de service que vous ne pourrez plus vous passer de nous!
Mike Bernstein
Championship Tennis Tours