Miami Open
18 mar

–

31 mar, 2019

|

Miami, FL
Noter: Sûr et fiable depuis 1987.
Les prix peuvent être moins ou plus cher que la valeur d'origine.
Tous les billets sont garantis 100% authentiques.
Voir des photos
Réservez maintenant tous vos billets pour l'Open de Miami. Nos billets garantis vous offrent les sièges des meilleures zones du Court Central (niveaux 100, 300 et 400). La plupart des billets "courtside box" du Niveau 100 sont des «billets électroniques» et comprennent un accès exclusif à un salon réservé climatisé avec collations et boissons sans alcool gratuites. Réservez dès à présent !
Plus de détails et FAQ's. . .
Tennis Center at Crandon Park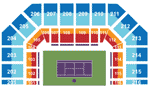 Guide du stade
Une question ? Contactez-nous par mail.
Envoyer un e-mail
. Ou appeler. Arizona Office
local and international call
+1 (480) 429-7700
Choisissez vos places i
Prix unitaire
Qty
Stadium View (Approximate View)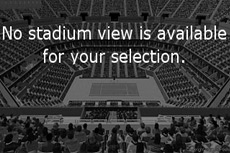 Stadium View (Approximate View)
Description
General tickets can be anywhere within the Promenade Level on Center Court. This ticket also gives you access to all the outside courts, and the Louis Armstrong and Grandstand show courts.
Sections:
Niveau 100
Le "niveau 100" (Courtside) offre la possibilité de se rapprocher autant que possible pour les joueurs, car c'est la première à droite au niveau hors du tribunal. Les sections du côté ouest ont tendance à opter pour une prime que la chaise de l'arbitre est situé sur le côté est de la cour qui peut poser un peu un obstacle pour certaines sections sur le côté est et au cours de la session jour, le soleil est généralement brille dans votre visage. Les sections situées sur le côté ouest du stade (104-125) recevront le plus d'ombre.

Niveau 300
Le niveau 300 est le premier niveau situé au-dessus du niveau 100. Il ya environ 6 lignes (AF) dans le niveau 300. Les vues de la cour sont toujours très bon à ce niveau.

Niveau 400
Le niveau 400 est le plus haut niveau du stade, le plus éloigné de la cour, mais le bon côté, sont les billets les plus abordables. Ce niveau offre encore vues dignes de l'action que le stade a été conçu pour la visualisation de tennis et il ya vraiment pas de mauvaises places dans la maison.


How many matches are played in the Stadium during a given session?

Traditionally during the Day Session, there are four matches played in the stadium. During the evening, there are typically two matches played in the stadium. This is subject to both weather and schedule changes. Ultimately, the number of matches is determined by the Referee's Office and is subject to change at any time.

Where is the chair umpire located?

Even with the net line on the east side of the court.

I have tickets for the Day Session, but not for the Evening…will I have access to the Evening Sessions matches?

Once the last Day Session match on Stadium Court is complete, guests will be asked to leave the Stadium Court so it can be cleaned for the Evening Session ticket holders. Guests with Day Session tickets will have the opportunity to stay on the grounds to watch matches on the outer courts but will not have access to the Evening Session matches taking place in the Stadium Court. Day Session guests wanting to stay and watch the matches in the Stadium Court during the Evening Session may purchase tickets at our Advance Ticket Center (located at Guest Services) based on availability.

I have Evening Session tickets…what time can I enter the Grounds and when will I have access to the Stadium matches?

Guests with Evening Session tickets have access to the Grounds at 5:00pm, but will not have access to the Stadium until the scheduled Day Session matches are completed. If Day Session matches happen to run late due to lengthy matches or weather delays, Evening Session guests will not have access to the Stadium until the last Day Session match is finished…but are welcome to watch matches taking place on the outer courts.

I want to purchase tickets to watch my favorite player play…when is he or she scheduled?

The Miami Open is a single-elimination tennis tournament. Due to this fact, the draw for each day will not be announced until the night before around 7pm EST and will be posted on the Miami Open website. Other options would include checking local news outlets such as the Miami Herald newspaper. Depending on when you place your order, Stadium Court tickets may or may not be available. If the Stadium Court is sold out, grounds passes will be made available. Please note that a grounds pass does not provide you access to see matches taking place inside the Stadium Court.

How many courts are there?

There are 18 courts with the Laykold Cushion Plus surface in the Crandon Park facility. Ten courts are used for competition (Stadium Court, Grandstand Court, Courts 1-8) while eight courts are available for practice. Crandon Park also has grass and clay courts that are available for use throughout the year. Of the ten match courts, four are lighted and are used throughout the tournament during Evening Sessions.

When do the matches start?

Match play for the Day Sessions will begin at 11:00am on the Stadium Court, excluding Session 19 and 21 (1pm), Session 23 (Noon) and Session 24 (12:30pm). Evening Sessions on Stadium Court will start at 7:30pm Wednesday, March 21 – Tuesday, March 27, excluding Saturday, March 24, which will begin at 8:00pm. Evening matches occurring Wednesday, March 28 – Friday, March 30 will begin at 7:00pm.

The Women's Singles Final (best of 3 sets) will be played Saturday, March 31 at Noon, followed by the Men's Doubles Final. The Men's Singles Final (best of 3 sets) will be played Sunday, April 1 at 12:30pm, followed by the Women's Doubles Final.

What is the seating capacity of the Stadium Court?

With the addition of the chair-back seats in the 400 Level in 2006, our Stadium Court capacity was reduced from 14,500 to 13,800. Compared to the Arthur Ashe Stadium at the U.S. Open, we are about 2/3 the size.
When can I expect to receive my Miami Open tickets?

Tickets are scheduled to begin being distributed from our office in Scottsdale around the beginning of March with tickets for the first week of the tournament being sent out first followed by second week orders. If you still haven't received your tickets within one week of your first day of attendance at the tournament, feel free to contact us. Otherwise, please rest assured that your ticket order is being processed normally. If this doesn't work with your travel plans, we can arrange to have your tickets shipped directly to your hotel in the Miami area.
Une question ? Contactez-nous par mail.
Envoyer un e-mail
. Ou appeler. Arizona Office
local and international call
+1 (480) 429-7700
Depuis 1987, nous sommes là pour aider des milliers de fans chaque année à assister aux tournois de tennis les plus recherchés du monde. Notre spécialisation dans le tennis nous a permis d'aquérir une grande expérience et une parfaite connaissance des tournois que nous proposons. Vous pouvez nous faire confiance : nous prenons en charge tous les détails, avec une telle qualité de service que vous ne pourrez plus vous passer de nous!
Mike Bernstein
Championship Tennis Tours