National Bank Open (ATP)
5 ago – 13 ago, 2023 | Toronto, Canada
The National Bank Open held in Montreal and Toronto share the honor of hosting the world's best men's and women's players with both tournaments played at the same time.
Pacotes completos incluem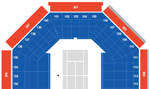 Aviva Center
Guia do estádio
| Código de pacote i | Número de pessoas | Datas de pacote | Noites | Categoria do Hotel | Rodadas | Bilhetes Incluído | Nível de estar i | Custo por pessoa i | Subtotal |
| --- | --- | --- | --- | --- | --- | --- | --- | --- | --- |
Holiday Inn Express - Toronto North York

Classic

NEIGHBORHOOD: North York

Travel Time to Tennis: Approximately 5 minutes via car or subway

Welcome to Holiday Inn Express Toronto North York, located just minutes from the Aviva Center. Our free Express Start™ Breakfast Bar is the perfect way to start your day and features eggs, yogurt, cereal, our exclusive Cinnamon Rolls, freshly prepared pancakes, juice, coffee and more! Relax and recharge in newly renovated guestrooms that feature a 37" flat screen TV. Breathe deeply – 100% smoke free with windows that open! Free parking.

Descrição completa e mais fotos

Courtyard by Marriott Toronto Vaughan

Travel Time to Tennis: Approximately 5 minutes via car or subway

Come experience the Courtyard by Marriott Vaughan hotel, Vaughan's foremost business and leisure accommodations. Ideally situated within the Interchange Complex, home to Dave & Busters, IKEA, and various restaurants, Courtyard Toronto Vaughan makes business and pleasure travel easy. This Marriott hotel in Vaughan is just minutes from Canada's Wonderland, Vaughan Mills Shopping Centre featuring Bass Pro Shop's Outdoor World, LEGOLAND Discovery Centre, Vaughan Sports Village and Canlan Ice Sports-York Complex. Courtyard Vaughan hotel features 144 tastefully appointed guest rooms with designer bedding and FREE Wireless Internet. Join us in The Bistro for breakfast and Starbucks, dinner and cocktails. Unwind in our Indoor Pool, Whirlpool Spa, Fitness Centre or Fireside Lounge.

Descrição completa e mais fotos

Hotel Le Germain Mercer

Travel Time to Tennis: Approximately 30 minutes via car or subway

You'll likely be greeted in your native tongue upon checking in to this stylish hotel; the staff at this Le Germain outpost speaks 20 different languages. And travelers notice the extra effort: Recent visitors praise the hotel's personalized customer service. Upon entering the hotel lobby, you'll spot sleek furniture and large windows spanning two stories, not to mention a double-sided fireplace. The same sophisticated design can be found in Le Germain's guest rooms, which feature bright wood accents, goose-down bedding, Molton Brown toiletries and BOSE stereo alarm clocks.

Guests especially love the soft bathrobes provided in each room. Venture out of your guest room and you'll find a library with a complimentary cappuccino bar and a seasonal rooftop putting green. But if a cappuccino won't hit the spot, Victor Restaurant and Lounge serves eclectic family-style dishes prepared with organic ingredients. Make sure you stick around the property for breakfast, too; Le Germain offers a free deluxe breakfast for all guests every morning. Centrally located, Le Germain is within walking distance of Metro Toronto Convention Centre, Air Canada Centre and other top Toronto attractions.

Descrição completa e mais fotos

The Drake

Contemporary

NEIGHBORHOOD: Downtown

Travel Time to Tennis: Approximately 30 minutes via car or subway

Featuring a memorable lodging experience with art, nightlife, delicious cuisine and comfortable guest rooms in the city's Art District, this unique, designer hotel is just minutes from the excitement of Toronto. The Drake Hotel features guest rooms with flat-screen TVs, free high-speed internet access and iPod docking stations. Guests can also enjoy the handcrafted art pieces by local artists as well as luxurious Malin & Goetz toiletries. After taking advantage of the complimentary fitness facilities at the nearby 99 Sudbury Gym, guests can relax with a margarita and a snack on the rooftop patio. Guests can see a show at the Drake's Underground entertainment venue, then have a drink in the elegant lounge. For creative sushi rolls and a charming copper-topped bar, guests can visit the hotel's Raw Bar.

Descrição completa e mais fotos

Doubletree Hotel Downtown

Traditional Elegance

NEIGHBORHOOD: Downtown

Travel Time to Tennis: Approximately 30 minutes via car or subway

Stay at the DoubleTree by Hilton Hotel Toronto Downtown and enjoy modern amenities, impeccable service from our friendly staff and a warm chocolate chip cookie upon arrival. Located in a peaceful area in downtown Toronto, the hotel is only a short walk from the heart of the city and Dundas Square. Discover easy access to a wealth of Toronto businesses, world-class hospitals, universities, Ontario legislature, major attractions, entertainment and shopping.

The hotel is also close to Toronto Union Station, easily accessible to Toronto Island Airport and only 40 minutes from Toronto International Airport. Every stylish guest room at this downtown Toronto hotel features thoughtful amenities to make you feel at home. Refresh in the spacious bathroom, watch cable on the flat-screen TV and stay connected at the spacious desk with high-speed internet access. Upgrade to a luxurious suite for additional space and amenities. Host a successful business or social event at our Toronto hotel with 13,000 sq. ft. of flexible conference space and the latest A/V technology. This hotel also provides a 24-hour business center with a range of useful services and amenities. Maintain your exercise regime in the complimentary 24-hour fitness center, unwind in the sauna or take a dip in the heated indoor swimming pool. After a busy day exploring Toronto, enjoy lunch and an extensive wine selection in the stylish Hemispheres Restaurant & Bistro or connect with colleagues and family through complimentary WiFi throughout the hotel.

Descrição completa e mais fotos

Park Hyatt

Traditional Elegance

NEIGHBORHOOD: Yorkville-Downtown

Travel Time to Tennis: Approximately 30 minutes via car or subway

Sophisticated. Uncommon. Enriching. Immerse yourself in one of the world's most multicultural cities as a distinguished guest at Park Hyatt Toronto. Perfectly situated in the fashionable Yorkville area, our hotel in Toronto, Canada represents an elite level of luxury marked by subtle contemporary influence. Surrounded by retail and five-star restaurants, our hotel is within walking distance to some of downtown's most renowned attractions, including the Royal Ontario Museum.

Enjoy premium travel services at our Yorkville hotel, including complimentary car service and free Wi-Fi. Escape with a rejuvenating treatment at our full-service Stillwater Spa or get out and explore the neighborhood with our bicycle valet program. Dining is a fine art at our Toronto hotel. Savour locally inspired, seasonal cuisine in Annona and take in stunning skyline views while sipping creative cocktails at The Roof Lounge. At Park Hyatt Toronto, you'll enjoy unexpected pleasures that celebrate art, food and contemporary style.

Descrição completa e mais fotos

Ritz Carlton - Toronto

Travel Time to Tennis: Approximately 30 minutes via car or subway

A LUXURY HOTEL IN DOWNTOWN TORONTO WHERE SENSES ARE ENLIVENED WITH EXCEPTIONAL DINING, AN ART COLLECTION AND A EUROPEAN SPA. At The Ritz-Carlton, Toronto, guests are invited to experience the city with all five of their senses. Set in the heart of downtown, the luxury hotel is a visual feast with its 400-piece art collection, while the healing power of touch allows spa guests to retreat from the buzz of the city. Dining goes beyond taste and includes handcrafted Italian cuisine at TOCA and cocktails overlooking the CN Tower at DEQ Terrace & Lounge.

Descrição completa e mais fotos

Fairmont Royal York

Traditional Elegance

NEIGHBORHOOD: Downtown

Travel Time to Tennis: Approximately 30 minutes via car or subway

Recognized as one of the 2016 Top Hotels in Canada by Condé Nast Traveler readers. Fairmont Royal York is located in the center of Downtown Toronto, and is minutes away from its biggest attractions including: The CN Tower, Ripley's Aquarium of Canada, Air Canada Centre, Rogers Centre, the Eaton Centre, and the Sony Centre for the Performing Arts. We've recently completed our five year multi-million dollar guestroom revitalization. More Luxury and Signature Rooms across 11 floors are currently available for the comfort of our guests.

These newly re-designed rooms are a fresh, modern addition to the regal elegance that is synonymous with the hotel. Our updates also include a newly renovated pool and health spa complete with brand new exercise equipment, new HDTV's in every room with upgraded services on demand, satellite iPad check-in during peak hours, paperless checkout, and digital path-finding monitors. Dining at Fairmont Royal York Treat yourself to one of our award-winning restaurants. We have an option for everyone, whether you're looking for a fine dining experience, or a great place to simply grab a drink - from late night lounging, to catching the big game amongst friends, we have you completely covered.

Descrição completa e mais fotos

Shangri La Hotel

Traditional Elegance

NEIGHBORHOOD: Yorkville-Downtown

Travel Time to Tennis: Approximately 30 minutes via car or subway

Toronto's striking cityscape unfolds before you, a feast for your eyes. You recline in a plush sofa in your spacious suite at Shangri-La Hotel, Toronto. From this vantage point, you gaze upon the gleaming city that is Canada's largest metropolis. The day begins in the hotel's Health Club. You notice the pool engulfed in natural light, with cascading water features and contemporary chandeliers above, enhancing the ethereal experience. You decide to discover Toronto, setting off from the hotel's central location in the heart of the city.

The Concierge desk offers the option of hotel cars, ready to take you to luxury boutiques within mere minutes. North of the prestigious University Avenue is the Art Gallery of Ontario. Westward lies the city's theatre district. To the south is a vibrant waterfront area dotted with boutiques and cafés. In the opposite direction, Yonge Street, Toronto's noted thoroughfare is brimming with life. Your options are almost unending and you can't wait to begin. Before you know it, the afternoon sky soon gives way to the deep hues of sunset.

You head back to the hotel with an appetite and stop in the hotel's Lobby Lounge for Afternoon Tea or dim sum. The day has been enchanting and you retire to the plush comforts of your room. Beyond floor-to-ceiling windows, the dazzling city winds down as you slip between luxuriously soft sheets. This is bliss, right here, at Shangri-La Hotel, Toronto.

Descrição completa e mais fotos

InterContinental Toronto

Contemporary

NEIGHBORHOOD: Yorkville

Travel Time to Tennis: Approximately 30 minutes via car or subway

Experience the culture of the city from its most fashionable neighborhood when you stay at the InterContinental Toronto Yorkville. Our boutique hotel redefines luxury with sleek, yet invitingly designed interiors. Discover our uniquely personal touch with amenities like our Signatures Restaurant, Penthouse lap pool, stylish bar, Proof, and SkyLounge, named the best patio in the city. Located in the university and arts district of Yorkville, our vibrant hotel puts you within steps of trendy restaurants, boutiques, and art galleries, as well as the University of Toronto and major museums.

Here, you'll be treated to unparalleled service with a staff speaking three dozen languages, and a knowledgeable concierge who can help with everything, even a helicopter tour of the city.

Descrição completa e mais fotos
[+] Adicionar uma opção para o seu pacote
No information here yet.
Toronto Hotels


Official National Bank Open Tickets.

Your tickets allow you to attend matches on all the side courts.


Rogers Cup Toronto FAQ's
Q. What is the National Bank Open (ATP) presented by National Bank?
Rogers Cup presented by National Bank is a prestigious professional tennis tournament organized by Tennis Canada. Since 1881 for the men and 1892 for the women, the best players in the world have showcased their skills on Canadian courts. Only Wimbledon and the US Open have longer histories than this major Canadian stop, which is acknowledged by the tennis world to be one of the best-run tournaments on the Tour. Classified as a Premier 5 event on the WTA calendar, Rogers Cup presented by National Bank offers over US $3 million in prize money and attracts the biggest stars in tennis year after year.
Montreal and Toronto share the task of hosting the best men's and women's players in the world, with both tournaments played at the same time, during the same week. So, from August 3-12, 2018, the women will be in Montreal while the men will play in Toronto.
The impressive list of past champions for this Canadian stop on the professional tennis circuit includes such legendary names as Serena Williams, Martina Navratilova, Chris Evert, Monica Seles, and Steffi Graf.

Q . What is the address of the Aviva Center in Toronto?
1 Shoreham Dr, North York

Q. When will my tickets be delivered?
Tickets are generally delivered one week before your first day of attendance. Actual delivery times vary from event to event depending on many factors including when tickets are physically allocated by the tournament.
Q. What if my tickets are lost or stolen?
When you receive your tickets, keep them in a safe place. Unfortunately, tickets cannot be replaced if they are lost, stolen, or damaged. Please note that direct sunlight or heat can damage some tickets.
Q. Will the tickets I order be together?
Yes. All ticket order of two tickets will be together. For orders of 3 or more tickets we do our best to get all the tickets together, but it's not guaranteed. We will make sure to have at least all the tickets as pairs.
Q. When tickets are listed as a "General" ticket for a particular level, what does that mean?
When a ticket is listed as a "General" ticket, such as Promenade General, or "CAT 1 - General" this simply means that your tickets are guaranteed to be located in a section within that given level. Even though it's listed as "General", all tickets are reserved. You will only know the actual seats (section, row, and seat number) once the tickets are delivered.
Q. What does my ticket entitle me to?

For the main draw, we sell tickets for reserved Centre Court seats only. Your ticket also allows access to the grounds and all matches on other courts including Grandstand Court during the session your ticket is valid for, however this seating is unreserved.

Q . How many seats are in the Aviva Centre in Toronto?

Centre court can hold up to 10,300 spectators.

Q. Where does the Umpire and Players sit?

They sit on the west side facing east.

Q. What are some tennis etiquette' rules that fans must abide by while watching matches at the National Bank Open (ATP) presented by National Bank?
Please remain in your seat until the end of play and only leave your seat during a player changeover.
Please refrain from making noise during play.
Smoking is not permitted in the Stadium Court.
Turn cell phones to vibrate/silent mode.
Do not use flash photography from the stands.
Q. What session or day is the best to attend?
Every fan finds a different day or session to his or her liking. There are more matches earlier in the week and during matinee sessions. As the week progresses, the excitement builds as the field narrows and the remaining players fight to become the next National Bank Open (ATP) presented by National Bank Champion.
Q. Can I buy a ticket to watch a particular player?
The National Bank Open (ATP) presented by National Bank is an elimination tennis tournament, and as such the schedule of play is determined each evening for the following day. Therefore, it is not possible to purchase tickets in advance and guarantee a specific player will play in that session.
Q. When does the official draw come out?
The official draw is created the weekend prior to the start of the main draw. The players' names are randomly selected and placed on the official drawboard, with the top 16 seeds already placed on the board after receiving a bye in the first round. Once the draw is determined, the schedule of play is made daily by the tournament director, tournament referee and ATP World Tour Director. Please check rogerscup.com nightly throughout the tournament for the next day's schedule of play.
Q. If I don't want to be looking into the sun, or would like to sit in the shade, where would be the best place to sit?
During the matinee session the sun is almost directly overhead and there is no shade. During the evening session while the sun is setting the preference is to sit on the west side facing east. The Rexall Centre is an outdoor stadium so remember to bring your sunscreen and a hat as temperatures can get very hot.
Q. What does my ticket entitle me to?
Your ticket also allows access to matches on other courts including the Grandstand during the session your ticket is valid for, however this seating is unreserved.
Q. How many matches will I see with my ticket?
From Monday through Friday, there will be a minimum of three matches scheduled on Centre Court in the matinee session and a minimum of two matches scheduled in the evening session. Inclement weather and other factors beyond our control may alter this schedule. Both singles and doubles matches are included in most sessions.
Q. What time can I come to watch my session of tennis?
You may enter the site for your session according to the gate time printed on your ticket. Typically, the gates open one to two hours prior to the start of the first match. For example, the Thursday Matinee session gates open at 10:00 a.m. and the matches start at 11:00 a.m. while Thursday Evening session gates open at 5:30 p.m. and the matches start at 7:00 p.m.
Q. Can I bring a camera?
Cameras are allowed to be brought on site, no flash photography is allowed while play is in session. Tripods, monopods, camcorders, laptops and ipads are not allowed. If found at the gate, you will be asked to return these items to your vehicle before entry is permitted. We ask that photographs at Centre Court only be taken from your seat or behind the railing, and that it not interfere with any other guest's enjoyment of the match.
Q. What am I allowed to bring to the tournament?
Any bag, container or package will be checked prior to entering the grounds. All spectators entering the grounds will be subject to search.
Please leave any unnecessary items at home or in your vehicle.
Prohibited Items:
Bottles or Cans (Glass or Metal)
Non-Clear Plastic Bottles
Glass Containers
Alcohol
Aerosol Sunscreen Cans
Weapons
Bicycles
Rollerblades
Skateboards
Scooters
Animals (unless a service animal)
Noisemaking Devices
Laser Pointers
Selfie Sticks
Flag Poles
Tennis Racquets
Drones
Monopods
Tripods
Video Cameras or other Recording Devices
Unauthorized Advertising or Promotional Material
Any other objects deemed unsatisfactory by the management of Rogers Cup presented by National Bank are strictly prohibited on the grounds.
Allowed Items:
Clear Plastic Bottles
Food and water as long as it abides by the above prohibited items list
Small Personal Coolers
Cameras are allowed on site as long as the following two rules are followed:
No flash photography is allowed while play is in session.
The usage of the camera does not interfere with any other guest's enjoyment of the tennis.
Laptops, tablets and other handheld electronic devices are allowed on site, however their use within the confines (spectator area) of the tournament match courts is prohibited.
Your National Bank Open (ATP) package contents are delivered via email a few weeks before your first day of attendance at the tournament.

Você tem alguma dúvida?
Enviar um e-mail
. Ou ligue. (800) 468-3664
local and international call
+1 (480) 429-7700

Desde 1987, tivemos apenas uma missão, e isso é para torná-lo tão fácil quanto possível para os fãs de todo o mundo para participar da mais procurados torneios de tênis do mundo. Nós tratamos apenas de tênis e tem profunda experiência e compreensão dos nossos torneios de serviço. Pode confiar em nós para cuidar de todos os detalhes, com um nível de serviço ao cliente que vai fazer você um cliente leal para os próximos anos.

Mike Bernstein
Championship Tennis Tours