Citi Open
31 jul – 6 ago, 2023 | Washington, D.C.
iNota: Seguro y confiable desde 1987.
Los precios pueden ser menos o más caros que el valor nominal.
Todas los boletos son garantizados 100% auténticos.
The Citi Open is a combined ATP World Tour 500-level event and a WTA International level event.  The Citi Open is held at the Rock Creek Park Tennis Center and is one of only 13 prestigious ATP 500 tournaments worldwide. The main stadium is small holding approximately 7500 people, there's not a bad seat in the house. We have tickets available right up to the finals in either the CAT 1 (lower level) and the CAT 2 (upper level).
More Details and FAQ's . . .
Fitzgerald Tennis Center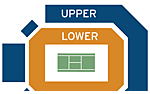 Guía estadio
Programa Provisional
Elija su entrada i
Precio
Qty
Stadium View (Approximate View)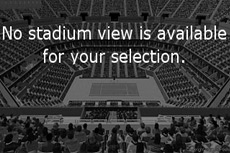 Stadium View (Approximate View)
Description
The main stadium holds 7500 people and has 31 air-conditioned theater-style boxed seating. It's a cozy stadium where there truly isn't a bad seat in the house. The grounds around the tennis center are ripe with special events. You can see various food trucks, tailgating, specific junior events for kids, and even a special ladies' day.
We don't have any additional information for this tournament at this time. Please check back later for updates. If you have questions about any of our ticket or package offerings, feel free to
give us a call
or
send an email
(
click here
for contact information).
When can I expect to receive my Citi Open tickets?
Tickets are generally available for delivery approximately 1 week before the event. Tickets are delivered electronically.


Desde 1987, hemos tenido una sola misión, para que sea lo más fácil posible para los aficionados de todo mundo a asistir a los torneos de tenis más buscados. Manejamos solamente el tenis y tiene una amplia experiencia y conocimiento de los torneos que de servicio. Usted puede confiar en nosotros para cuidar de todos los detalles, con un nivel de servicio al cliente que le hará un cliente leal en los próximos años.

Mike Bernstein
Championship Tennis Tours