BNP Paribas Open
8 mar – 19 mar, 2023 | Indian Wells, CA
Ver Fotos
El BNP Paribas Open es el quinto torneo de tenis. Además de nuestros grandes paquetes, usted puede elegir entradas individuales como en el nivel Box, Loge, o en el Luxury Suite durante todo el torneo.
Compra varias sesiones
Elija asientos propio nivel superior, de caja, y de lujo
Mapa interactivo para selecionar entradas
100% CTT Garantía Secure
Entradas Individuales
Habitaciones Indian Wells 3 y 4 estrellas
BNP Paribas Open entradas oficiales
Una gama de niveles de asientos
Los anfitriones en el lugar, los regalos de CTT y Más
Paquetes Completos
Elige tus fechas paquetes deseados
Seleccione o especifique su hotel preferido
Asistir a todas las sesiones como desee
Elija sus niveles de entradas preferidos
Agregue las opciones de viaje que le gustaría
Haga sus peticiones especiales
Cita rápida en menos de 24 hrs.
Personalizar un Paquete
BNP Paribas Open has a 5 out of 5 rating, based on 6 User Reviews
Fantastic Experience
Chloe V. from New York, NY said:
I went on this tour with my family and had a fantastic experience. The event is set in the beautiful backdrop of Palm Springs. We could see the mountains behind the stadium while the players were on the court. My kids loved this venue and we will book again with Championship Tennis Tours as they found us great seats on short notice and offered extra customer servicing - information about special events for our kids.
Bottom line: Chloe V. would recommend this event to their best friends
---
Great Venue
Tonya Beasely from Boston, USA said:
This tournament offers an incredible way to the top players in the world in a breathtaking setting.
Bottom line: Tonya Beasely would recommend this event to their best friends
---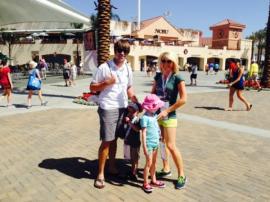 Better than the Grand Slams!
Pat Breault from Hilo, Hawaii said:
We attended our 1st BNP Paribas Open this year and it will not be our last. The tickets were just as you said, in the shade right off the baseline. We've been to the Australian Open and have attended the US and French Opens. This tournament is, as far as for a great family experience, was by far the best. The Grand Slams care more about breaking attendance records than providing a spectator friendly environment. This tournament had it all, the top players, good food, entertainment, shopping, etc. We will certainly look to attend this tournament with you again before going to another Grand Slam.
Bottom line: Pat Breault would recommend this event to their best friends
---
loved it, the suite was wonderful
Pollie (Paula) Hanson said:
I raved about it when I got home. First time I've been to a tennis tournament and want to go again, except for 1 week as I cannot afford the full 2 weeks again.
Bottom line: Pollie (Paula) Hanson would recommend this event to their best friends
---

Desde 1987, hemos tenido una sola misión, para que sea lo más fácil posible para los aficionados de todo mundo a asistir a los torneos de tenis más buscados. Manejamos solamente el tenis y tiene una amplia experiencia y conocimiento de los torneos que de servicio. Usted puede confiar en nosotros para cuidar de todos los detalles, con un nivel de servicio al cliente que le hará un cliente leal en los próximos años.

Mike Bernstein
Championship Tennis Tours