French Open
27 May

–

10 jun, 2018

|

Paris, France
Nota: Seguro y confiable desde 1987.
Los precios pueden ser menos o más caros que el valor nominal.
Todas los boletos son garantizados 100% auténticos.
Ver Fotos
Únase a nosotros para el mejor campeonato de tierra batida en el mundo, el Abierto de Francia, también conocido como Roland Garros. Elija entre los asientos en Philippe Chatrier (cancha central) y la cacncha Suzanne Lenglen en el nivel superior (Categoria 2 o Categoria 3) o nivel baja (Categoria 1). Desde 1987, todos los ordenes de entradas de Roland Garros estan 100% garantizados por Championship Tennis Tours.
Mas detalles y preguntas frecuentes. . .
Elija su entrada i
Precio
Qty
Stadium View (Approximate View)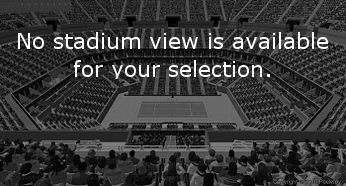 Stadium View (Approximate View)
Description
General tickets can be anywhere within the Promenade Level on Center Court. This ticket also gives you access to all the outside courts, and the Louis Armstrong and Grandstand show courts.
Sections:
Anexas (Pistos Exteriors)
Abierto de Francia Los pases, también conocido como "entradas Annexe", son muy populares. Hay muchos beunos partidos individuales para disfrutar que se juegan en las 19 pistas exteriores podre gozar del tenis en vivo y ver mas de cerca a sus jugadores favoritos durante los primeros 10 días del evento. Estos pases anexas le dará acceso a TODAS las canchas al aire libre, pero no los tres tribunales estadio principal: Phillipe Chatrier (pista central), Suzanne Lenglen, o la Corte 1. Asientos para las canchas exteriores es en un primer llegado primer servido base, por lo que es importante saber dónde están los partidos que usted está interesado en ver se llevarán a cabo para que pueda llegar lo más pronto posible para asegurar asientos.

Categoría 1
El "CAT 1" nivel tanto en la Philippe Chatrier (pista central) y Suzanne Lenglen disponen de ventilador de la Corte un increíble cierre de perspectiva de la acción. Estos son los asientos más exclusivos que vendemos. El nivel se sitúa justo por encima de los "Nivel Loge" cajas corporativas de ambos estadios qu

Categoría 2
El "CAT 2" nivel tanto en la Philippe Chatrier (pista central) y Suzanne Lenglen Corte se encuentra en la primera parte del segundo nivel de ambos estadios y ofrecen bonitas vistas de la corte y de la acción.

Categoría 3
El "CAT 3" nivel tanto en la Philippe Chatrier (pista central) y Suzanne Lenglen Corte se encuentra en la parte superior del segundo nivel de los dos estadios. Ambos estadios fueron construidos específicamente para el tenis, por lo tanto, realmente no hay malos asientos, incluso en el más asequible "CAT 3" nivel. Usted simplemente tiene una perspectiva más elevada de la corte que de los CAT 2 plazas de nivel.


With does a ticket on Philippe Chatrier or Suzanne Lenglen court give you access to?
A ticket on the Phillipe Chatrier (Center Court) or Suzanne Lenglen Court will give you a reserved seat for the entire day on that particular court with access to all the outside courts except Court 1 which has its own specific ticket. If you have a ticket on Phillipe Chatrier you cannot access the Suzanne Lenglen court and vice-versa. Both of these show courts usually offer an equal level of featured singles matches through Wednesday of the second week of the tournament. From Thursday of the second week through the end of the tournament all of the featured singles matches are played on the Phillipe Chatrier Center Court. The overall seating capacity on the Philippe-Chatrier Court is 14,840, and on Suzanne Lenglen is 9,959.


*What do Grounds Passes give access to? Grounds Passes also known as "Annexe tickets" are very popular as there are many great matches to enjoy on the outside courts during the first 10 days of the event. These French Open Grounds Passes give you access to ALL the outside courts but DO NOT offer access to Phillipe Chatrier, Suzanne Lenglen, or Court 1.


Championship Tennis Tours is not affiliated with Roland Garros, the French Federation of Tennis (FFT), or Viagogo. All French Open tickets purchased through Championship Tennis Tours (CTT) are made on a Buyer Beware Basis. An original passport or driver's license (copies will not be accepted) will be required at the gates of Roland Garros and MUST correlate exactly with the name(s) provided to us for the transfer of the French Open e-ticket(s) purchased through Championship Tennis Tours, Inc. All CTT French Open tickets are 100% guaranteed! All orders are protected with Ticket Guardian's "Peace of Mind" insurance which is included with every French Open order. You are free to cancel your order for any reason and get a full refund on your ticket purchase less any service fees.





Tickets for the French Open will be sent via email in PDF format to the email address you've provided us for shipping. Please note that French Open tickets are sent out first to clients who purchased tickets for the first week of the tournament, and then to clients who purchased tickets for the second week of the tournament. In general, as a rule from past years, you can expect to receive your tickets (via email) approximately 3 days to a week before YOUR first day of attendance at the tournament. You will be asked to confirm recipt of the ticket(s) we send you, confirming that your ticket(s) is exactly as you ordered. Specifically, that the name(s) of the person or people to whom the ticket(s) was to be transferred into is correctly spelled on the ticket(s). Tickets are guaranteed to be delivered at least ONE day prior to YOUR first day of attendance at the event. If you have any questions regarding the shipping of your tickets, please feel free to contact us. We understand that it can be very stressful waiting to recieve your tickets, but keep in mind that tickets are generally issued very late by the French Open and must be transferred into the names that you have provided us. We have a very rigourous distribution process that we go through to make sure all our clients receive exactly the tickets they ordered. Rest assured, your tickets will arrive, as per these guidelines.

All CTT French Open tickets are 100% guaranteed.
Desde 1987, hemos tenido una sola misión, para que sea lo más fácil posible para los aficionados de todo mundo a asistir a los torneos de tenis más buscados. Manejamos solamente el tenis y tiene una amplia experiencia y conocimiento de los torneos que de servicio. Usted puede confiar en nosotros para cuidar de todos los detalles, con un nivel de servicio al cliente que le hará un cliente leal en los próximos años.
Mike Bernstein
Championship Tennis Tours