Nitto ATP Finals
10 nov

–

17 nov, 2019

|

London, England
iNoter: Sûr et fiable depuis 1987.
Les prix peuvent être moins ou plus cher que la valeur d'origine.
Tous les billets sont garantis 100% authentiques.
Championship Tennis Tours propose les meilleurs billets pour cet événement ATP de la fin d'année à Londres. Les finales de l'ATP se déroulent dans la spectaculaire O2 Arena de Londres et voient s'affronter les 8 meilleurs joueurs du monde en simple et 8 équipes de double dans une compétition acharnée pour devenir le numéro un en gagnant ce tournoi. Nous espérons avoir le plaisir de vous accueillir à Londres pour ce tournoi unique et exceptionnel. Réservez vos billets maintenant ! Plus de détails et FAQ. . .
Plus de détails et FAQ's. . .
02 Arena London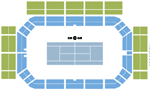 Guide du stade
Programme Provisionnel
Une question ? Contactez-nous par mail.
Envoyer un e-mail
. Ou appeler. Arizona Office
local and international call
+1 (480) 429-7700
Choisissez vos places i
Prix unitaire
Qty
Stadium View (Approximate View)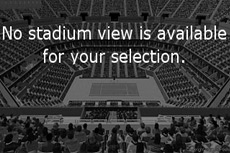 Stadium View (Approximate View)
Description
General tickets can be anywhere. This ticket also gives you access to all the outside courts.
Sections:
Upper Level
Upper level seats at the O2 Arena offer an affordable option to the higher priced Lower Level tickets. The views are still decent, but if you can, spoil yourself with some lower level tickets.
Lower Level
The Lower Level at the O2 Arena offer the best views of the action.

ATP Finals London FAQ's

Q. What is the Nitto ATP Finals

It is the year-end climax to the men's professional tennis season, featuring only the world's best eight qualified singles players and doubles teams as they battle it out for the last title of the season. Players compete for ATP Rankings points throughout the season in a bid to earn one of the eight coveted berths. Played using a round-robin format at The O2 in London, each participant plays three matches as they compete for a berth in the knockout semi-finals and beyond. An undefeated champion earns 1,500 ATP Rankings points. Total prize money offered is USD 8.5 million.

Q. What is the format?

The ATP Finals has a round robin format, with eight players/teams divided into two groups of four. The eight seeds are determined by the ATP Rankings and ATP Doubles Team Rankings on the Monday after the last ATP World Tour tournament of the calendar year. All singles matches are the best of three tie-break sets, including the final. All doubles matches are two sets (no ad) and a Match Tie-break.

Q. How many matches are played each session?

All sessions include one singles match and one doubles match.

Q. When are the specific players who will play in each round robin session determined?

The specific players for each round-robin session will be determined before the start of the tournament in a draw ceremony.

Tickets are scheduled to begin being distributed from our office in Scottsdale around the end of October with tickets for the first week of the tournament being sent out first followed by second week orders. If you still haven't received your tickets within one week of your first day of attendance at the tournament, feel free to contact us. Otherwise, please rest assured that your ticket order is being processed normally. If this doesn't work with your travel plans, we can arrange to have your tickets shipped directly to your hotel in the London area.
Une question ? Contactez-nous par mail.
Envoyer un e-mail
. Ou appeler. Arizona Office
local and international call
+1 (480) 429-7700
Depuis 1987, nous sommes là pour aider des milliers de fans chaque année à assister aux tournois de tennis les plus recherchés du monde. Notre spécialisation dans le tennis nous a permis d'aquérir une grande expérience et une parfaite connaissance des tournois que nous proposons. Vous pouvez nous faire confiance : nous prenons en charge tous les détails, avec une telle qualité de service que vous ne pourrez plus vous passer de nous!
Mike Bernstein
Championship Tennis Tours