Wimbledon
2 jul

–

15 jul, 2018

|

London, England
Nota: Seguro y confiable desde 1987.
Los precios pueden ser menos o más caros que el valor nominal.
Todas los boletos son garantizados 100% auténticos.
Ver Fotos
Saltar las filas con Championship Tennis Tours y mimarse realeza en el evento más prestigioso en el tour. Con sus entradas de la cancha Central o Court 1 podrá disfrutar de acceso a la Salón Debenture u hospitalidad VIP. En la pista central, los entradas se encuentran en cualquier parte del nivel 200 y primeros diez filas del nivel 300, que ofrece vistas incomparables de la acción.
Mas detalles y preguntas frecuentes. . .

Wimbledon Cancha Centro
Guía estadio

Wimbledon Cancha # 1
Guía estadio
Elija su entrada i
Precio
Qty
Stadium View (Approximate View)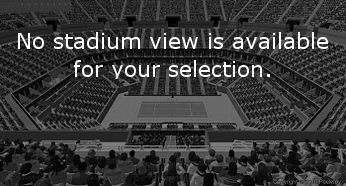 Stadium View (Approximate View)
Description
Centre Court
Undoubtedly the jewel in Wimbledon's Crown — a stunning 15,000 seat area complete with retractable roof to ensure no adverse weather interrupts play. Hosting a range of superb lounges are bars offering stunning views over Wimbledon Village.

Court No. 1
Quickly becoming the savvy buyer's choice for the best Championships viewing. In 2012, No.1 Court played host to top matches with Murray, Nadal, Federer, and Djokovic having played matches on Cour 1 during the course of The Championships.


With your tickets you'll enjoy access to the Debenture Seat Holders Lounge or VIP hospitality. On Center Court, our tickets are generally located in the first ten rows of the Debenture 300 seat level, offering unparalleled views of the action.

What matches will be played on No. 1 Court on the second Friday, Saturday and Sunday of The Championships?

The order of play for these days will be determined the night before by the Order of Play Committee. These are likely to include the latter stages of the Gentlemen's, Ladies' and Mixed Doubles, and/or matches from the latter stages of the Invitational Doubles events.

Do I have to pay to watch the large screen TV in Aorangi Park?

The large television screen is viewable from the Aorangi Terrace showing current matches, scores and general information. There is no additional charge for ticket holders to watch the large screen. However, visitors must purchase a ticket in order to gain entry to the grounds to watch the large screen TV.

Can I bring my child to Wimbledon?

A ticket is not required for babes in arms and children under 5 years. We recommend that babes in arms and pushchairs are not brought to The Championships as the grounds are large and crowded. Babes in arms and children under five are NOT allowed in the Show Courts (Centre Court, No.1 Court, and Courts 2, 3, 12 & 18). A limited number of baby changing facilities are available but there are no facilities for mothers to 'express' milk.

Can I bring my camera to Wimbledon?

Cameras are permitted inside the grounds but photographs (still or motion) taken may only be used for private, not commercial, purposes. There is no flash photography while play is in progress; cameras with automatic flashes should not be used unless the flash can be switched off. Video recording is permitted so long as it does not interfere with competitors or anyone else. It may only be used for private, not commercial, purposes.

Is there a dress code?

There is no dress code as such for visitors except for the following areas:

Members' Enclosure

— Jacket and tie are appropriate for members and their guests. Ladies - smart trouser suits are acceptable. No jeans or shorts are acceptable.

Debenture Lounges

— The dress code for bookable restaurants in the debenture areas specifically prohibits sports or cargo shorts, running vests, baseball caps, ripped jeans and dirty training shoes.

Can I visit the Museum during The Championships?

During The Championships the Museum is open only to ticket holders. Please note that admission to the Museum is additional to the price of entry to the grounds. The Museum is closed on 'Middle Sunday' and on the day after the end of The Championships.

What is Hawk-Eye?

Hawk-Eye is a multi-camera system which electronically tracks the flight of a moving ball and has become part of the umpiring process on Centre Court and No.1 Court at Wimbledon. The 2007 tournament was the first time this technology was used at Wimbledon by players to challenge an umpire's decision.

When will the Schedule of Play be published?

The Schedule of Play will be published on the Wimbledon website the day before play is due to take place. A partial Schedule of Play (for the Show Courts) is usually released around 7pm–8pm, with the full Order of Play released after all matches on all courts have been completed (usually between 9:30pm–10:30pm).

How can I get a player's autograph?

An autograph booth for player interview and signing sessions during the first week of The Championships will be located at the front of the Aorangi Pavilion.

How can I send fan mail/flowers to players?

Fan mail should be marked for the attention of the player and addressed to: AELTC, Church Road, Wimbledon, London SW19 5AE.


Unless otherwise noted, all Wimbledon tickets will be delivered via secure courier to your London Area Hotel. Upon confirmation of your order, you will be contacted by our office to collect your hotel details.
Desde 1987, hemos tenido una sola misión, para que sea lo más fácil posible para los aficionados de todo mundo a asistir a los torneos de tenis más buscados. Manejamos solamente el tenis y tiene una amplia experiencia y conocimiento de los torneos que de servicio. Usted puede confiar en nosotros para cuidar de todos los detalles, con un nivel de servicio al cliente que le hará un cliente leal en los próximos años.
Mike Bernstein
Championship Tennis Tours