Western & Southern Open
12 ago

–

19 ago, 2018

|

Cincinnati, OH
Ver Fotos
Western & Southern Open Paquetes
El torneo de Cincinnati ha recorrido un largo camino desde sus raíces humildes, jugado por primera vez en el Avondale Athletic Club hace más de 100 años, al gran torneo ATP World Tour Master 1000 que se disputa en el Lindner Family Tennis Center. Championship Tennis Tours ofrece paquetes fantásticos para este evento.


Paquetes completos incluyen
Los paquetes completos incluyen:
3, 4, or 5 star Cincinnati accommodations i
Official Western and Southern Open tickets in your choice of Category 1 or 2
CTT Welcome Gifts Mas detalles y preguntas frecuentes. . .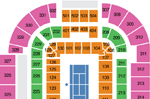 W&S Open Center Court
Guía estadio
| Tour Código i | # de personas | Fechas de Paquete | Noches | Hoteles | Rondas | Entradas Incluido | Nivel Asientos i | Costo per persona i | Subtotal |
| --- | --- | --- | --- | --- | --- | --- | --- | --- | --- |
Holiday Inn Express Mason

A modern hotel just two minute drive from the tennis and Kings Island amusement park. The straightforward rooms come with desks and flat-screen TVs, plus minifridges, microwaves and premium cable channels. There's also free WiFi and high-pressure showerheads in the bathrooms, plus kids 19 and under stay free with an adult. Suites add separate living spaces with pull-out sofas and whirlpool tubs. Amenities include a free breakfast bar, indoor pool and fitness center, as well as a business center and free parking.

Descripción completa y más fotos

Red Roof Inn Mason

Red Roof Inn & Suites Cincinnati North – Mason, located just off I-71 on Exit 19, is convenient to the Linden Family Tennis Center and just a 20-minute drive to downtown Cincinnati. Red Roof Inn & Suites Cincinnati North – Mason features a sparkling outdoor pool, a guest laundry, a delicious continental breakfast, and a fitness facility onsite. All of our guest rooms feature cable TV, hair dryer, iron, ironing board, a desk/workspace, in-room coffee maker, microwave & refrigerator, and flat screen TV. One well-behaved family pet is welcome.

Descripción completa y más fotos

Super 8 Mason

Close to Kings Island Amusement Park with packages available Located off I-71 at Exit 25, our Super 8 Mason hotel near the Linder Family tennis center and Kings Island. offers value and a great location. Make Your Stay Super Enjoy perks like free breakfast and free WiFi Wake up to a free 8-item SuperStart breakfast. After a long day, unwind in our heated outdoor pool. Enjoy free WiFi and access to our guest laundromat and dry cleaning service.

Descripción completa y más fotos

Hyatt Place Mason

Enjoy a casually chic lodging experience at the Hyatt Place Cincinnati-Northeast. Enjoy spacious, comfortable accommodations and in-room amenities, along with free parking, free breakfast daily, and complimentary WiFi. Close to local attractions like Kings Island, the Manor House, the Cincinnati Zoo and Botanical Gardens, and the convention Center. Relax and enjoy our hotel and everything we have to offer. What You'll Love: Prime location: centrally located in Cincinnati, and near exciting attractions, sports parks, golf courses, and universities Cozy guestrooms: feature free WiFi internet, flat-screen TV, work desk, and spacious layout 24/7dining: Start your day with free breakfast, then enjoy freshly prepared favorites on your time Free amenities: Free high-speed WiFi internet and free parking Top amenities: include a fitness center, business center, indoor pool, hotel bar, and plenty of space to spread out in our lobby lounge Coffee to Cocktails Bar & guest market: stop by our Coffee to Cocktails Bar to enjoy your favorite espresso beverage or cocktail. Our 24 hour guest market offers snacks, sundries and freshly prepared sandwiches and salads.

Descripción completa y más fotos

Marriott Northeast Mason

Located in Mason just steps from the action at the Western and Southern Open. We are the closest Marriott hotel to Kings Island. At the heart of our hotel is the Marriott Greatroom; flexible spaces with a contemporary style and design, that allow guests to work and play in their own way. It's the spot to meet, eat and relax. The Marriott Greatroom features, multiple flat panel HDTVs, communal tables, a coffee bar proudly serving Starbucks®, and a chef-created menu of small plates, desserts and pours. Newly renovated Guest rooms feature the best amenities for a restful and productive stay; luxurious bedding, flat panel HDTVs, and ergonomic workstations

Descripción completa y más fotos

Homewood Suites Mason

Feel at home in a spacious studio or one-bedroom suite offering separate living and sleeping areas, complimentary internet access and a fully equipped kitchen complete with microwave, two-burner stove, full-sized refrigerator and large dining table. Join us each morning for a complimentary hot full breakfast, and meet friends for complimentary evening social* served Monday through Thursday. Refresh in the sparkling indoor swimming pool or work out in the 24-hour fitness center. Spend some quality time with friends and family on the putting green, before cooking an al fresco meal on the outdoor patio's communal barbecue grills.

Descripción completa y más fotos

Towne Place Suites - Mason

Hotel with Shuttle Service

t our extended stay hotel in Mason, Ohio, you'll enjoy a free breakfast every morning as well as the luxury of your own fully-equipped kitchen featured in all of our suites. TownPlace Suites Cincinnati Northeast also provides you with a free shuttle service to get you to work or anywhere else within 5 miles of the hotel. Suites come equipped with a work desk and ergonomic work chair, high-quality bedding, an HDTV, and free WiFi. Dogs are welcome in our hotel so you don't have to leave anyone during your stay. Pull-out sofa beds are also provided in our suites for your convenience. Our Mason, Ohio hotel features a seasonal outdoor pool, fitness center and is located near some great restaurants in Mason, Ohio. Also close by you'll find some of Mason's most popular tourist attractions including the Cincinnati Zoo, Kings Island, The Beach Waterpark, Heritage Village Museum, Ride the Ducks of Cincinnati, and University of Cincinnati. Plan your extended stay at our hotel today!

Descripción completa y más fotos

Spring Hill Suites - Mason

Hotel with Shuttle Service

Welcome to the Springhill Suites Cincinnati Northeast! Complimentary shuttle service available within 5 mile radius. One of the most convenient Cincinnati hotels. Step into our fresh, stylish lobby and grab a snack at our 24/7 Market. Unwind in your room with separate areas for sleeping, working, and relaxing. Enjoy free Wi-Fi, a spacious working area, and kitchenette in all guest suites. Stay fit with our state of the art cardiovascular equipment complete with individual flat screen TVs. Go for a swim in our year-round indoor pool or take a soak in the whirlpool. One of the few Cincinnati hotels located off I-71 and I-275; we are just minutes from Kings Island, Procter & Gamble, Luxottica, and other downtown attractions. Our Cincinnati Northeast hotel invites you to refresh and renew in our updated space providing the ultimate experience in guest service and convenience.

Descripción completa y más fotos

Hilton Garden Inn - Blue Ash

Hotel with Shuttle Service

Complimentary WiFi throughout the hotel and access to Interstates 75 and 275 make this Blue Ash, Ohio hotel convenient for business and leisure travelers alike. Surrounded by corporate offices, our hotel is close to local shopping and restaurants in Sharonville and Blue Ash. Take advantage of our complimentary shuttle to the Western and Southern Open. Enjoy a comfortable guest room or opt for an executive suite which includes two rooms separated by a door, a sofa bed, whirlpool bathtub and second bathroom. The Garden Grill® provides breakfast and dinner and a full bar. You can also purchase a microwaveable snack from the Pavilion Pantry® and prepare it in your room. Recharge in the indoor swimming pool or at the fitness center.

Descripción completa y más fotos

Holiday Inn - West Chester

Hotel with Shuttle Service

Welcome to the Brand New West Chester Hotel at Centre Park! Welcome as you begin your journey to Centre Park and step into an extraordinary experience at the Holiday Inn Cincinnati North - West Chester featuring Ohio's first Johnny's Italian Steakhouse. Located 20 miles from Downtown Cincinnati and within minutes of I-275 and I-75, our hotel rises above all of the competition. During your stay, refresh at the Blue Bar and relax with exquisite, flavorful dining at Johnny's Italian Steakhouse. Johnny's is not considered to be a stuffy fine dining restaurant, but rather a personification of its mantra hot steaks, hot music, and hot food. Hotel guests traveling on business prefer our hotel for our complimentary Wi-Fi and 24-hour business center while our leisure travelers love our indoor heated pool and family friendly atmosphere. While visiting, explore the incredible sights of Cincinnati and surrounding suburbs. Find space to meet and relax with the connected Centre Park Event and Banquet Center that features a chapel, garden with gazebo, and state of the art technology. Whether you're traveling for business or vacation, with over 20,000 sq ft of flexible space, no meeting, event, or wedding is too large for our versatile hotel and banquet facility. Let us change your view of true hospitality. Please see our Offers tab for special rates and packages.

Descripción completa y más fotos

21 C Museum Hotel

Historic Metropole Hotel reimagined as a contemporary art museum. Situated in the heart of the action in The Queen City, adjacent to the Contemporary Art Center and across the street from the Aronoff Center for the Arts, the 21c Museum Hotel is a multi-venue contemporary art museum, an award-winning 156-room boutique hotel, and the home of Metropole restaurant, led by executive chef Jared Bennett. Stay with us and the iconic Yellow Penguin. #1 HOTEL IN THE MIDWEST Readers' Choice Awards 2014+2015 Condé Nast Traveler More than 8,000 square feet of exhibition space Award-winning restaurant and bar Metropole, led by Chef Jared Bennett In-room dining provided by Metropole Seasonal rooftop Cocktail Terrace offering stunning views of downtown Cincinnati In-House Full Service Spa 24-hour Fitness Center Business Center Laundry Service Museum Hotel Shop 24-hour Valet Service Pet-friendly Rooms Designed by Deborah Berke Partners Free Wi-Fi

Descripción completa y más fotos

The Cincinnatian

The Cincinnatian Hotel is a Forbes Four Star, AAA Four Diamond hotel that epitomizes modern luxury in an historic setting. Guests at the Cincinnatian are treated to legendary service and an elegant atmosphere that includes our Palace Restaurant, Cricket Lounge and flexible meeting rooms. Comfort and style are never compromised at downtown Cincinnati's finest small luxury hotel, accommodating Cincinnatians, Cincinnati tourists, and Cincinnati's business community since 1882.

Descripción completa y más fotos

Westin Cincinnati

Overlooking Fountain Square, this classic hotel is a 4-minute walk from the Aronoff Center for the Arts and a 5-minute walk from the Duke Energy Convention Center. The modern rooms offer floor-to-ceiling windows (some with views of the square), as well as WiFi (surcharge), 37-inch flat-screen TVs, desks and coffeemakers. Amenities include an indoor pool, a whirlpool and an exercise room. There's also an informal eatery, a seafood restaurant and a lobby bar

Descripción completa y más fotos
[+] Añadir una opción
No information here yet.
Cincinnati Hotels
Para su viaje a Western y Southern Open, hemos elegido nuestros hoteles favoritos en la zona. Cuando no estás viendo la acción de tenis, hay tantas cosas que hacer en Mason y Cincinnati. Lugares para ir, tiendas para comprar, y restaurantes para probar, que ninguna visita parece lo suficientemente largo.


Official Western & Southern Open Courtside Tickets.

Your tickets allow you to attend matches on all the side courts.


Where is the W&S Open Center Court located?
It can be seen from Interstate 71, directly across from Paramount's Kings Island, about 30 minutes northeast of downtown Cincinnati. It's about one hour from Columbus, Ohio, and about 30 minutes from Dayton, Ohio. Click here for detailed directions, or try www.mapquest.com.
W&S Open Center Court
5460 Courseview Drive
Mason, OH 45040
When do the sessions begin and end?
On the tickets page, under single session tickets for men and single session tickets for women, you'll find the start times of each session. There are no definite session-ending times, as all sessions last until the matches for that session are completed or the session is determined to be completed (due to rain or other circumstance). In general, the sessions which start at 11 a.m. usually last until about 5 p.m., and the sessions which start at 3 p.m. or 7 p.m. usually last until approximately 11 p.m. Again, ending times are dependant on the length of the matches scheduled for that session. (Gates open two hours before each sessions starts).
Will one ticket allow me to watch both the afternoon and evening sessions?
No. You will need a ticket to attend each session. Please be prepared to present your ticket to the usher for entry to Center Court.
Can you tell me now when a particular player will play?
No. In a single elimination tournament, only one player advances and since no one knows who will win or lose, no one knows who will play when.
When is the first round played? When's the second round played?
Barring unforeseen circumstances, the first and second rounds will be played Monday, Tuesday and Wednesday. The round of 16 is completed on Thursday, the quarterfinals are played on Friday, the semifinals are played on Saturday and the finals are played on Sunday.
On how many courts are matches played?
Depending on the day, matches may be played on up to seven or eight courts.
Can I watch players practice? How do I know who's practicing when and where?
Some courts at the W&S Open Center Court were built specifically as practice courts. Watching practice has become a real fan favorite because fans can get so close to the stars and see them in a relaxed environment. An electronic board near the player entrance (on the west side of the W&S Open Center Court) updates fans on who is practicing on which courts. In addition, fans will have the option to view the player practice schedule during the event by opening
www.cincytennis.com
on their mobile devices.
How does the W&S Open Center Court compare to other tennis facilities?
The W&S Open Center Court and the venues for the four Grand Slams are the only venues in tennis with more than two permanent stadiums. Cincinnati has four permanent stadiums: Center Court (capacity: 11,435), Grandstand Court (capacity: 5,000), Court #3 (capacity: 4,000) and Court #9 (capacity: 2,000). All four have lights to allow for night play. The site has a total of 16 courts and matches may be played on up to eight of those courts (depending on the day and the tightness of the schedule).
I'm buying single session tickets. Where will I sit? Can I sit down next to the court?
Center Court at the W&S Open Center Court is divided into three levels: The box level, the loge level, and the terrace level. The box level, the loge level and the first five rows of the terrace level are for fans who are buying tickets for the entire tournament, not just one or a few sessions. Also, there are waiting lists for the box and loge levels. However, please keep in mind that the Center Court stadium was specifically built for tennis and seats only 11,435 -- so even the last row provides a great view of the action. Also keep in mind that the earlier you order tickets, the lower your seats will be in the terrace level.
Has the tournament always been called the Western & Southern (W&S) Open?
No. The Cincinnati tournament has had many different names since its beginning on September 18, 1899, including the Cincinnati Open, the Tri-State Tennis Championship, the Western Tennis Championship, the ATP Championship and Tennis Masters Series Cincinnati.
Daily Buffet Breakfast
CTT Tour Gifts
Your Western & Southern Open package contents are delivered by FedEx a few weeks before your first day of attendance at the tournament.

Do you have any questions?
Arizona Office
local and international call
+1 (480) 429-7700
Desde 1987, hemos tenido una sola misión, para que sea lo más fácil posible para los aficionados de todo mundo a asistir a los torneos de tenis más buscados. Manejamos solamente el tenis y tiene una amplia experiencia y conocimiento de los torneos que de servicio. Usted puede confiar en nosotros para cuidar de todos los detalles, con un nivel de servicio al cliente que le hará un cliente leal en los próximos años.
Mike Bernstein
Championship Tennis Tours