Shanghai Rolex Masters
8 oct

–

14 oct, 2018

|

Shanghai, China
Voir des photos
Shanghai Rolex Masters Forfaits
The Shanghai Rolex Masters features the world's best in a 56-player draw for singles, and is the finale to a new three-week Asian swing of the ATP World Tour. The tennis facility, which is Asia's biggest, has been built on 80 acres in the Minghang district, 27kilometers southwest of the city. The Tennis Center includes a dual-purpose indoor-outdoor 15,000-seat center court and 40 indoor and outdoor courts.
Les Forfait inclus
5 nights of accommodations at the Shanghai Ritz Carlton Portman in a Deluxe Room
Daily buffet breakfast and free wifi
Official Shanghai Rolex Mastersl tickets Thu-Sun (Quarters - Finals)
Guided half day city tour of Shanghai
On-Site CTT Representatives
CTT Tour Gifts
Tournament shuttle or VIP Parking Passes
Plus de détails et FAQ's. . .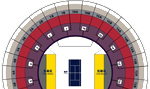 Shanghai Rolex Masters
Guide du stade
Choose your Shanghai Rolex Masters tickets in the exclusive Lower Level
Cat 2 level tickets are located in the B level on the stadium map. Cat 1level tickets are located in the A level on the stadium map.
Free Shuttle Service from the Ritz-Carlton Portman to Qi Zhong Tennis Center
On-Site Hosts
CTT Tour Gifts
Guided Shanghai City Tour
Your Shanghai Rolex Masters Package contents including your tennis tickets are delivered to you by FedEx a few weeks before your package begins.

Une question ? Contactez-nous par mail.
Envoyer un e-mail
. Ou appeler. Arizona Office
local and international call
+1 (480) 429-7700
Depuis 1987, nous sommes là pour aider des milliers de fans chaque année à assister aux tournois de tennis les plus recherchés du monde. Notre spécialisation dans le tennis nous a permis d'aquérir une grande expérience et une parfaite connaissance des tournois que nous proposons. Vous pouvez nous faire confiance : nous prenons en charge tous les détails, avec une telle qualité de service que vous ne pourrez plus vous passer de nous!
Mike Bernstein
Championship Tennis Tours