Shanghai Rolex Masters
8 oct

–

14 oct, 2018

|

Shanghai, China
Ver Fotos
Shanghai Rolex Masters Paquetes
The Shanghai Rolex Masters features the world's best in a 56-player draw for singles, and is the finale to a new three-week Asian swing of the ATP World Tour. The tennis facility, which is Asia's biggest, has been built on 80 acres in the Minghang district, 27kilometers southwest of the city. The Tennis Center includes a dual-purpose indoor-outdoor 15,000-seat center court and 40 indoor and outdoor courts.
Paquetes completos incluyen
5 nights of accommodations at the Shanghai Ritz Carlton Portman in a Deluxe Room
Daily buffet breakfast and free wifi
Official Shanghai Rolex Mastersl tickets Thu-Sun (Quarters - Finals)
Guided half day city tour of Shanghai
On-Site CTT Representatives
CTT Tour Gifts
Tournament shuttle or VIP Parking Passes
Mas detalles y preguntas frecuentes. . .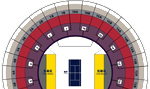 Shanghai Rolex Masters
Guía estadio
Choose your Shanghai Rolex Masters tickets in the exclusive Lower Level
Cat 2 level tickets are located in the B level on the stadium map. Cat 1level tickets are located in the A level on the stadium map.
Free Shuttle Service from the Ritz-Carlton Portman to Qi Zhong Tennis Center
On-Site Hosts
CTT Tour Gifts
Guided Shanghai City Tour
Your Shanghai Rolex Masters Package contents including your tennis tickets are delivered to you by FedEx a few weeks before your package begins.

Desde 1987, hemos tenido una sola misión, para que sea lo más fácil posible para los aficionados de todo mundo a asistir a los torneos de tenis más buscados. Manejamos solamente el tenis y tiene una amplia experiencia y conocimiento de los torneos que de servicio. Usted puede confiar en nosotros para cuidar de todos los detalles, con un nivel de servicio al cliente que le hará un cliente leal en los próximos años.
Mike Bernstein
Championship Tennis Tours