Monte Carlo Masters
13 abr

–

19 abr, 2020

|

Monte Carlo, Monaco
Ver Fotos
Monte Carlo Masters Paquetes
A sólo dos kilómetros cuadrados, el segundo país más pequeño del mundo es una tierra de glamour, glamour y juegos de azar. La joya de este Principado es Monte Carlo, enclavado en las aguas brillantes del impresionante Mediterráneo, proporciona el pintoresco telón de fondo para el Monte-Carlo Rolex Masters. Parte de los torneos de elite ATP 1000 Series, este evento de primavera marca el inicio de la temporada de corte de arcilla que culminará en junio con Roland Garros. Como ha sido el caso desde hace más de 100 años, los mejores jugadores del mundo se reunirán en las canchas del Monte-Carlo Country Club, muchos de los cuales también residen en el Principado. Championship Tennis Tours ofrece paquetes en las rondas de apertura y final para que usted pueda experimentar este gran evento con estilo.


Los paquetes completos incluyen:
Alojamiento en hotel de 3, 4 or 5 estrellas i
Official Monte Carlo Open tickets in the seating level of your choice

•

3, 4 or 5 star Monte Carlo accommodations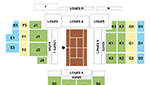 Monte Carlo Masters
Country Club
Guía estadio
Programa Provisional
| Tour Código i | # de personas | Fechas de Paquete | Noches | Hoteles | Rondas | Entradas Incluido | Nivel Asientos i | Costo per persona i | Subtotal |
| --- | --- | --- | --- | --- | --- | --- | --- | --- | --- |
Port Palace Hotel

Close to Event

NEIGHBORHOOD: Marina

THE PORT PALACE HOTEL IS UNIQUE The one and only boutique-hotel of the Principality features urban elegance, chic interiors and airy, light-filled spaces. Along the marina, steps away from the brand new Yacht Club, the Casino and the shopping galleries, the Port Palace is a sublime place. Upstairs all the rooms and suites reveal an astonishing view above the sea, the port and its major events.

Descripción completa y más fotos

Hotel Ambassador Monaco

Classic

NEIGHBORHOOD: Condamine

The elegant and refined Hotel Ambassador Monaco, located in a prime position at the foot of the Rock of Monaco, a few minutes from the Casino and the Princely Palace, reflects the unique atmosphere of the Principality of Monaco. Guests staying at the Hotel Ambassador Monaco will be delighted with the friendly welcome from the highly professional staff. Staying at the Hotel Ambassador Monaco is the opportunity to experience the exclusive Monegasque ambience, to be seduced by the splendour of the Mediterranean Sea and the gorgeous beaches along the Riviera, to give into temptation in the Principality's elegant boutiques, to try one's luck at one of the famous Casinos and to experience the thrills of the Grand Prix.

Descripción completa y más fotos

Riviera Marriott La Porte de Monaco

Cozy

NEIGHBORHOOD: Porte Cap d'Ail

Let the Riviera Marriott Hotel La Porte de Monaco be your elegant home away from home here on the Cote d'Azur! We're nestled right on the ocean in scenic Cap d'Ail; walk from our hotel to the sandy beach. The legendary excitement of Monaco and Monte Carlo is just moments away. Settle in to your well-appointed room or suite, which offers deluxe bedding, a flat-screen TV, a mini-bar and high-speed Internet access; many rooms also offer balconies with wonderful views. Additional perks for your Monaco visit include a modern fitness center and a pool, as well as excellent dining and an outdoor terrace at Restaurant "Le Cap". Bar "Le Cap": Chic & Cool offers delicious cocktails and a trendy atmosphere. Recently redesigned and boasting the very best in modern technology, our hotel's event spaces provide an exceptional backdrop for meetings and events. And we even offer a free shuttle to Monte Carlo, so you can explore the area with ease. Your luxury getaway awaits you at the Riviera Marriott Hotel.

Descripción completa y más fotos

Hotel Columbus Monte Carlo

Overlooking the Mediterranean

NEIGHBORHOOD: Fontvieille

This property is 3 minutes walk from the beach. Featuring an outdoor swimming pool with a deck lined with palm trees, Hôtel Columbus Monte Carlo overlooks the Mediterranean Sea, the Princess Grace Rose garden and the mountains. Guests are invited to work out in the private fitness center. The rooms have private bathrooms with a bathtub, shower and a bathrobe. All of the air-conditioned rooms include a flat-screen TV, a CD player and a minibar. The spacious suites at the Hotel Columbus are luxuriously decorated. They all feature a separate sitting area, a large bathroom and a balcony with a sea view. Breakfast is served every morning at the property. Many restaurants are available within a 2-minute walk of the hotel. Monaco Palace is just under a mile from the hotel and the Monaco Train Station is a 10-minute drive away. Private parking with a valet service is available on site. Nice is 18 miles from the hotel.

Descripción completa y más fotos

Monte Carlo Bay Hotel

Classic

NEIGHBORHOOD: Larvotto

This property is a 4-minute walk from the beach. Situated on the Larvotto peninsula just 400 feet from the French border, Monte-Carlo Bay Hotel & Resort boasts 4 restaurants is surrounded by 4 hectares of gardens on the sea front. It offers a casino, a 900 m² spa and a lagoon with waterfalls and hot tubs. Each air-conditioned and individually decorated room at Monte-Carlo Bay Hotel & Resort has a flat-screen TV with video games and a balcony or terrace with views of the surrounding area. Guests can choose between a buffet, continental or American breakfast. Marcel Ravin is the chef at the hotel restaurants, 2 of which are situated in the gardens. After a workout at the gym, guests can play billiards or relax by the pool. Guests can also have a treatment at the spa or order a love seat for 2 on the sun terrace, both at an additional cost. There is a kids' club available during the summer months. The hotel with private helipad is situated 30 minutes from Nice Airport by car and 7 minutes by helicopter. It is an 8-minute car ride from Monaco-Monte Carlo Train Station and has a jetty for access by boat.

Descripción completa y más fotos

Novotel Monte Carlo

Contemporary

NEIGHBORHOOD: City Center - Casino Square

Ideally located in the centre of Monte Carlo, on the historic former site of Radio Monte Carlo, this is the perfect place to stay for your visit to the Monte Carlo Rolex Masters. Just a stone's throw from the railway station, the Casino and the Grimaldi Forum, close to prestige shops and a few minutes from the beach, it offers a contemporary setting combining modernity, simplicity, comfort and well-being. Its 218 rooms including 10 junior suites are modern, spacious and comfortable with many clever features and services. Many of the rooms have individual balconies and a view on the sea and the Rock of Monaco. Restaurant service is available at the Novotel Café by Fred Ramos which serves cuisine with Mediterranean flavours. The lounge bar, 'Le Novotelcafé', offers an alternative for guests who are in a hurry. View on the sea, terrace and gardens, parking in the hotel.

Descripción completa y más fotos

Le Meridien Beach Plaza

Breathtaking Views

NEIGHBORHOOD: Larvotto

Ideally located within walking distance of Monaco's most renowned tourist attractions, Le Méridien Beach Plaza hotel is the most serene place to reside in Monte Carlo, in a chic and contemporary atmosphere. Rooms and suites designed to stimulate and offering breathtaking views, spacious private terraces and outstanding resort facilities will enhance your experience. Le Méridien Beach Plaza is the only hotel in Monte Carlo with its own private beach with direct access.

Descripción completa y más fotos

Fairmont Monte Carlo Hotel

Posh

NEIGHBORHOOD: Sea front, near Casino Square

WELCOME TO THE FAIRMONT MONTE CARLO Monaco: a synonym for prestige. A place where the international elite gathers, a harbour for the most beautiful yachts, a prestigious destination, and home to some of the world's most celebrated events including the Grand Prix and the Monaco Yacht Show. The Monaco shipyards have delivered one of their most beautiful creations with the completion of its spectacular 45-million-euro refurbishment of the Fairmont Monte Carlo hotel. This is the ideal opportunity to offer you a dazzling cruise through all the pleasures of the Mediterranean Sea and the Principality aboard this boat, filled with light and luxury. The Fairmont Monte Carlo hotel is a unique four-star luxury resort located in the heart of the Principality of Monaco in between the Mediterranean Sea and the legendary Monte-Carlo Casino. In addition to being one of the most prestigious Monte Carlo resorts, the Fairmont Monte Carlo, entirely equipped of WIFI access, is also one of the largest in Europe, boasting 602 guest rooms, residences and suites, three restaurants, a bar, 18 meeting rooms, shopping arcade, in-house casino, and unique wellness facilities: a stunning Fairmont Spa, that lets you rediscover all your energy and its fitness centre & rooftop pool, which offer all guests the opportunity to enjoy a world-class workout while enjoying views of the Riviera. Fairmont Monte Carlo, an island unto itself situated in the most exclusive part of the world. A lavish retreat that puts the entire destination at your doorstep and allows you to immerse yourself in the region's joie de vivre. Nestled between Italy and France, on the Côte d'Azur, the Principality of Monaco offers guests more than 300 days of sunshine each year. Although the fabulous climate is a primary attraction, people are also drawn to the region's warm engaging colors, the variety of its surroundings and the friendliness of the people. From the deep blue of the Mediterranean to the dazzling white canyons of the inland countryside, Monaco never stops revealing surprises. Immerse yourself in the beauty and sophistication of this world-class destination with a stay at the Fairmont Monte Carlo luxury resort.

Descripción completa y más fotos

Monte Carlo Beach Hotel

Resort

NEIGHBORHOOD: Sea front

A 1930s legend revisited by India Mahdavi. The Monte-Carlo Beach offers a modern experience, combining the spirit of the Riviera's golden era with the intimacy of a luxury resort.

Descripción completa y más fotos

Hermitage Hotel

Palace

NEIGHBORHOOD: Casino Square

The Hôtel Hermitage Monte-Carlo is a luxury hotel in the heart of the Principality of Monaco as well as a haven of peace and quiet, a symbol of understated glamour. A stone's throw from the boutiques of the Promenade Monte-Carlo, near the Hôtel de Paris Monte-Carlo and the Monte-Carlo Casino, discover a hotel steeped in nuance and irresistible charm.

Descripción completa y más fotos

Metropole Hotel

Traditional Elegance

NEIGHBORHOOD: Casino Square

HEAVEN IN THE HEART OF MONTE-CARLO The Hotel Metropole Monte-Carlo is a place which is complete in itself. It is a source of wonder for your senses, your emotions and your dreams. The architecture and the decoration are classical and timeless with a touch of modernism. Its warm Mediterranean spirit makes it different.

Descripción completa y más fotos
[+] Añadir una opción
No information here yet.
Monte Carlo Hotels
La Riviera Francesa no tiene escasez de hermosas ciudades costeras: Villefranche-sur-Mer, Saint Jean Cap Ferrat, Antibes, Eze .... la lista sigue. Pero su parada más famosa, Montecarlo, tiene una manera de despertar el deseo de viajar incluso en el viajero más cansado. Hemos recogido a mano nuestras propiedades favoritas en este destino turístico increíble, todo muy cerca de el club Monte Carlo Beach y Tenis.

Excellent Center Court Tickets for the Monte Carlo Masters.

Your tickets on Center Court give you access to all the side courts as well.


Monte Carlo Rolex Masters FAQ's

Q. With a ticket on center court, can you access all the outside courts?

Yes. All the outside courts are accessible on a first come first served basis.
Q. What is an e-ticket?
The e-ticket (electronic ticket) is a new means of buying your seats for the Monte-Carlo Rolex Masters. The e-ticket can be printed on any printer, and enables you to access the tournament. They may be printed in either colour or black and white, on an A4 sheet of paper (one side only). Legibility of the information contained on the e-ticket is essential for electronic access control to the stadium. The e-ticket will simplify your order and enable you to receive your ticket(s) immediately. Any attempt at fraud will be detected at the electronic control the day of the event.
Q. When will my tickets be delivered?
Tickets are generally delivered one week before your first day of attendance. Actual delivery times vary from event to event depending on many factors including when tickets are physically allocated by the tournament.
Q. What if my tickets are lost or stolen?
When you receive your tickets, keep them in a safe place. Unfortunately, tickets cannot be replaced if they are lost, stolen, or damaged. Please note that direct sunlight or heat can damage some tickets. 
Q. Will the tickets I order be together?
Yes. All ticket order of two tickets will be together. For orders of 3 or more tickets we do our best to get all the tickets together, but it's not guaranteed. We will make sure to have at least all the tickets as pairs.
Q. When tickets are listed as a "General" ticket for a particular level, what does that mean?
When a ticket is listed as a "General" ticket, such as "CAT 1 - General" this simply means that your tickets are guaranteed to be located in a section within the 100 level. Even though it's listed as "General", all tickets are reserved. You will only know the actual seats (section, row, and seat number) once the tickets are delivered.

Q. Where is the tournament located?
Monte-Carlo Country Club
155 Avenue Princesse Grace
06190 Roquebrune Cap Martin
Q. Is there a left luggage arrangement available?
For your personal luggage and belongings (limited to a minimum amount while the State of Emergency remains in place), luggage lockers are available at Entrances 2, 3 and 4 on the Tournament site.
Q. What is the policy regarding children?
Entry to the tournament is free for children under 5 years provided they are accompanied by at least one responsible adult (on presentation of an identity document). As no seat will be assigned to them, they should sit on the knees of their parents or guardians.
Q. Are mobile phones allowed?
It is strictly forbidden to use mobile phones in the stands and private hospitality suites of the courts during the matches.
Any offender shall be held liable and shall also be liable to prosecution as well as being excluded from the site.
Q. What time do the gates open?
The Monte-Carlo Country Club opens its gates to the public at 9.30 am every morning.
Official Monte Carlo Rolex Masters Tickets
Your Monte Carlo Masters Package contents including your tennis tickets are delivered to you by FedEx a few weeks before your package begins.

Desde 1987, hemos tenido una sola misión, para que sea lo más fácil posible para los aficionados de todo mundo a asistir a los torneos de tenis más buscados. Manejamos solamente el tenis y tiene una amplia experiencia y conocimiento de los torneos que de servicio. Usted puede confiar en nosotros para cuidar de todos los detalles, con un nivel de servicio al cliente que le hará un cliente leal en los próximos años.
Mike Bernstein
Championship Tennis Tours