Nitto ATP Finals Turin
Nov 14 – Nov 21, 2021 | Turin, Italy
2019 Nitto ATP Finals Seating Guide
Click here to purchase Nitto ATP Finals Tickets >>>
About the Nitto ATP Finals:
The Nitto ATP Finals is the year-end climax to the men's professional tennis season featuring only the world's best eight qualified singles players and doubles teams. Alexander Zverev is the 2018 Champion. Throughout the season players compete for ATP Rankings points in order to earn one of the eight coveted spots. The Nitto ATP Finals is played out in a round-robin format at the O2 Arena which is a large entertainment complex in east London. Each of the 8 singles participant plays three matches to qualify for a spot in the knockout semi-finals and finals. Total prize money offered is USD 8.5 million. Championship Tennis Tours sells excellent upper and lower tier tickets for the Nitto ATP Finals for every session of this prestigious ATP event.
02 Arena Stadium Map: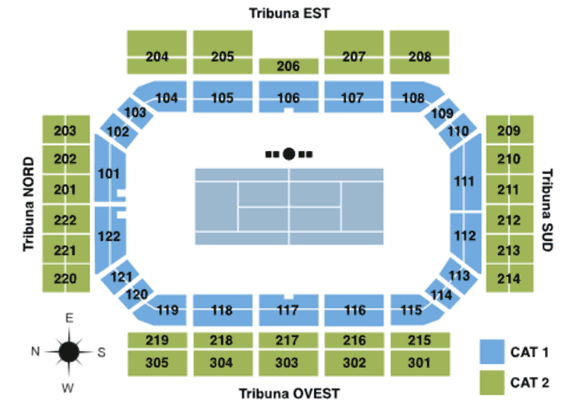 Center Court Ticket Options:
Championship Tennis Tours offeres excellent courtside tickets in the lower level. Most of our tickets are located on the east side of the court facing the umpire between sections 101-103, and in the north end 106 and 107. These tickets offer incredible views of the action.
History of the tournament:
Men's professional tennis has always featured a year-end championship ever since Jack Kramer, the first executive director of the Association of Tennis Professionals (ATP), implemented the Grand Prix structure of a year-long series of tennis tournaments in 1969. Right from the first Masters in Tokyo in December 1970 it became a prestigious event, and was subsequently held in Paris, Barcelona, Boston, Melbourne, Stockholm, and Houston before the event started a 13-year association with Madison Square Garden in New York from 1977 to 1989. The Masters evolved into the ATP Tour World Championships in 1990. Frankfurt and Hannover shared the event through 1999. In 2000, the event was rebranded Tennis Masters Cup and was held in Lisbon, Sydney, Houston and Shanghai. In 2009, the event moved to The O2 in London, the world's busiest entertainment arena, as the Nitto ATP Finals.
Nitto ATP Finals Prize money:
Singles Prize Money
Alternate:
$105,000
Participation fee:
$191,000
Round-robin match win:
$191,000
Semi-final match win:
$585,000
Final win:
$1,200,000
Undefeated champion:
$2,549,000
Getting to the 02 Arena with public transportation:
The nearest tube station is North Greenwich on the Jubilee line. Thames Clippers runs The O2 River Bus Service during the event from the London Eye Pier every 30 minutes.
Bars and Restaurants at the ATP Finals:
The Entertainment Avenue at The O2 arena offers you a wide choice of dining- from light snacks to a 3 course meal, there is something to suit your appetite. Ticket holders can also enjoy a wide variety of food and drink outlets within the concession units on Level 1 and Level 4 of The O2 arena.
Click here to purchase Nitto ATP Finals Tickets >>>