Wimbledon
Jul 1 – Jul 14, 2024 | London, England
Wimbledon Seating Guide
Click here to buy Wimbledon Tickets >>>

Wimbledon is the most sought after and over subscribed ticket in professional sports. For many people, a ticket to Wimbledon is a bucket list item, and getting them from a reliable source such as Championship Tennis Tours is a must. There are just two types of Wimbledon tickets that we sell: Center Court and Court 1 tickets. Grounds passes can only be purchased the day of by queuing up. Expect to wait a few hours in "the infamous Queue" which in the beginning of the tournament can start overnight and wind its way around into an adjacent car park. announced.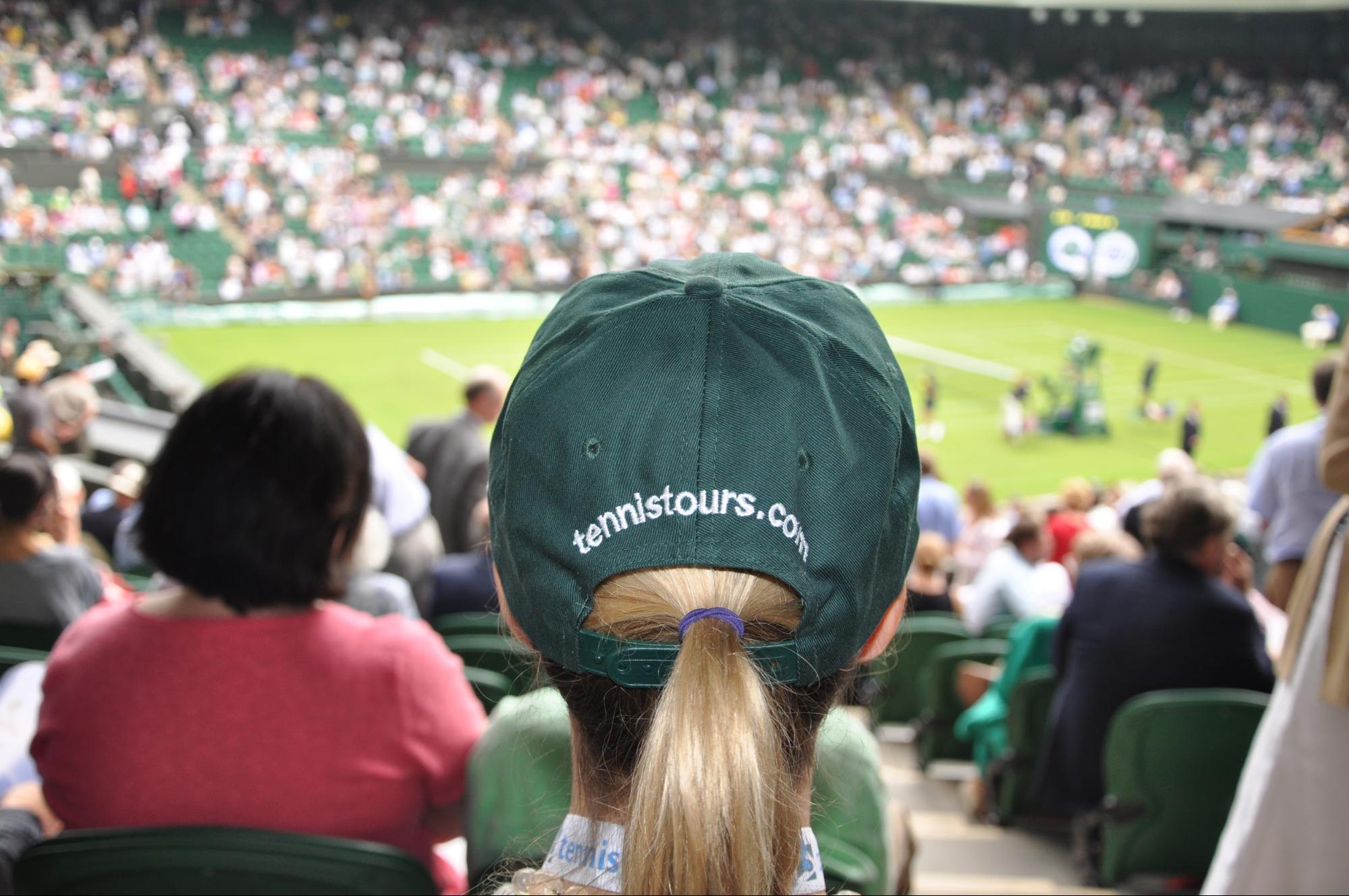 3 Ways to Get Wimbledon Tickets

Option 1.
You can queue up in line starting at around 4 am on the day you'd like to attend. Most people who queue up will only get grounds passes, but a lucky few will score Court 2, a small handful will get Court 1 tickets, and an even rarer few will land Center Court tickets

Option 2.
Enter the official Wimbledon lottery ballot. To enter the ballot go to the official Wimbledon website and enter. If you are successful you'll be notified by post in February and provided with a pin number to log onto the site and pay for your tickets. (Many say you have a better chance of winning the real lottery).

Option 3. THE BEST WAY!
Book your Wimbledon tickets through Championship Tennis Tours where we make it ridiculously easy. You'll be confirmed in the exact stadium(s) you want, on the exact day(s) you want, all within minutes, simply by booking your individual tickets, complete package, or customized package through Championship Tennis Tours. We take all the uncertainty and hassle out of the equation. For over 30 years, we've served up hundreds of clients each year with incredible experiences to Wimbledon. Let us have the pleasure of serving you!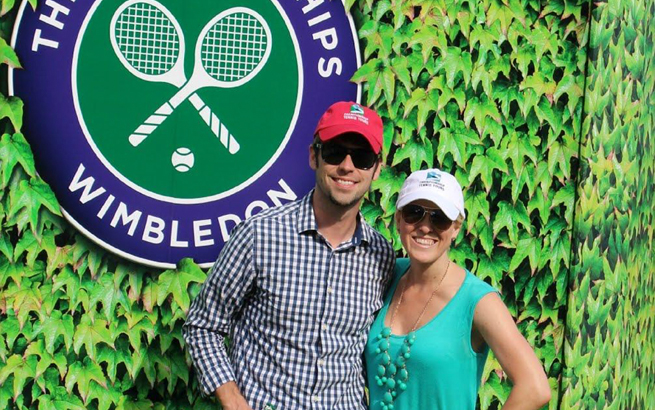 Center Court Debenture Tickets - These are the only tickets allowed to be resold at Wimbledon. The Debenture tickets for center court are located in the 200 Gangways (sections) and the first few rows of the 300 Gangways (sections) as you can see in orange on the seating chart below. The 100 Level seats are secured through the Wimbledon lottery and are not to be traded in the secondary market. Your ticket is valid for the entire day and allows access to all outside courts on a first come first serve basis with the exception of the show courts, which require separate tickets. All Debenture tickets come with access to the Debenture holders lounge.
The Royal Box on Wimbledon Center Court
Seating behind the Royal Box is very hard to find. As the Royal Box goes all the way down to the court, there is no 100 Level behind the Royal Box. Seats in sections ( aka Gangway ) 301 and 318 go up to rows Q and have excellent views behind the server and are considered some of the best seats at Wimbledon.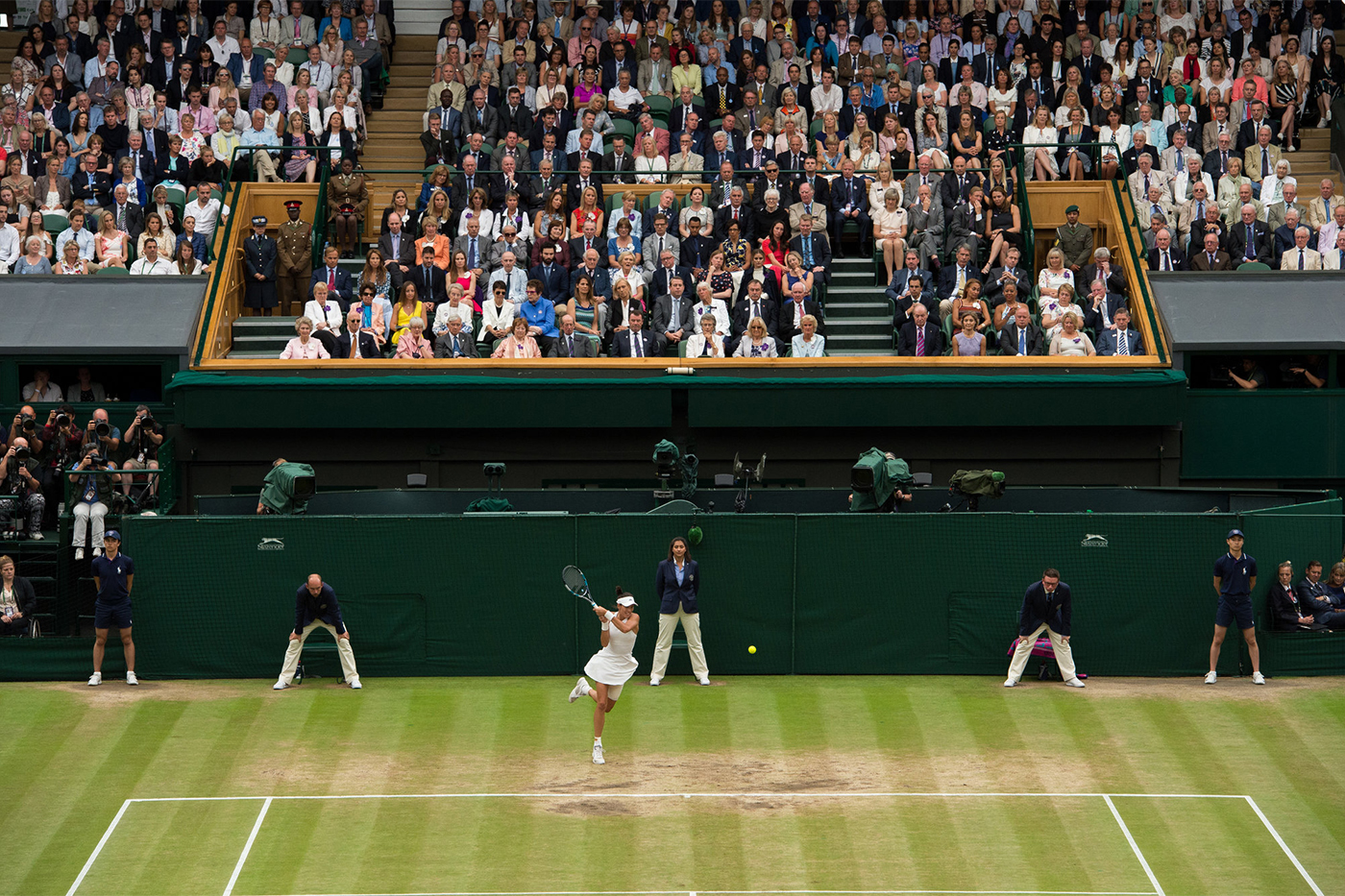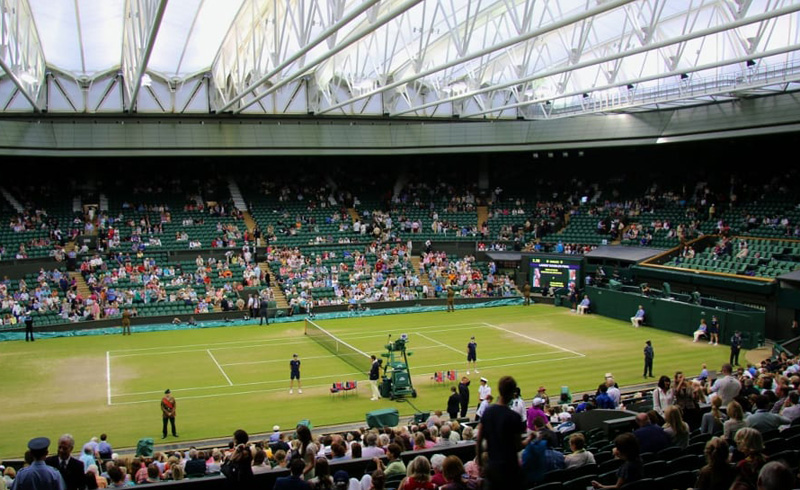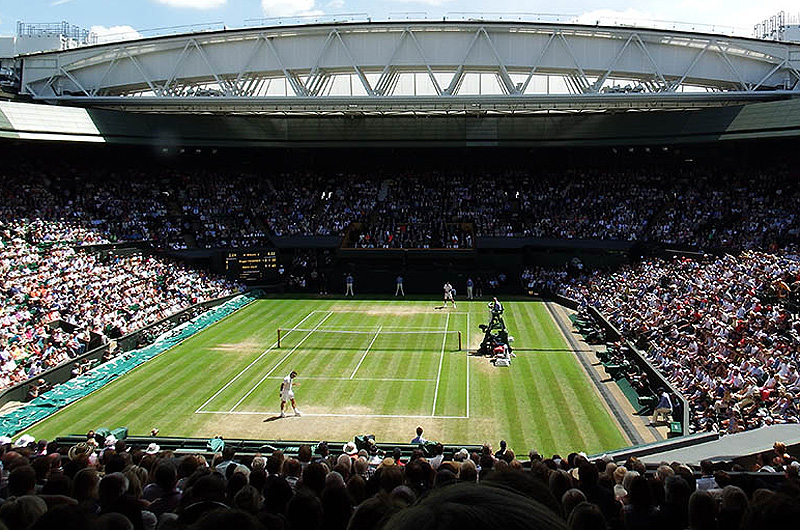 ---
Court 1:
The Court 1 is the other major featured show court at Wimbledon and new for 2019 will feature an expandable roof. Championship Tennis Tours sells excellent debenture level tickets for the Court 1 for every day through Thurday of the second week. Excellent matches are played each year on Court 1 with top players not always playing only on Center Court, as was the case with Roger Federer for example in 2018.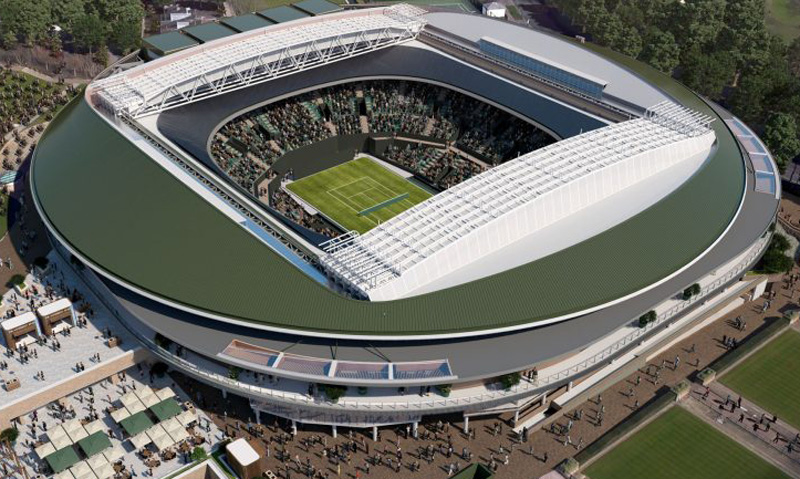 View of Court 1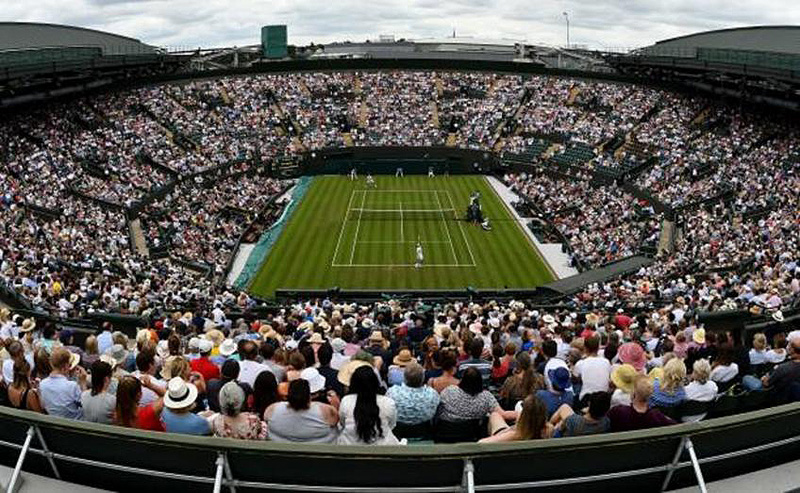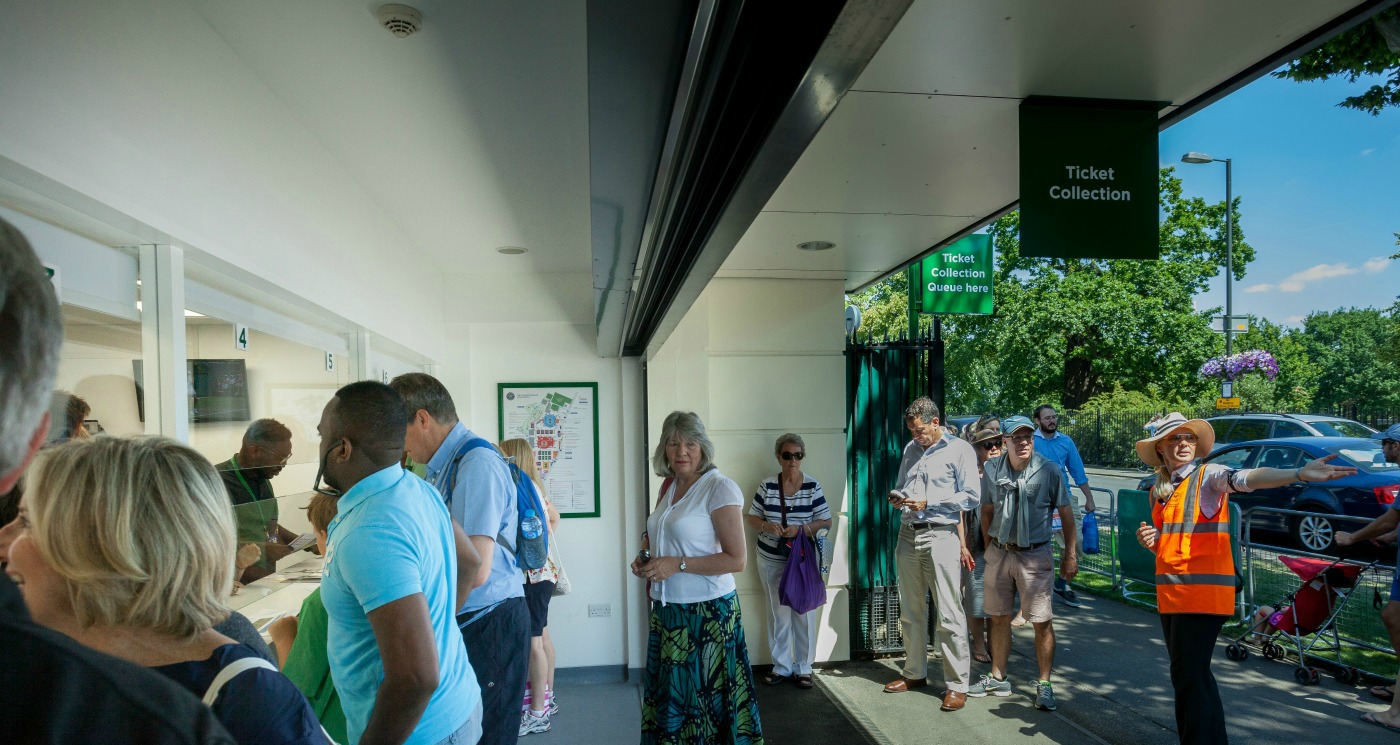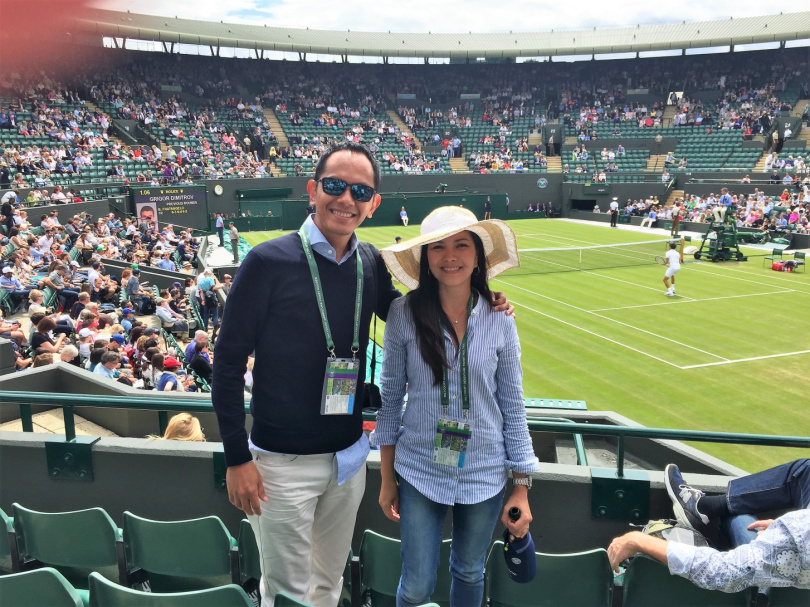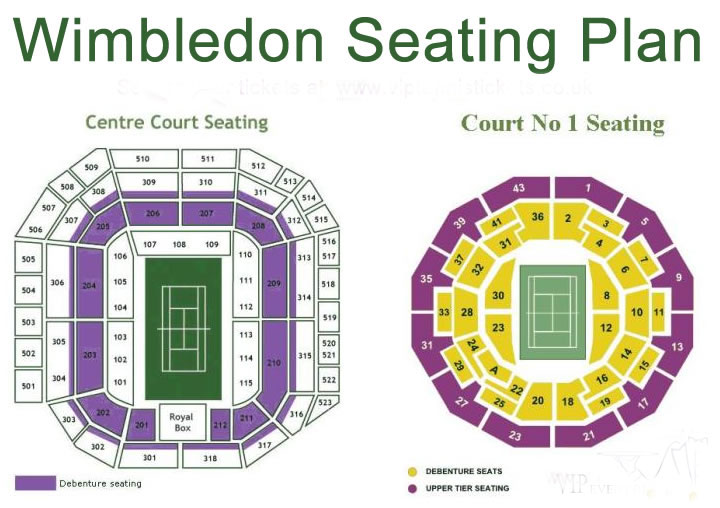 Getting to the All England Lawn and Tennis Club - Frm central London, take a westbound District line train to Southfields, located 15 minutes away from the grounds, or Wimbledon, located 20 minutes from The Championship grounds. The other decent option would be to take a Tram. Trams run from East Croydon station to Wimbledon every 10-15 minutes from Monday to Saturday, and every 20 minutes on Sundays. The Southfields and Wimbledon stations offer the nearest tube lines to the All England Lawn Tennis Club grounds - both stops are on the District Line. Wimbledon is based in South-West London and is in zone 3.

Your day at Wimbledon - Wimbledon debenture tickets are for the whole day's play on Centre Court, and provide full access to the unreserved seating on the outside courts of the All England Lawn Tennis Ground. Rain delays and cancelled matches are a thing of the past. Wimbledon grounds open daily at 10.30 a.m. BST. Play on Centre Court, the venue's top show court, starts at 1 p.m every day except for finals' weekend, when play starts at 2 p.m. Play on No. 1 Court, the second show court, starts at 1 p.m. throughout the entire tournament, while play on all other courts is scheduled to start at 11.30 a.m. for at least the first eight days. Of course, all of the above can be affected by weather. Rain? No Problem! With a retractable roof on Centre Court and Court 1, this means no more rain outs! Spectators with tickets on Center Court and Court 1 can finally be assured that they will see a full day of tennis without dealing with pesky weather delays.

When you're there, make sure to enjoy a glass of Pimms and of course you've got to try the delicious strawberries and cream. A visit to Wimbledon is never complete without indulging oneself with a bowl of strawberries and cream. I've treated myself during many times while at Wimbledon, and highly recommend you do as well.

Wimbledon Ticket Prices - Wimbledon tickets are among the most expensive tickets in sport because the intense demand which far exceeds the available supply for these tickets. Wimbledon Tickets are sold at a market price which is set by the owners of the debenture tickets. All tickets are guaranteed to be delivered to you in pairs side by side. With your ticket you can walk around to all the side courts.

WHERE TO STAY IF YOU WANT TO BE CLOSE TO WIMBLEDON
Staying at one of the hotels near Wimbledon keeps you close to the excitement with easy access to the grounds. Many hotels are within walking distance or a short trip via public transportation.
The Dog & Fox Wimbledon:
 This boutique hotel rests in the heart of the Wimbledon village, with an attached pub and restaurant for easy access to good drink and food while you're away from the courts. The close proximity to the grounds makes this an ideal choice for your Wimbledon stay.
Hotel du Vin:
 Soak in the rich history of this property, which includes a refurbished home visited by Lord Tennyson, Oscar Wilde and other well-known historical figures. Close to the All England Club, this is another hotel option that keeps you close to the Wimbledon action.
Antoinette Hotel Wimbledon:
 With a convenient Wimbledon location, the Antoinette Hotel features roof gardens for a peaceful retreat when you aren't enjoying action on the court. Air conditioning in the bedrooms keeps you comfortable in the summer heat. With a railway station and the tube location just minutes from the hotel, this location gives you easy access to almost any part of London if your vacation plans include more than just the Wimbledon matches.
The Championships are held at The All England Lawn Tennis and Croquet Club, which is located at: The All England Lawn Tennis Club, Church Road, Wimbledon, London, SW19 5AE (please use SW19 5AG to locate the Museum via Sat-Nav).
For advice on travelling to Wimbledon outside of The Championships, please click here. For travel advice during The Championships, click here.
All visitors are strongly advised to use public transport services wherever possible.
- The Transport for London Journey Planner offers a comprehensive journey planner for travelling around London by train, tube, tram and bus.
-  Click to view Maps of the Grounds
- To view accessibility information for The All England Lawn Tennis and Croquet Club, visit AccessAble.co.uk here .
Getting to Wimbledon
By London Underground
Southfields Underground Station on the District line is the closest Underground station.
It is a 15 minute walk from the station to Gate 4 on Church Road
The station is accessible and has lifts and boarding ramps.
By Bus
The 493 bus service links Wimbledon Station (South West Trains, London Underground District line, Tram Link) and Southfields Station (London Underground District line) to the Museum.
The 493 service is provided by NCP Challenger (under contract to Transport for London) and runs single deck buses mostly with wheelchair access. The bus stop is announced and is called 'Wimbledon Tennis Club and Museum'.
The bus stops are immediately outside the Museum (Gate 4).
By Taxi
From Wimbledon station. Drop off & pick up points outside the Museum (Gate 4).
By Car
Please use SW19 5AG to locate the Museum via Sat-Nav.
Provision is made for Blue Badge parking close to the Museum, if you have any mobility issues please contact the Museum team on 020 8946 6131 or museum@aeltc.com before your visit.
Blue Badge Parking becomes inaccessible from May to July because of Championship preparations.

There is no charge for parking if available. Please ensure you have photographic ID (Driving Licence/Passport) to obtain entry and a vehicle pass. The Entrance is at Gate 4 on Church Road.
There is metered parking on Somerset Road for over 20 parking bays, SW19 5BN. This is free on the weekends and for Blue Badge holders.
Additional parking is available in many of the single or multi-storey car parks in Wimbledon Town Centre, which is a short bus or taxi journey away.


Interested in Wimbledon tickets? Click here!